The League of American Bicyclists has released their latest Bicycle Friendly Business (BFB) list, and the City of Shawnee has earned a Silver level Bicycle Friendly Business designation, the second silver in the state!
The City of Shawnee had previously been designated as an "honorable mention" Bicycle Friendly Business, in 2010, so it's nice to see them take the big jump up to silver.
Shawnee is also a bronze-level Bicycle Friendly Community, a designation that it first earned in 2003.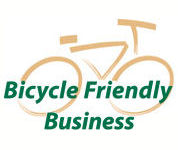 The list of Bicycle Friendly Businesses in Kansas:
Honorable Mention Bicycle Friendly Businesses in Kansas:
Congratulations, and well done!
Other businesses in our region that received awards in this cycle include:
Kimberly-Clark Corporation, Conway, AR — Bronze
Equinox Brewing Co., Fort Collins, CO — Bronze
Neumann Monson Architects, Iowa City, IA — Bronze
The Broken Spoke, Iowa City, IA — Bronze
Bike America, Lee's Summit, MO — Bronze
No new businesses in Nebraska or Oklahoma made the cut this time.
For more information, you can view the full Spring 2013 Bicycle Friendly Business List.
Bicycle-friendly businesses "encourage a more bicycle friendly atmosphere for employees and customers." Being bicycle-friendly is not only good for people, but good for business as well!
If you own, work at, or are aware of, a bicycle-friendly business that has not yet been officially recognized, check out details of the Bicycle Friendly Business program. The program provides technical assistance and information to help companies and organizations become even better for bicyclists.
Post tags: Bicycle Friendly, Shawnee