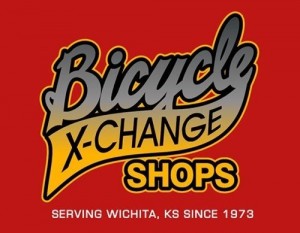 The League of American Bicyclists has announced their latest Bicycle Friendly Businesses, with one new BFB in Kansas.
The Bicycle X-Change Shops in Wichita earned a Silver Bicycle Friendly Business certification.
Bicycle X-Change has been a fixture of the Wichita cycling community since 1973, and celebrated its 40th Anniversary in 2013.
Bicycle X-Change Shops is the eighth Bicycle Friendly Business to be awarded in Kansas, joining the City of Shawnee, REI, and the Rosedale Development Association (Kansas City) in the Silver tier, and Anderson Rentals (Lawrence), Big Poppi Bicycle (Manhattan), Foth IE (Overland Park), and PKHLS Architecture (Newton) in the Bronze category. Kansas has no Gold or Platinum-level BFBs.
Compared to most of our neighbors, Kansas is lagging in Bicycle Friendly Businesses. Arkansas has 17, Colorado has 71, Iowa has 22, Missouri has 20, and Nebraska has 16. Only Oklahoma trails Kansas, with zero BFBs.
If you're aware of a Kansas business that is bicycle-friendly, but has not yet been designated as such by the League, encourage the business to apply here.
See also: New and Renewing Bicycle Friendly Businesses Spring 2015, Bicycle Friendly Businesses Master List Spring 2015, Bicycle Friendly Kansas
Post tags: Bicycle Friendly, Bike Shops, Wichita