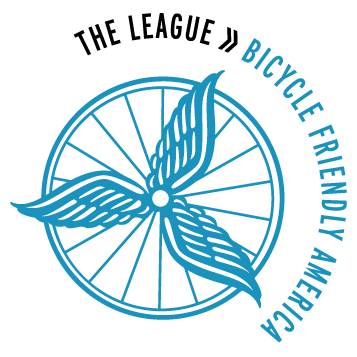 The League of American Bicyclists has announced their latest Bicycle Friendly Businesses, with two new BFBs in Kansas.
Both Bicycle Pedaler and Bike Walk Wichita earned gold-level Bicycle Friendly Business awards, the first in Kansas.
The two new honorees join the Bicycle X-Change Shops (Wichita), the City of Shawnee, REI (Overland Park), and the Rosedale Development Association (Kansas City) in the Silver tier, and Anderson Rentals (Lawrence), Big Poppi Bicycle (Manhattan), Foth IE (Overland Park), and PKHLS Architecture (Newton) in the Bronze category. Kansas has no Platinum-level BFBs.
The League reports:
The owners of new Gold BFB Bicycle Pedaler, in Wichita, KS, have a great story about how they started and how they continue to support cycling in their community. "We opened the Bicycle Pedaler after bike touring to California from Kansas on our honeymoon in 1980. We learned so much about bicycling on that journey that we decided to switch careers from nursing to owning a bicycle shop. We continue to be passionate about the health and wellness improvements that can be made by bicycling and incorporate health and wellness into our activities and daily lifestyle. We believe in creating a community of people passionate about bicycles, and do our best to live this out daily. We feel very fortunate to have spent 36 years helping transform lives by getting people on bicycles!"
Congratulations to Bicycle Pedaler and Bike Walk Wichita!
Learn more: Spring 2016 awardees, All Bicycle Friendly Business awardees
Post tags: Bicycle Friendly, Bike Shops, Wichita