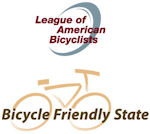 The League of American Bicyclists has just released the 2011 edition of their Bicycle Friendly State rankings, and Kansas has dropped from #13 to #23.
Here's how the League graded the state:
Legislation: B
Policies & Programs: F
Infrastructure: F
Education & Encouragement: C
Evaluation & Planning: D
Enforcement: D
Overall: D
When we interviewed Andy Clarke, president of the League of American Bicyclists on the podcast (episode #21), and asked about why Kansas' ranking had jumped 20 places last year (from #33 to #13), he said that while there is a big difference between the few states at the top of the list, and the few states at the bottom, but there wasn't much separating the states in the middle, so those ranks could be expected to fluctuate quite a bit from year to year.
Kansas was #25 in 2008, #33 in 2009, #13 in 2010, and now #23 in 2011, so we are indeed bouncing up and down a bit in the rankings, but overall not changing much.
Kansas still has two Bicycle-Friendly Communities, Lawrence and Shawnee (both bronze). Shawnee's BFC status was renewed in the latest Bicycle Friendly Community rankings.
Kansas also has two Bicycle Friendly Businesses, Anderson Rentals, Inc. and Foth IE Kansas City, both at the bronze level.
Rankings of our neighboring states:
Arkansas: #48 (#45 in 2010)
Colorado: #12 (#14 in 2010)
Iowa: #6 (#7 in 2010)
Missouri: #26 (#28 in 2010)
Nebraska: #45 (#43 in 2010)
Oklahoma: #43 (#44 in 2010)
See also: Bicycle Friendly State rankings, 2008-2011, state grades by category.
Post tags: Bicycle Friendly