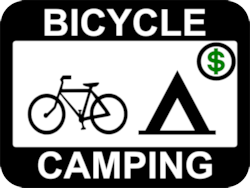 Cedar Valley Reservoir is located near Garnett, Kansas, and provides 310 acres of surface water for outdoor recreation, including fishing, boating, skiing, hunting, and camping.
Wilderness (tent) camping is provided, with nearby restrooms and shelters. The park also provides RV campsites with electricity and water.
Cost: $9 per night. Camping is on a first come, first serve basis with a self-pay permit station located in the park. Camping permits may also be purchased at the Garnett Police Dispatch Center, 131 W 5th Ave.
Garnett is located at the midway point along of the Prairie Spirit Trail State Park, a rails-to-trail that runs north-south for about 51 miles, from Ottawa in the north to Iola in the south. The Cedar Valley Reservoir is located several miles southwest of town, via gravel roads. If easy access to town and the trail is desired, North Lake Park may be a better option.
Contact: info@garnettks.net, 785-448-5496. Guide (pg 6), Map