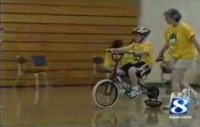 Lose the Training Wheels is a program that teaches disabled children and adults how to ride a conventional bicycle without training wheels. The program was started by Dr. Richard Klein, who conducts 5-day training camps across the nation.
The program teaches that many people, including children with varied disabilities, can be taught to become successful bike riders — even accomplished bike riders -– without training wheels.
The program uses a series of adapted bikes to acclimate children to bicycles, starting with bicycles that use two large rollers in place of wheels, and gradually moving up to conventional bicycles with two standard wheels.
When a child is able to master riding a bicycle, the benefits become instantly evident. The child smiles, and the child wants to get onto the bike to ride around. Some of the longer-term benefits include peer inclusion, success at an age-appropriate activity, improved exercise opportunities, increased stamina, increased cognitive stimulation and decision-making, and even the ability for families to participate in a fun activity as a group.
There is an approximate 80 percent success rate of camp participants that are able to independently ride a two-wheeled bicycle by the end of the week. Children that have benefited most from the program are those that have use of all limbs, have adequate vision to see and avoid obstacles and, above all, the desire to "lose the training wheels."
Two camps are scheduled for Kansas in 2008:
Other camps are scheduled throughout the nation. Refer to the complete schedule at losethetrainingwheels.org.
See also: Daily Peloton, San Antonio, Portland, YouTube video.