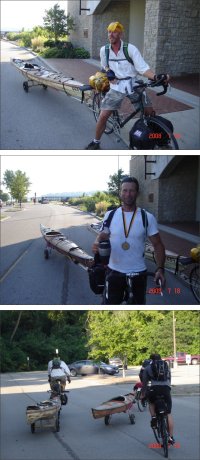 The third annual Missouri River 340, the world's longest non-stop river race, took place June 15th-19th, starting in Kansas City and ending in St. Charles.
Two of the participants paddled across the state west-to-east in their kayaks, then pedaled bicycles back home to Grandview, with their boats in tow on custom-designed trailers.
Known by pseudonyms as colorful as their conveyances, "Black Coffee" and "Uncle A Dog", finished the race in just over 59 hours (#20 and #21 overall), then pulled their boats out of the muddy water, assembled their bikes and trailers, which had been torn down and strapped to the top of their crafts, loaded up the kayaks and gear, and took off down the Katy Trail, heading back west.
The two were among the throng of 150 boats of all types which left from Kaw Point at dawn on July 15th. 114 of the racers finished, with the winner coming in at a little over 36 hours, and the last boat pulling in after 87 hours on the water.
Read more about the race, and view picture galleries, from Rivermiles.com and The Pitch.
Photos courtesy of Russ Payzant of Rivermiles.com.