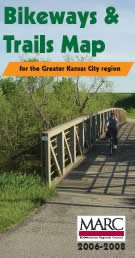 The Mid-America Regional Council has just published a new edition of the Bikeways and Trails Map for the greater Kansas City region.
MARC's MetroGreen is a proposed 1,144-mile interconnected system of public and private open spaces, greenways and trails designed to link seven counties in the Kansas City metropolitan area, including Leavenworth, Johnson and Wyandotte counties in Kansas and Cass, Clay, Jackson and Platte counties in Missouri.
Since its inception in the 1990s, the MetroGreen vision has served as a guide for metropolitan greenway development and preservation. Many local communities have developed plans and constructed trail segments consistent with this regional concept, and many more segments are underway.
You can view the maps online, or order a paper copy by contacting Aaron Bartlett or Eliza Waterman, by calling MARC at 816-474-4240, or by requesting a copy online.