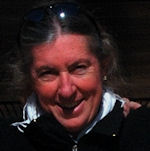 The Lawrence Journal-World recently ran a profile of Kate Dinneen, who is a local blacksmith artist and musician.
She "has twinkling eyes, a slender frame, a bounce in her step and an adventurous spirit. She enjoys playing with fire and making sparks fly in her job."
She's also a former cycling champion and one-time Olympic hopeful:
After an accident in November 1980, she took her twisted bicycle to "Rick's Bike Shop" for repairs and met her husband of 22 years, Thomas Howe.

"Tom was Rick's brother-in-law and business partner. We started chatting about bikes and cycling," Dinneen remembers. "He invited me to start cycling with his male friends."

They were surprised and slightly miffed when she started beating them in races. She became five-time state road racing and time trial champion, and was invited to the Olympic training village in Colorado Springs to prepare for the 1992 Barcelona Olympics.

"I was hit by another car in 1989 and sustained a bad hip injury. It ended my Olympic hopes," she says. [ read more ]
The injury she sustained back in 1989 keeps her from being able to ride, but Dinneen, now 51, is among the country's growing number of female blacksmiths, and was recently nominated to the national board of the Artist Blacksmith Association of North America (ABANA). She works at Walt Hull Ironwork in Lawrence, as well as running her own company, Hot Flash Metalworks.
If you know of any other former Kansas cycling champions, we'd love to hear their stories!