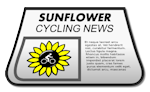 The Sunflower Cycling News is a periodic publication of Kansas Cyclist, featuring a compendium of hand-picked bicycling-related news items from Kansas and neighboring states.
The following is a recap of recent bicycling news from the region, as well as a look ahead to upcoming rides, races, and bicycling events coming up.
---
Bicycling News from Kansas
New Lawrence Bike Racks
"The bicycle racks for the new Theatre Lawrence have a theatrical theme. The city requires bike racks to be installed for new construction. and rather than purchase generic racks for a very un-generic building. the theatre sought out Lawrence blacksmith artist Kate Dinneen to design something more appropriate for the theatre's beautiful new building. Kate, an artist both in a blacksmith forge and also in a symphony orchestra, graciously donated her time and talent to design and fabricate two metal bike racks for Theatre Lawrence." [link]
Pittsburg TransAm Shelterhouse Ribbon-Cutting
The new shelterhouse and restroom/shower facilities in Pittsburg were dedicated in a ceremony on Jun 19th. "The collective efforts of several area agencies made the RV park off of the U.S. Highway 69 Bypass an even more appealing place to stay. Pittsburg tends to have traffic from two wheels on up throughout the summer, and the building of a shelter and a showerhouse/restroom facility will add something nice for bikers and RV traffic." [link]
Southwind Rail Trail Reviews Coming In
After the recent grand opening of the Southwind Rail Trail between Iola and Humboldt, a number of reviews and first impressions have been posted. Randy & Nova's Bicycle Scrapbook posted up a video tour of the new trail. Richard at An Oldie's Bicycling Blog posted some photos and a quick review. And Rocky at Prairie Steps provides a look at the trail from a runner's perspective: "I definitely think it is a Southeast Kansas 'must see' for any outdoor enthusiast. It is top notch, and deserves to be seen by many."
New York bicyclist struck by car near Tribune
"A New York bicyclist was injured Sunday when he was hit by a car near Tribune. According to the Kansas Highway Patrol, Mildred Opal Waldren, 86, of Tribune, was eastbound on K-96 about 11:30 a.m. in a 2008 Ford Explorer 1.6 miles west of Tribune. She was observing oncoming traffic and did not see the bicyclist in her lane. Waldren's vehicle hit the bicyclist, who landed in the south ditch. The bicyclist, Charles E. Culbertson, 62, of Pittsford, N.Y., was taken to Greeley County Hospital, and then was airlifted to Swedish Hospital in Denver with injuries." [link]
Salina Senior Games set for July 26-27
"Salina Parks and Recreation will host the 15th annual Salina Senior Games July 26 and 27 at multiple locations in Salina. The games are open to any adult who will be 50 years of age by Dec. 31 of this year. Each athlete can register for up to five events, which include: table tennis, pickle ball, football and softball throw, cycling, golf, horseshoes, race walk, and track and field events. Competitors will be divided by gender and age groups." [link]
Regional Bicycling News
— Little Rock, AR: Pfeifer asks Dillard to allow bike trail — "Gene Pfeifer, the bike enthusiast and developer who donated land he owned on the north side of the Arkansas River to the Arkansas River Trail, has asked the Dillard family follow suit for the good of the community. Dillard's headquarters backs up the Arkansas River on the south side. The company has so far turned down requests by the city of Little Rock for access to build a trail on the property that would connect the downtown portion of the trial with Riverfront Drive."
— Little Rock, AR: Bike Lane Debate Continues At Town Meeting — "The City of Little Rock is considering reducing the number of lanes on South Main Street between Interstate 630 and Roosevelt Road and adding bike lanes in order to calm traffic. Residents, store owners, commuters, and bike riders were among those at the meeting who voiced opinions on the proposed bike lanes. The 'road diet' as the city calls the project, involves reducing the road to three lanes and adding two bike lanes. The City is in favor of the project, and says it will slow traffic and it makes the street safer."
— Telluride, CO: Town Park pump track nears completion — "Construction of the San Miguel Bike Alliance's pump track — a dirt course in a corner of Town Park where riders can play on berms, bumps and rollers — is just about finished. Pump tracks are places where riders of all levels can develop their skills, Martin said, and have proven popular with young riders in many communities."
— Marshalltown, IA: Council OKs trail use of old railroad corridor — "The Marshalltown City Council voted to accept responsibility of a 12-mile stretch of railroad property to be rehabbed into a bike trail. This portion of the trail, which would connect to another 25 miles of trail stretching to Steamboat Rock, will provide economic and health benefits for Marshalltown citizens. If the city doesn't start providing adequate recreational opportunities, young people who care about such things will live elsewhere and the city will miss out on the property taxes."
— Lenox, IA: Iowa woman who killed bicyclist thought she hit a deer — "Gerald O. Williams, 58, of Lenox was killed when an eastbound 2009 Chevrolet Malibu struck him on Taylor County Road J13, about 1-1/2 miles east of town. Jessica May Brown, 23, of Lenox was driving on the road about 9:15 a.m. when she hit Williams, according to the Taylor County Sheriff's Office. Brown told others that she thought she had struck a deer, a Sheriff's Office press release said, and she tried to find the animal without success. The next morning, Williams was reported missing after he didn't pick up his wife at the train station. After a search, his bike and body were found about 9:30 a.m. Sunday in tall grass along the road."
— Kansas City, MO: Bike lanes coming to downtown KCMO — "Eleven years after the city adopted a plan to promote bicycling on city streets, bikes lanes are finally coming to Kansas City. On Thursday, the City Council approved plans for striping nearly 12 miles of bike lanes through the heart of downtown next year, with links to the city's east side and the Kansas suburbs."
— Bellevue, NE: Bellevue Road Narrows For Bike Lanes — "Work has begun on Fort Crook road to reduce it from six lanes to four lanes to make way for bike lanes. The outside lanes will become the bike lanes and will eventually be fully striped for bicycle traffic."
— Lincoln, NE: Trail Trek event promotes Lincoln's bike trails — "Just inside the Lincoln city limit are 80 miles of bike trails, with another 50 more on the outskirts. For many, biking around the capital city seems like the perfect way to stay fit and enjoy the summer. To promote the city's expanding trail system and to raise money for future projects, the Great Plains Trails Network hosted Trail Trek, a group bike ride to explore what Lincoln has to offer."
— Tulsa, OK: City Closes Trail, Provides No Detour — "Bikers and runners on part of the trail at the River Parks are hitting a big road block. A construction project has part of the trail closed, and some bikers and runners aren't turning around; they're just going into the road with the traffic to get to the other side."
Event News
— The 5th Annual Tour of Lawrence begins this weekend, with Street Sprints, a Circuit Race, and a Criterium. The weekend cash prize list totals over $20,000! June 28-29-30.
— The Amelia Earhart Century rolls out of Atchison on Sunday June 30th, with 35, 62, and 100-mile routes through the rolling farmland of northeast Kansas.
Elsewhere in the region, the Bike MS: Great West-Life begins in Westminster, Colorado on June 29th. Odin's Revenge, a self-supported gravel and dirt road adventure through the terrain of West-Central Nebraska, is also on June 29. In Missouri, the Tour de Lakes rolls out of Lee's Summit on the 29th.
See also: Kansas Ride Calendar, Regional Ride Calendar
Bicycling Inspiration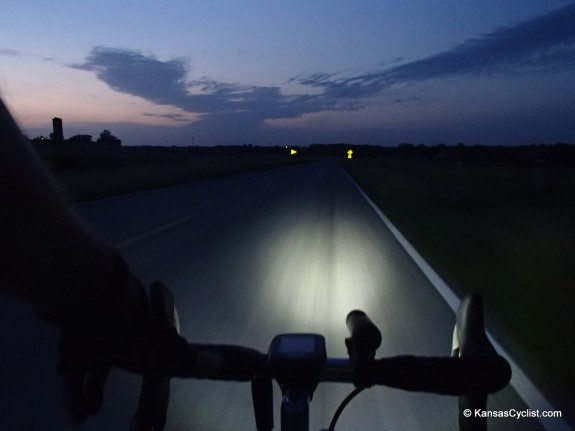 With summer having arrived, night rides are a great way to beat the heat!
Just make sure you're well lit. For riding after dark, Kansas law requires at least headlight and red rear reflector, though a tail light and additional reflectivity is recommended.
My headlight is a Lezyne Power Drive. It puts out up to 300 lumens for up to about 5 hours (and extra batteries are easy to carry). I've been running it for about a year-and-a-half, and it's still rock-solid reliable. Highly recommended!
---
If you have a news item or upcoming event you'd like to share, please contact Kansas Cyclist with details.
Post tags: Digest, Humboldt, Iola, Lawrence, Pittsburg, Salina, Tribune