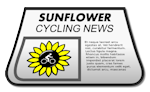 The Sunflower Cycling News is a periodic publication of Kansas Cyclist, featuring a compendium of hand-picked bicycling-related news items from Kansas and neighboring states.
The following is a recap of recent bicycling news from the region, as well as a look ahead to upcoming rides, races, and bicycling events coming up.
---
Bicycling News from Kansas
Tour of Lawrence a boom for downtown businesses
"This weekend's Tour of Lawrence, also attracted some big business, so says the owner of Free State Brewery, Chuck Magerel. Magerel sold beer near the finish line for spectators, and he estimates about 25 to 30 percent of people came from out of town. Overall, the business rivaled that of a home game for K.U. football. "It's akin to what happens with some of the football games," Magerel said. "It will boost 10 to 20 percent over the course of a day." [link]
Police investigating after wire strung between trees injures biker in Lawrence
"Police were called to the trail at 5 p.m. Wednesday with word of a cyclist knocked from his bike by a wire strung between two trees. The fall left him battered and bloodied. Police can't be sure until they collect more details, but at this point they believe the act is sinister." [link]
Lawrence police are asking for anyone with information to contact them at 785-830-7400.
Topeka Bicyclist Injured In Hit And Run
"Topeka Police are looking for a driver who hit a bicyclist then fled. Lt. Scott Gilchrist says the incident happened just after 9:40 pm Monday. He says a woman was bicycling near SE 21st and Adams when she was hit. Her injuries were not considered life-threatening. Police had not description of a suspect vehicle or driver." [link]
Cyclist in hospital after accident in Topeka
"Two cyclists were traveling on S.W. Fairlawn near S.W. Huntoon when the accident occurred around 7 a.m., police at the scene said. One cyclist, a man, was hit and transported to a hospital, but it was initially unclear whether his injuries were serious. Police said a bus driver who witnessed the accident said it seemed the cyclist had run a red light." [link]
Crowd favorite: Local cyclist Schmalz cruises to Tour victory
The Lawrence Journal-World offers a profile of hometown hero Joe Schmalz, who won the Tour of Lawrence's Campus Circuit Race for the second time in three years: "Schmalz won Saturday's hilly race of 14 loops of 3.58 miles up and down the hills of the Kansas University campus. He covered the roughly 50-mile race and battled the strong wind in 2:08:56, 1:25 ahead of second-place finisher Brian Jensen of Lawrence and 1:44 ahead of Brad Huff, who makes his home in Springfield, Mo. Huff is two-time defending champion of the Downtown Criterium. "He's a phenomenal athlete, and he's local. Very bright future. Very bright. He's great. I'm doing my best to get him on a bigger team," said Huff."
Blue River Rail Trail named to top 10 for American history
"The Blue River Rail Trail that runs from Marysville north to the state line has been named one of the nation's top 10 rail trails for American history by the Rails-to-Trails Conservancy. It places the Blue River Rail Trail, a hiking and biking path along the Big Blue River, as number nine on the list. The trail, which extends 13 miles to the Nebraska state line, has been developed for five miles and a few more miles are to be paved this summer." [link]
New Wichita Multi-Use Pathway Honors Phil Lambke
"A pathway dedication honoring late Wichita City Council member Phil Lambke is scheduled for 10 a.m. on Saturday in Garvey Park, 3501 S. Washington. The 1.3 mile pathway, named Phil Lambke Pathway, connects from Garvey Park to Chapin Park. Lambke, who served as the District III Council Member from 1997 to 2005, was instrumental in the development of Garvey Park." [link]
Trail Planned at Douglas County State Lake
The Baldwin City Council "approved a letter of support to the Kansas Department of Wildlife and Parks for a walking/biking trail around Douglas County State Lake. The Douglas County Commission will consider a similar letter of support Wednesday. The city could be asked to link to the trail in the future as its trail system expands." Also, "the Sunflower Foundation has approved a grant to build a trail linking West Park on High Street to the small park at the Santa Fe Depot." [link]
Regional Bicycling News
— McCrory, AR: Seven Cyclists Injured In Arkansas Highway Crash — "Thirteen cyclists were traveling northbound when a car hit seven cyclists at the back of the group. The car was also traveling northbound. Two of the cyclists were transported by helicopter to a Little Rock hospital, and one was taken by helicopter to Memphis for treatment. Four others were taken by ambulance to a local hospital. The driver of the car was not injured."
— Colorado: Governor promotes bike challenge for health — "Gov. John Hickenlooper on Tuesday announced the 2013 Pedal The Plains Training Challenge, a 10-week bicycle challenge designed to encourage Coloradans to get healthy on their bikes this summer. 'Biking is a great way to enjoy and visit Colorado,' Hickenlooper said."
— Iowa: Lance Armstrong to ride in RAGBRAI — "Disgraced cyclist Lance Armstrong says he'll return to his bike later this month for a state-long trek across Iowa. Armstrong tells the Des Moines Register that he and staffers from his Austin, Texas-based bicycle shop will ride for 'three or four days' in RAGBRAI. This will mark the fifth visit to RAGBRAI for Armstrong."
— Iowa: 2 deaths in Iowa spur call for focus on bike safety — "Iowa lawmakers in recent years have strengthened bicycle safety laws and there has been a dip in fatalities, developments that bike advocates believe are related. Safety advocates say there are several relatively common-sense initiatives — such as a legislative proposal that motorists stay at least 3 feet away from bicyclists when passing — that even if rarely enforced through fines would serve as educational tools in driver education classes and license exams."
— Kansas City, MO: BikeWalkKC Executive Director is recipient of regional leadership award — "Eric Rogers, Executive Director of BikeWalkKC, Named a Recipient of the Mid-America Regional Council's 2013 Regional Leadership Awards. Rogers is receiving the award for his efforts to make the region more bicycle/pedestrian friendly and working with local governments as an advocate for the rights and interests of pedestrians and bicyclists."
— Bellevue, NE: New Bike Lanes On Fort Crook Road — "Drivers on Fort Crook Road in Bellevue are noticing something very different…they have to make room for bicyclists. The route includes the elimination of a lane of car traffic each way from Chandler Road on the north to Capehart Road just past Offutt Air Base. The bike lanes are starting to get noticed. An official launch of the bike lanes was held Monday night. Bellevue Mayor Rita Sanders lead a procession of cyclists on a ten mile commemorative ride."
— Oklahoma City, OK: Oklahoma City's young urban professionals ditch cars, ask for bicycles — "The most vocal demand for bike lanes, racks, bike-sharing and activities in Oklahoma City's urban core is no doubt coming from a younger generation that a quarter century ago would have simply abandoned their hometown altogether. Now they're staying. And their interests, in increasing numbers, evolve around working, playing and living downtown, and not relying on cars."
Event News
There are several Independence Day bicycling events in Kansas:
— Old Fashioned 4th of July Bike Ride in Sterling.
— Walk-Ride-Run 4th on the Blue River Rail Trail in Marysville.
— Patriotic Pub Pedal in Wichita.
— Tailwind Cyclists July 4th Freedom Ride in Pittsburg.
— SandCreek Cruisers 4th At The Park cookout and bike ride in Newton.
Over the weekend, there are two events:
— Lizard Under the Skillet in Lawrence on July 7th.
— Masons Midsummer Meltdown mountain bike race on the Wyandotte County Lake Park Trails in Kansas City, Kansas, also on July 7th.
See also: Kansas Ride Calendar, Regional Ride Calendar
Bicycling Inspiration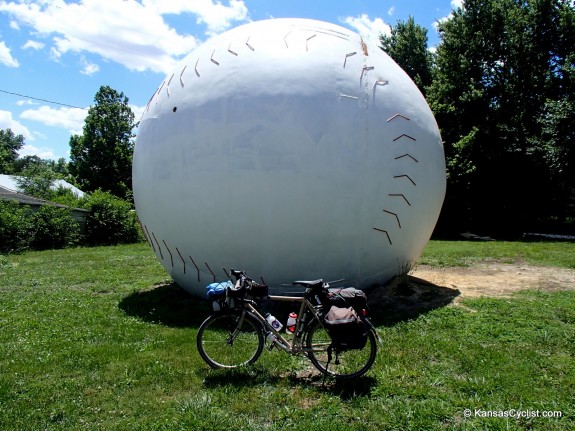 Another photo from the "As Seen By Bike" file … this one from Muscotah, Kansas, a small town that was the birthplace of baseball hall-of-famer Joe Tinker. Volunteers in Muscotah have taken the old water tower and turned it into the world's largest baseball, which will house a museum dedicated to Tinker, who was born in Muscotah, grew up in Kansas City, Kansas, and played semi-pro ball for teams in Parsons and Coffeyville, before going on to become part of the famous "Tinker-to-Evers-to-Chance" double play combination for the world champion Chicago Cubs in the early 1900s.
In addition to the big baseball museum, Muscotah is currently running a Tinker to Evers to Chance Celebratory Baseball Mural campaign on KickStarter to raise funds to paint a mural at Tinker Field, the town's ball field, which will host a vintage baseball game on July 27th, featuring the Cowtown Vintage Base Ball Club of Wichita versus the Hodgeman Nine of Jetmore/Hanston.
I had no ideas this existed, so stumbling onto it while on a bicycle tour of northeast Kansas was just a serendipitous discovery, especially since I'm a really big baseball fan.
Just goes to show that there's no telling what sorts of cool things you'll come across when travelling by bike!
---
If you have a news item or upcoming event you'd like to share, please contact Kansas Cyclist with details.
Post tags: Baldwin City, Digest, Lawrence, Marysville, Topeka, Wichita