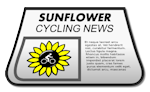 The Sunflower Cycling News is a periodic publication of Kansas Cyclist, featuring a compendium of hand-picked bicycling-related news items from Kansas and neighboring states.
The following is a recap of recent bicycling news from the region, as well as a look ahead to upcoming rides, races, and bicycling events coming up.
---
Bicycling News from Kansas
Sign Up For the National Bike Challenge

The National Bike Challenge runs from May 1st through September 30th. Last year, Kansas had some of the top individuals and teams in the entire country. Do your state proud by riding your bike and logging your miles in 2013! Get started at nationalbikechallenge.org and join the Kansas Cyclist Team.
We're currently in the "warm-up period", and so far 53 cyclists in Kansas have ridden over 5,000 miles. Join them and do your part!
How One Kansas Bicyclist's Idea Has Transformed the Nation
The League of American Bicyclists introduces us to the Kansan responsible for inspiring the Bicycle Friendly Community program:
For Wayne Byrd, the Bicycle Friendly Community (BFC) concept was a combination of his two passions. Byrd had his second date with wife, Anne, on a bike and worked as a public servant and elected official in Overland Park, Kan., for more than 16 years. In 1993, he was inspired by the Arbor Day Foundation's Tree City program. "As an avid bicyclist," he says, "I wondered why there wasn't a similar program to encourage safer bicycling in urban and suburban areas." So Byrd set out to create that program — an initiative that would recognize communities that were making strides for bicyclists and create clear criteria for others looking to get on the path to better biking.
Read more: How One Member's Idea Has Transformed the Nation
City of Shawnee is Silver Bicycle Friendly Business
The City of Shawnee has earned a Silver level Bicycle Friendly Business designation, the second silver in the state! Shawnee is also a bronze-level Bicycle Friendly Community. [link]
Manhattan K-18 / K-113 Interchange Project
The City of Manhattan is planning improvements at the K-18 and K-113 interchange, and is asking for public input. It's important that bicycle and pedestrian access be part of this project from the very beginning. You can learn more about the project here, view a map here, and provide your input here. Takes just a few seconds! The preliminary public input period runs through May 10, and a public open house is planned for the summer.
Bicyclist struck by car in Leavenworth
"A 12-year-old girl was taken to the hospital after her bicycle was struck by a vehicle" on April 16th in Leavenworth. "The girl was traveling north in the southbound lane, according to Leavenworth Police Lt. Kevin Crim. Crim said the driver indicated she didn't see the girl. The girl was transported by Leavenworth County EMS to Children's Mercy Hospital, Kansas City, Mo., where she was treated and released." [link]
Bicycle X-Change Celebrates 40th Anniversary
This April, the Bicycle X-Change Shops in Wichita are celebrating 40 years of providing bicycles and cycling gear to the Wichita area. The family owned-and-operated business has been a Wichita institution since 1973. Congrats and thank you, Bicycle X-Change! [learn more]
Marysville Residents Want the Blue River Rail Trail Downtown
During a visioning session in Marysville, residents "expressed hope that the Blue River Rail Trail north of Marysville could be connected soon to downtown Marysville's bike and pedestrian trail." The trail currently ends just north of town, and many residents must drive to the trailhead to ride or walk the trail. [link]
Scary Larry Bike Polo Club Highlighted
The Scary Larry Bike Polo Club was recently featured in a Lawrence Journal-World article: "Bike polo is a workout, and it's not too difficult to get into. The game is a lot like traditional polo, but bikes are substituted for horses and the field is a basketball court. The club typically plays numerous three-on-three games, which last about eight minutes each."
Speak Up For Bicycling in Louisburg
Louisburg Mayor Travis Thompson recently presented his vision for the city, which includes "improving pedestrian and bicycle traffic". Cyclists in Louisburg have a chance to speak up in support of that vision at a town hall meeting set for 3:30 p.m., April 27 at the Louisburg Library. [link]
Regional Bicycling News
— Little Rock, AR: Highway Department talks widening Highway 10, adding lanes — "There are not sidewalks along the whole Highway 10 corridor and people cannot walk there as recreation. People who want to commute by bike have no ability to do so because they have to take their lives in their hands."
— Boulder, CO: Boulder County trails plan seeks to avoid needing to drive to a trailhead — "Would-be trail users in the Denver area too often are limited now to a bunch of islands that people have to drive to, to get to. The planning effort presents an opportunity for Boulder County residents to use a trail network they could use to cycle from their homes the foothills and mountains and back, without having to drive their bikes to trailheads."
— Iowa City, IA: Iowa Corridor's bike shops turn a lifestyle into a business — "'Cycling used to be a recreation, for people in Iowa City especially,' said Ryan Baker, owner of World of Bikes in Iowa City. 'Now it's more of a lifestyle.' His customers, he said, are riding their bikes to work, to the grocery store and out to dinner in the evening."
— Kansas City, MO: Swope Trails Donation from BikeSource — "BikeSource (already a financial supporter of Swope) has made a cash donation of $5000 for the continuing development of the trail system. Additionally, BikeSource has agreed to make this an annual donation we can count on for the next 5 years! This donation will help us move forward at a quicker pace and give us more of the dirt we love!" Congrats, Swope Trails, and well done, BikeSource!
— Rolla, MO: CHIEF CHAT: Sharing the road — Rolla Police Chief Mark Kearse writes: "Please remember by Missouri law, bicyclists are allowed to use the road. By law, bicyclists have the same rights and duties as other vehicle drivers. When passing cyclists, common sense and standard traffic law says that 'drivers shall pass at a safe distance.' Squeezing past is simply unsafe and illegal!"
— Omaha, NE: City maps out upgrades for Omaha's 124-year-old boulevard system — "After years of development and wear and tear — not to mention the construction of highways that sliced through several neighborhoods — the boulevards are in need of some extra care. Among the more specific plans suggested by the city: Adding bike lanes by removing some on-street parking, and transforming parking spaces back into green space along Fontenelle Boulevard."
— Oklahoma: The next Oklahoma Bike Summit is scheduled to begin on January 18, 2014 in Tulsa.
Event News
— Events this weekend: Osage Prairie Tour, Spring Classic, Bruce Michael Edwards Memorial Time Trial, Manhattan Helmet Fair, Joseph Sheehan Road Race, Tour de Cyclone Country, Riley County Police Department Community Bike Ride
— The Scary Larry Bike Polo Club in Lawrence is holding a Social Ride on April 26th, and a Bike Polo Cook Out and Newbie Night on Sunday the 28th.
— The Tour of Topeka is a fun, free, and family-friendly community bicycle ride to help introduce Topekans to their bike-friendly roads and bikeways. It rolls on May 5th.
— The Ozsome Bike Fest is a family-friendly festival that takes place in Wichita on May 18th, and offers both bike rides and related activities.
— The Cottonwood 200 still has a few slots open for their 200-mile, three-day bicycle tour through the Flint Hills that begins on May 25th. They're also looking for volunteers to help with the event. [link]
— Miles for Mikal is a ride in Claflin, Kansas on June 1st, to raise funds to benefit Mikal Bond, a young girl who was severely injured in a car/bike collision in 2011.
— A note for Manhattan area cyclists: "At The Pathfinder in Manhattan, we are getting ready to kick-start our weekly women's ride and have created a survey to set the best dates/times. If you're near Manhattan and want to be involved in a women's ride, shoot us an e-mail or a Facebook message. sales@thepathfinder.net"
— Trans Iowa is happening this weekend, with nearly 100 endurance cyclists attempting to cover over 300 miles of rugged Iowa gravel and dirt roads. It is one of the nation's oldest, and toughest, gravel grinders. You can listen to live updates, from both the race organizer and participants, on Trans Iowa Radio.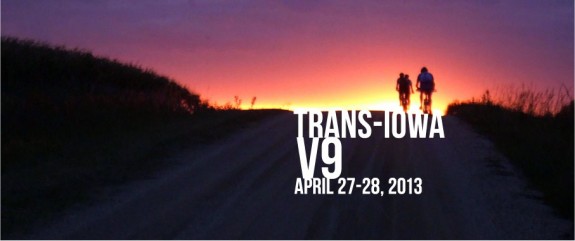 See also: Kansas Ride Calendar, Regional Ride Calendar
The Latest Bicycling Resources at Kansas Cyclist
— Where To Donate Bicycles in Kansas: If you have old bicycles that you no longer need or want, consider donating them to a worthy cause. This is a list of organizations in Kansas that will accept your donated bicycle and give it a good home.
---
If you have a news item or upcoming event you'd like to share, please contact Kansas Cyclist with details.
Post tags: Digest, Lawrence, Leavenworth, Louisburg, Manhattan, Marysville, Wichita