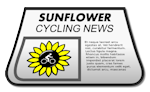 The Sunflower Cycling News is a periodic publication of Kansas Cyclist, featuring a compendium of hand-picked bicycling-related news items from Kansas and neighboring states.
The following is a recap of recent bicycling news from the region, as well as a look ahead to upcoming rides, races, and bicycling events coming up.
---
Bicycling News from Kansas
Andover-to-Augusta bike path taking first steps

Progress on the Redbud Trail: "There's been talk for years about creating a path, to be used by foot or bicycles, from Andover to Augusta. Now, a grassroots organization is working in conjunction with several other unities to turn the 'Rails to Trails' path into a reality. Anyone interested in volunteering, or getting involved in the organization, is encouraged to call 204-8476 or emailing aartitrail@gmail.com ." [link]
Garden City / Holcomb Trail Proposed
The Finney County Commission, Garden City Commission and Holcomb City Council recently held a joint meeting to discuss, among other topics, "an inter-community bike/pedestrian trail". I have no additional details on this proposal, unfortunately. Sounds intriguing! [link]
First Sharrows Installed In Wichita
The city of Wichita has recently installed its first sharrows, at the intersection of 21st Street and 135th Street West, in response to safety concerns from bicyclists. [link]
First Sharrows in Emporia
The city of Emporia has recently added their first sharrows, to about 2 miles of city streets. This is the first of four streets scheduled to receive the treatment within the next few years. [link]
Child on bicycle struck by car on S.W. Topeka
"A child riding a pink bicycle along S.W. Topeka Boulevard received serious injuries Monday afternoon after being struck by a black passenger car." [link] "The driver, identified Tuesday as Rebecca Lynn Horting, 32, of Topeka, was driving south on S.W. Topeka Boulevard in a 2008 Kia Optima when her car collided with the bicycle, which Rylee was riding on the gravel shoulder." [link]
More information, and video, from WIBW.
Bikers battle wind in anniversary ride
A report form Saturday's Rope 'em Ride in Hays: "Brandon Case, 47, Pratt, was the only bicyclist to cover the entire 100-mile course on the cool day that saw riders battling gusts that nearly sat them on their side, especially when riding by the Toulon elevator on Old U.S. Highway 40 east of Hays. Brandon Case is an avid bicyclist who participates in Biking Across Kansas and was back for the Rope 'em Ride for the first time in several years. 'We definitely wanted to come back for the 25th,' Case said." [link]
Tour de Topeka gives riders taste of city streets
"Bicyclists cruised the streets of Topeka on Sunday as a way to highlight the city's bikeways plan. Tour de Topeka took place about eight weeks earlier than the Tour de France — and the scenery was a tad different, too — but bicyclists showed enthusiasm for the steps the city has taken toward making Topeka a better place to ride." [link]
City of Manhattan, local businesses celebrate bike month
"This month, the city of Manhattan and local businesses are giving people an opportunity to celebrate national bike month. Bike month, which has been a weeklong celebration in past years, gives the public a chance to participate in various events that promote bicycling." [link]
National Bike Challenge Update
As of press time, the stats for the National Bike Challenge has Kansas as the number 12 state in the nation (the top 3 are Vermont, Wisconsin, and Nebraska). Kansas currently has 266 riders and just over 8500 miles logged.
Topeka cyclist Eric Bradford Nordgren is the #1 cyclist in the nation, with 762 miles since the beginning of the month (yikes!). Two other Kansans, Joe Jordan and Brian Carr, both of Topeka, are also in the top 10 nationwide.
The #1 team in Kansas is the "Topeka Ol' Phogeys"; they're also the top "small team" in the country, having logged nearly 2325 miles as a 10-person team.
Topeka is taking this thing seriously; the rest of us have some catching up to do!

Not signed up yet for the National Bike Challenge? Shame on you. Get on it. It's free and it's fun, and the more the merrier. You can easy back-date your miles through the beginning of May. Sign up now!
Regional Bicycling News
— Conway, AR: National Bike Month brings array of events to Conway — "National Bike Month has kicked into gear, and events will be happening in and around Conway for the entire month that will bring awareness to cycling and lessons about traffic safety for those sharing the road with cyclists."
— Telluride, CO: Town Park pump track nears completion — "What was once just a sketch plan and big pile of dirt has transformed into a sculpted play park that is nearly ready for area bikers. Volunteers and SMBA members worked over the weekend to get the track into ride-ready shape and did some test runs. They will be working over the next few days to tweak some aspects of it and make sure that it flows well, and it will be open to the public on or before July 17."
— Iowa: Iowa is 21st of bicycle-friendly states— "The Hawkeye State dipped five places from 2012, placing 21st in the nation in the League of American Bicyclists' annual review, released Wednesday. It's a significant dive from 2009 through 2011, when Iowa repeatedly ranked in the top 10 for bike-friendliness. 'We're dropping like a rock. It doesn't resonate very well for a state that prides itself on doing RAGBRAI when we're not judged as a very safe state for bicycling.'"
— Pleasant Hill, MO: New Pleasant Hill shop caters to bike enthusiasts — "A new Pleasant Hill business offers a two-for-one deal: coffee and bicycles. When Voss learned that state began making plans to expand the trail through Pleasant Hill, the idea spurred to open up his own shop as a resource to others bicyclists by providing repair services, along with rentals and sales — as well as some caffeine."
— Beatrice, NE: Beatrice man gets year behind bars in hit-run case — "Investigators say Drent's car ran into a bicyclist on July 21, 2012. Drent continued driving and then left his vehicle in a parking lot. He was arrested after he was contacted at his home. Defense and prosecution lawyers had jointly recommended two years of probation for Drent, but Judge Paul Korslund told Drent he was giving him the year's sentence as 'a wake-up call.'" [more info] Well done, Judge Korslund!
— Lincoln, NE: Nacho Ride kicks off seventh year Tuesday — "Lincoln's Nacho Ride averaged 100 bicyclists per week in 2012. The Nacho Ride officially starts at the trailhead just south of 84th and O streets at 5:30 p.m., but many riders arrive early or come late. They pedal 10 miles to Eagle and stop at the One-Eyed Dog Saloon for nachos, beverages and to socialize. Total round-trip distance: 20 miles."
— Tulsa, OK: Pedicabs offer low-cost, low-hassle transportation in Tulsa — "Driving in circles to find parking, then hiking several blocks or more to get to an event, is something of a Tulsa tradition. Tulsa Pedicabs offers an alternative. A phone call or email will reserve you a ride in a Pedicab, something of a cross between a rickshaw and a bicycle. The drivers work for tips, there's no fare.
Event News
Events for this coming weekend include:
— Cycle CASA in Manhattan on May 11th
— Tour de Cure: Wichita at Sedgwick County Park in Wichita on may 11th
— Gravel Ride for Maisie's Pride on May 11 in Eskridge
— Trail Care Day on the Lawrence River Trails, May 11. Complete a few hours of work and earn a chance to win some awesome prizes from Sunflower Outdoor and Bike, including a new bike, lights, helmets, shoes, and other great gear.
Next Wednesday, May 15th, is the annual "Ride of Silence", to honor those who have been injured or killed while cycling on public roadways. There are events in Lawrence, Wichita, and elsewhere around the region.
See also: Kansas Ride Calendar, Regional Ride Calendar
Bicycling Inspiration
A half mile of sharrows was installed on an isolated portion of McClure Street in southwest Topeka in 2011, but these on 10th Avenue are brand new, and are part of a demonstration project, in anticipation of implementation of the first phase of the Topeka Bikeways Master Plan.
These are well-placed within the lane, and on a very suitable street. Hopefully they are indicative of many more to follow!
---
If you have a news item or upcoming event you'd like to share, please contact Kansas Cyclist with details.
Post tags: Andover, Digest, Emporia, Hays, Manhattan, Topeka, Wichita