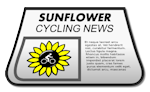 The Sunflower Cycling News is a periodic publication of Kansas Cyclist, featuring a compendium of hand-picked bicycling-related news items from Kansas and neighboring states.
The following is a recap of recent bicycling news from the region, as well as a look ahead to upcoming rides, races, and bicycling events coming up.
---
Bicycling News from Kansas
25 Topeka Kids Given New Bikes
"Twenty-five first and second-graders were given brand new bicycles, courtesy of the Boy and Girls Clubs of Topeka, in recognition of their achievements. The bikes were assembled by 12 members of the organizations Leadership Exploration cohort. Topeka Police and Stormont Vail provided each kid with a helmet and some safety instructions." [link]
Bicyclist Killed in KCK Hit-and-Run
A bicyclist, Santiago Zamora-Zamora, was struck and killed by a hit-and-run driver on November 29th in Kansas City, Kansas. Despite lying in the open along a busy roadway, he was not found for four days. Police are asking for help in identifying the killer. [link]
Flow Track Coming to Emporia
High Gear Cyclery and Trek Bikes are teaming up to build a flow track at Camp Alexander, near Emporia. This is in addition to the existing mountain bike trails at Camp Alexander. This'll be a great place to work on your bike-handling skills! They have a video on YouTube showing the work in progress: video
A Report From the Kansas State Cyclocross Championships
"First off, you gotta give all the credit to Jeff Unruh and his crew for putting on a super race. The course was awesome. It could be a UCI level course if you wanted it to. You gotta get to Topeka and race some of his courses if you really want to see how a CX race is done right. " [link]
Prairie Travelers Fall/Winter 2013 Newsletter
The Fall/Winter 2013 edition of the Prairie Travelers Newsletter is available online. It contains the latest news on the Prairie Sunset Trail and the Red Bud Trail, as well as event news and information. Goals for 2014 include Re-layering limestone on the roughest 2 miles of the trail; Installing trailhead/welcome stations in Garden Plain and Goddard; and Creating a plan for expansion of the trail east to Wichita. The group is also urging residents to contact the Sedgwick County Commissioners and the Wichita City Council, to encourage them to honor their commitments to develop their portions of the trail.
Topeka City Council to Consider Shunga Trail Extension

On Tuesday, December 17th, the Topeka City Council is scheduled to discuss and vote on the proposal to appropriate $25,000 (to be matched by the County) to complete the Shunga Trail from Fairlawn southwest beneath both I-470 and 29th St to connect with the "sharrowed" roadway on McClure Avenue leading to French Middle School. Topeka cyclists, please 1) contact your City Council member before the 17th and request an affirmative vote and 2) attend the meeting at City Hall starting at 6:00 p.m.
Kansas National Guardsman Honored For Helping Save Bicyclist's Life
"For his heroic actions in helping save the life of a 12-year-old girl (Rylee Robinson) who was badly injured in a car-bicycle accident in south Topeka, Staff Sgt. Matthew R. Crawford on Saturday received the Kansas National Guard's Distinguished Service Medal during a ceremony at the 190th Air Refueling Wing at Forbes Field. Crawford received a standing ovation from hundreds of his fellow Guard soldiers who looked on as Gov. Sam Brownback pinned the medal onto the left front of his dress uniform."
Regional Bicycling News
— Arkansas: Cyclists participate in Bentonville race despite icy weather — "The Boston Mountain Cyclists' Phat Tire Cyclocross bicycle race took place on a 0.8-mile course on the Slaughter Pen Trail System. Cyclocross involves both cycling and running while carrying a bike. The race's course was initially set to be 1.2 miles, but was altered after the race's organizer said some sections were too tough to ride a bicycle."
— Colorado: CDOT To Open Estes Highways To Cyclists — "The Colorado Department of Transportation hopes to have at least one route from the Front Range to Estes Park open to cyclists sometime this week. Now that the first real snow storm of the season has passed, workers will be evaluating highways 7, 36 and 34 for road damage, rock slide potential, embankment scour (undercutting) and shoulder condition (hard and soft). If the highway(s) are deemed safe, they will be reopened to cyclists for the first time since the September floods."
— Iowa: In Iowa City, it's ever too cold to bike — "Just because Iowa City is sitting under a fresh dusting of snow, the temperatures hover around 20 degrees, and the wind bites at the face, doesn't mean it's not a good day for a bike ride. The University of Iowa Office of Sustainability and the Bicycle Advisory Committee are putting on the Winter Warrior Bike Challenge, which began Dec. 1 and runs through Dec. 20."
— Missouri: Commuter cycling in St. Louis has soared — "The city of St. Louis since 1990 has added more cyclists to its roadways than the vast majority of U.S. cities. St. Louis ranked No. 7 in the U.S. for commuter cycling growth since 1990, racing past cities such as San Francisco, Denver and Minneapolis, all of which, in fairness, count a larger percentage of bike commuters."
— Nebraska: Omaha says it had little choice but to back off plan for South 32nd Avenue bike lane — "Cycling advocates and neighborhood supporters of a midtown Omaha bike lane project were thrown for a loop by the city's backing off the project, but officials insist that they had little choice. The City of Omaha likely faced two or more additional years of review, possibly costing $100,000 or more, if it continued to pursue federal funding for a protected bike lane on South 32nd Avenue, City Engineer Todd Pfitzer said. That's more time and more expense than the city had anticipated"
— Oklahoma: Case in bike death accident begins — "Kelly is charged by the State for first-degree manslaughter in the death of James Charydczak, while engaged in a misdemeanor, and for leaving the scene of a fatality accident. The state charges that the defendant caused Charydzcak's death while engaged in a misdemeanor of reckless driving, exceeding the speed limit at night with the vehicle dome light on, and looking for items inside the vehicle, all while having a blood alcohol concentration of 0.05 resulting in impaired driving." The killer is attempting to blame the victim, saying he "was not wearing any reflective safety gear, was dressed in a brown jacket, black pants, dark boots and hat, without a helmet."
Bicycling Inspiration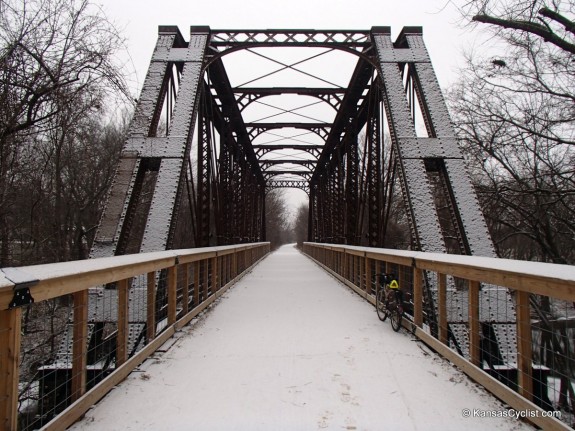 Winter may have arrived a bit early, with bitter cold and falling snow, but it's still fun to get out and ride, especially when there are so many beautiful places to visit, that can be totally transformed by a dusting of white.
I'm fortunate to have the glorious Elm Creek Bridge, on the Southwind Rail Trail, just a few miles from my home, but every community has its special places … get out and enjoy yours!
---
If you have a news item or upcoming event you'd like to share, please contact Kansas Cyclist with details.