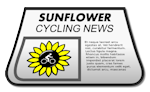 The Sunflower Cycling News is a periodic publication of Kansas Cyclist, featuring a compendium of hand-picked bicycling-related news items from Kansas and neighboring states.
The following is a recap of recent bicycling news from the region, as well as a look ahead to upcoming rides, races, and bicycling events coming up.
---
Bicycling News from Kansas
Building Trails To Support Kansas Tourism
The Travel Industry Association of Kansas has issued a report that challenges the Governor to add biking trails to every scenic and historic byway, and each historic trail through the state, which could have an huge impact on Kansas tourism. Tourism is already one of the largest industries in Kansas, and focusing on bicycle tourism should be a natural for the Sunflower State. [link]
High School Mountain Biking Club in Peabody
Peabody, Kansas is a very small town located in a rural east central Kansas, but its high school, Peabody-Burns High School, boasts something that no other school in the state can claim: a mountain biking club. Cool story! Wouldn't it be great is other schools in the state could follow Peabody's lead? [link]
Gunn Park Trail Volunteers Receive Award
Fort Scott Mayor Jim Adams presented the Mayor's Citizenship Award to the Gunn Park Trail Volunteers, in recognition of their "outstanding contributions made to the citizens of Fort Scott" (see photo). I visited the Gunn Park Trails last summer, and found them quite excellent (you can read my review here). Check them out if you haven't already!
Leavenworth County Trail Map Draft Complete
"The map is the culmination of the efforts of a committee of volunteers working to produce a document that includes the entire system of pedestrian and bicycle paths through the county. Terry Andrews, the chairman of the Port Authority, said he thought the finished product could benefit the county as a whole, especially as a lot of other area communities work to both strengthen and promote their own trail systems. 'This goes a long way in improving quality of life.'" [link]
Bike Polo in Topeka
We've looked at the phenomenon of bike polo before, but an article in the Topeka Capital-Journal takes a new look at a group there: "A grassroots group of bicycle enthusiasts looking for a new way to stretch their wheels inadvertently have saved a couple of Topeka tennis courts. The courts at Washburn Park were slated for demolition because no one was using them. But rather than tearing down the courts, Shawnee County parks and recreation spent less than $200 to transform the dilapidated facility into the city's first bike polo court."
Bicycle Maintenance Classes in Wichita
The Bike Cave in Wichita is holding a series of bicycle maintenance training classes, beginning the first week of April. This is a great opportunity to learn to work on your own bikes! [link]
Beware of Road Work on US-169 in Allen County
A heads-up to any cyclists who may be planning to travel on US-169 south of Iola: the Kansas Department of Transportation will be doing roadwork from now until September, and there will be one-lane traffic and a pilot car at times. Old 169 highway may be a good alternate route, though will likely see heavier traffic levels than normal. The good news: The Southwind Rail Trail will soon be open, and will provide an idyllic route between Iola and Humboldt. [link]
Regional Bicycling News
— Boulder, CO: Dump-Truck Driver Convicted In Bicyclist's Death — "A dump-truck driver accused of hitting and killing a bicyclist near Boulder has been convicted of careless driving resulting in death." This after the driver had previously been convicted in a road rage incident against a bicyclist in 2009…
— Thornton, CO: Bicyclist killed, driver arrested in Thornton — "The accident happened about 10:30 p.m. when the cyclist, heading eastbound in the westbound lanes of East 100th Avenue, failed to stop at a red light at Colorado Boulevard, Thornton police spokesman Officer Matt Barnes said. The bicyclist was then struck by a northbound 1998 GMC pickup, whose driver sped away but immediately called police from home upon seeing the damage to his truck. Barnes said the driver was unaware he had struck a person."
— Iowa: Iowa considers three foot passing law: "Iowa legislators have introduced three bills for the 2013 session, each of which amends Iowa vehicle code to require at least three feet of space when a motorist passes a cyclist."
— Kansas City, MO: Man turns to YouTube after hit-and-run — "Coffman said he was heading home from work Wednesday night and was stopped at Armour Boulevard and Gillham Road when a driver right behind him took road rage to a whole other level. 'He slowly started pushing his car into the back of my bike.' He said he was able to jump out of the way, but Coffman's bike wasn't so lucky. The back tire is destroyed and the gear shaft will have to be replaced."
— Kansas City, MO: BikeWalkKC kicks off second-annual bike-sharing program — "Kansas City's bike-sharing program, B-cycle, is set to reopen for its second season on Friday. It includes 90 bicycles at 12 downtown docking stations, and the bikes are available seven days a week from 5 a.m. to midnight. Last year, users rode the bikes more than 13,000 miles throughout the city after the program was launched in July."
— Springfield, MO: Greenway Path Marks Trail of Tears — "Volunteers are clearing an overgrown railroad bed in southwest Springfield that traces a portion of the infamous 1830s Trail of Tears. By the end of the year, the nonprofit Ozark Greenways hopes to transform the rail bed into a hiking/biking trail — the Ozark Greenways Trail of Tears — with signs explaining the historic nature of the path through southwest Springfield and Greene County."
— Lincoln, NE: Lincoln business 'family' to marry beer, biking on Saturday tour — "Come for the food, stay for the beer, dance to some polka and leave on your bike. A group of Lincoln businesses is holding a bicycle tour of Lincoln's local breweries called 'Beer to There.'"
— Edmond, OK: Mayoral candidates differ on bike lane plan — Some opinions about the city's Bicycle Master Plan from candidates for mayor in Edmond. Most sound supportive, to one degree or another.
— Shawnee, OK: City approves bike route 4-3 — "Before crowded chambers, the Shawnee City Commission voted in 4-3 split to approve the Bike Route plan, which was put together by the Engineering Department. Several citizens spoke in favor of approving the trails, including Shawna Turner, president of Sustainable Shawnee and chairwoman of the Shawnee Planning Commission. 'I can tell you that the community has supported it,' she said."
Event News
The road racers in the Spring Fling Criterium Series and the Perry Road Race Series have been going at it for a few weeks now, but there are finally some recreational cycling events on the horizon, including the Cabin Fever Challenge in Wamego on April 13th, the Santa Fe Trail Spring Bike Ride in Alta Vista, also on April 13th, Operation Pedal Express in El Dorado on April 20th, and the Tour de Vino in Paola, also on April 20th. And, of course, there are lots of events in our neighboring states, including both races and recreational rides.
St. Patricks Day is this coming weekend, and you can ride in parades with the Coasters Bicycle Club in Wichita, with the Topeka Community Cycle Project in Topeka, or the BikeWalkKC in Kansas City. Ride green!
See also: Kansas Ride Calendar, Regional Ride Calendar
Shop News
— Bicycle X-Change Shops in Wichita is offering March Madness Gear, with cycling jerseys for KSU, KU, and WSU.
— Capp's Bike Shop in Topeka is holding a Winter Sale on Clothing, Tights and Trainers thru March 30th.
— Lee's Bike Shop in Wichita is running a winter apparel sale until March 16th, with big markdowns on cold-weather gear.
* Note: This section is an experiment; if you own or work for a bike shop in Kansas, feel free to contact me with any news on sales or special events, and I'll post it up! Or, even better, consider advertising on Kansas Cyclist.
Site News
I'm expecting to be traveling quite a bit in the coming week or two, and am planning to try to keep up from the road. But if updates are sparse for a little while, that's why … will catch up when I can!
Bicycling Inspiration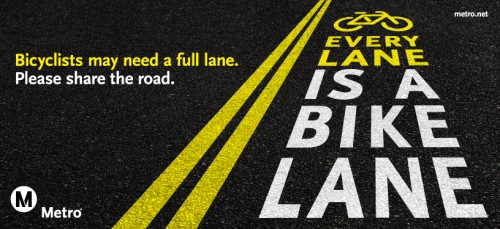 I LOVE this campaign from Los Angeles: "Every Lane is a Bike Lane … Bicyclists may need a full lane; Please share the road."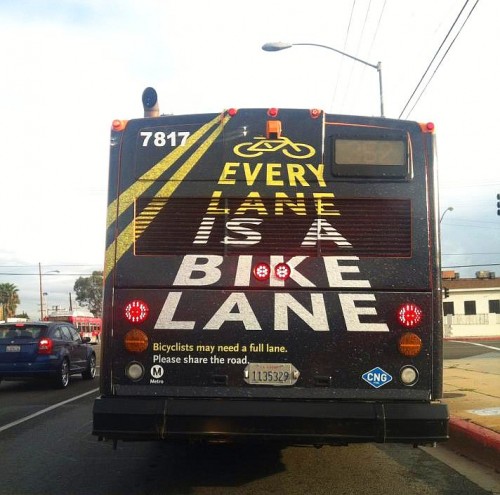 The image is also on city buses. What a great way to spread the good word and help people (both motorists and bicyclists) understand this simple but very powerful concept.
Images courtesy of cyclelicio.us: here and here.
---
If you have a news item or upcoming event you'd like to share, please contact Kansas Cyclist with details.
Post tags: Digest, Fort Scott, Iola, Leavenworth, Peabody, Topeka, Wichita