Peabody, Kansas is a very small town located in a rural east central Kansas, but its high school, Peabody-Burns High School, boasts something that no other school in the state can claim: a mountain biking club.
Here's the "Adventure Club" story from the Peabody Gazette-Bulletin:
Three years ago, Gene Green wanted to give Peabody-Burns High School students an exercise alternative to traditional sports — not every student is athlete — and Adventure Club was born.

With the days getting longer and warmer, 16 PBHS students are looking forward to hitting mountain bike trails at the beginning of March. Three Adventure Club favorites are Miller's Meadow south of Andover, a trail near Harvey County Lake East, and a trail near Bethel College in Newton.

"It doesn't matter what ability you have," Green said. "Anybody can bike."

Weather permitting, the group likes to ride as often as possible usually on Sunday afternoons and school in-service days. They usually meet to discuss riding, fundraising, and other activities during school hours, Green said.

Green said Adventure Club is the only high school mountain biking club in the state of Kansas. He was unsure how the students would respond to the idea. The reaction has been undoubtedly favorable. Adventure Club has doubled in size since the 2010-11 school year.
Although the club uses a school vehicle for travel, it is otherwise largely self-sufficient and independent. Unlike more traditional sports, club equipment is not provided by the school, so they've had to get creative. The club has been fortunate enough to receive small grants from the Kansas Health Foundation and the Peabody Community Foundation, and Heartland Bicycle in Wichita has given the club a discount at the shop, which has allowed the club to procure 8 bikes for the students, though they're hoping to acquire more.
Although the Peabody Adventure Club is unique in Kansas, there are other high school mountain bike clubs in other states. In Colorado, for instance, the Colorado High School Cycling League, was formed in 2009, and by 2011 had teams with 325 student athletes, from 33 public and private high schools, participating in a series of races designed for high school aged riders.
The National Interscholastic Cycling Association is the "governing body for mountain biking in grades 9-12. NICA provides leadership, governance and program support to promote the development of interscholastic mountain biking leagues throughout the United States." Their vision is to have "high school mountain biking coast to coast by 2020".
Gene Green is the Media Specialist at the school, and is the Team Leader for the Adventure Club. Asked about the potential for the concept to spread to other schools in Kansas, he said "One of our goals is to involve other schools in MTB. We have schools around us that I want to approach to see if they would have an interest in starting up their own club, and we can all work together in building a bigger and better biking program. It is part of our plan. There is an opportunity here which could bring a whole new healthy lifestyle to our school districts. That is cool!"
Most of the riding the club does is on trails, but unfortunately, Peabody doesn't have any trails in town, and the club must travel to different areas to do trail rides. As with any activity, the club "has had its share of spills and thrills and blood. Parents fill out a form allowing their child to participate and acknowledge the possibility of injuries, cuts, bruises, or broken bones, etc. Parents carry insurance on their child. We carry a copy of their insurance and a signed form allowing us to get treatment for the student if necessary."
Here are some photos of the club, provided by Gene: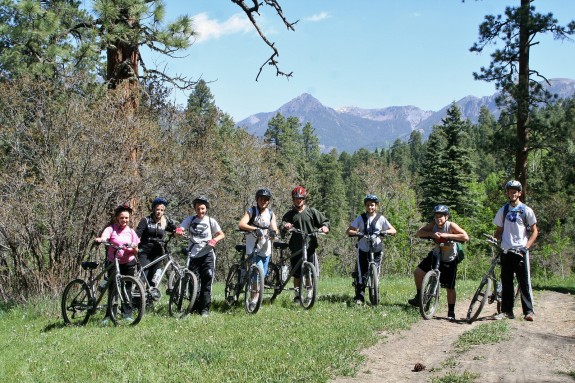 This photo shows members of the club on their mountain biking trip to Colorado last year.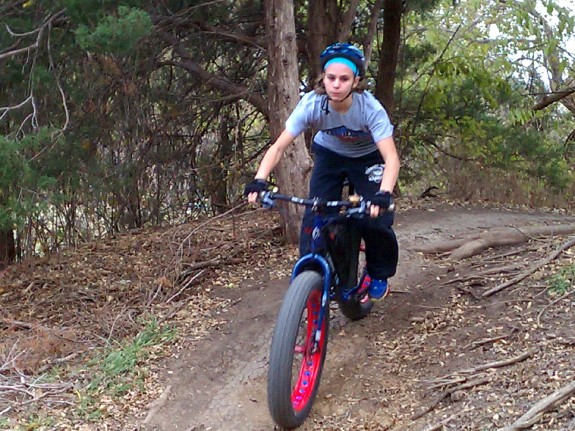 The club often rides at Millers Meadow near Wichita (the fat bike shown here was a demo bike courtesy of Heartland Bicycle in Wichita.)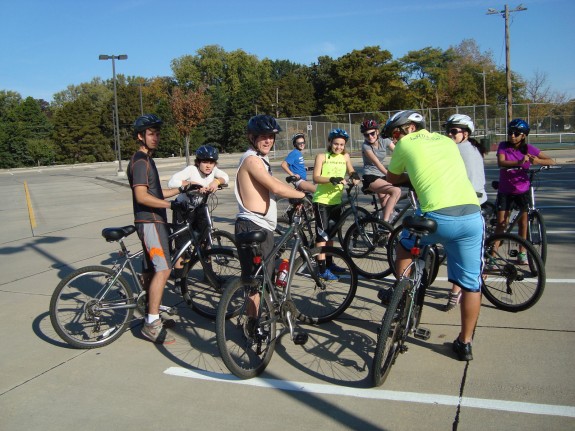 Here, member of the Adventure Club prepare to ride on the Bethel Trails in Newton.
Gene says that although some of the kids in the club have expressed an interest in riding competitively in some of the many mountain biking events around the state, the club hasn't been able to provide that opportunity for them, yet. "I have some kids who are quite aggressive and ride well. They would enjoy the opportunity to compete. This is something we hope to develop."
Well done, Peabody Adventure Club! Let's hope that you can serve as a model for other Kansas schools.
Although some areas of Kansas have a dearth of mountain bike trails, there are certainly numerous trails in most of the central and eastern parts of the state. We just need some school leaders with vision, such as PBHS's Gene Green.
Post tags: Bike Clubs, NewsBlog, Peabody