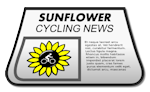 The Sunflower Cycling News is a periodic publication of Kansas Cyclist, featuring a compendium of hand-picked bicycling-related news items from Kansas and neighboring states.
The following is a recap of recent bicycling news from the region, as well as a look ahead to upcoming rides, races, and bicycling events coming up.
---
Bicycling News from Kansas
Regional Bicycling News
Upcoming Kansas Bicycling Events
There's a new race series taking place this year. The Chautauqua Red Flint Hills Gravel Crusher is a series of three challenging gravel grinders in three distinct hill regions of south central Kansas:
"Manka Chonka Bonka" in the Chautauqua and Osage Hills of Chautauqua County, on March 16th.
"Red Hills Roller" in the Red Hills of Barber County on April 20th.
"Elrod's Cirque" in the Flint Hills of Cowley county on May 18th
It's great to see more events in that part of the state. Big kudos to event organizer Bobby Smith, who also hosts the annual Tour de Lizard Fat Tire Classic at the Camp Horizon trails in Arkansas City each September.
Kansas City Ultra-Cycling has also released their schedule for the 2013 KCUC Brevet Series:
Sat. 3/23/2013, 200km — Princeton Roundabout route, Shawnee, KS.
Sat. 4/6/2013, 300km — Oak Grove, MO to Fayette, MO.
Sat. 4/27/2013, 400km — Liberty, MO, up to Iowa and back
Fri. 5/10/2013, 600km — Grandview, MO to Weableau, MO, via Appleton City
Sat. 5/25/2013, 1000km — a new route from La Junta, CO.
To register for a brevet, download and print the New 2013 entry form & waiver, and send it in.
In the sport of randonneuring, a "brevet" is an organized long-distance bicycle ride. Cyclists follow a designated but unmarked route, passing through check-point controls, and must complete the course within specified time limits.


See also: Kansas Ride Calendar, Regional Ride Calendar
The Latest Bicycling Resources at Kansas Cyclist
Photo Inspiration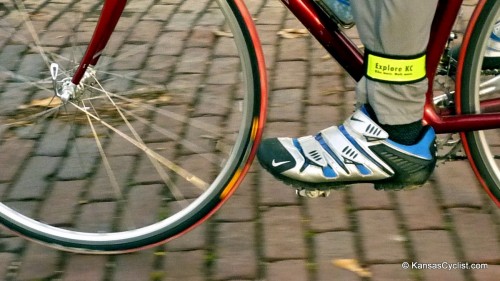 "Explore By Bike"
---
If you have a news item or upcoming event you'd like to share, please contact Kansas Cyclist with details.