A compendium of hand-picked bicycling-related news items from Kansas and neighboring states, for January 30, 2013:
Bicycling News from Kansas
Regional Bicycling News
Upcoming Kansas Bicycling Events
Looking ahead to February, there are only two Kansas events on the calendar:
Both of these races wrap up their respective series.
Elsewhere around the region, the BRR Ride offers a frozen-filled day of biking, games, prizes and entertainment in Perry, Iowa on February 2nd. On the same day, Chucky's Challenge takes place out of historic Jamesport, Missouri. The Frosty Bike Ride rolls in Lincoln, Nebraska on the 3rd. And on the 17th, Stillwater, Oklahoma hosts the Chili-Bike ride. February 23rd sees the CIRREM (Central Iowa Rock Road Enduro Metric) gravel grinder near Des Moines, Iowa. And Columbia, Missouri hosts the annual Froze Toes winter road race on February 24th.
Also, registration is now open for the NUMB Ride (the Nebraska United Methodist Bike Ride for Hunger), which takes place June 22-26, starting at Norfolk, Nebraska, with stops at Oakland, Laurel, and Creighton before returning to Norfolk. NUMB has distributed over $600,000 for hunger projects in Nebraska and around the world. Ridership is limited to 135 cyclists.
See also: Kansas Ride Calendar, Regional Ride Calendar
The Latest Bicycling Resources at Kansas Cyclist
Personal Notes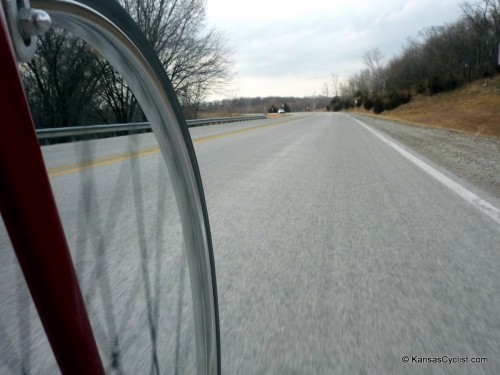 We've had a few unseasonably warm days recently, including a 75°F day on January 28th. Couldn't resist getting out for a road ride!
Of course, two days later, it's 20-something and snow. Oh well, twas sweet while it lasted…
---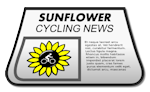 The Sunflower Cycling News is a periodic publication of Kansas Cyclist, featuring bicycling news from Kansas and neighboring states.
If you have a news item or upcoming event you'd like to share, please contact Kansas Cyclist with details.