The following are some hand-picked bicycling-related news items from Kansas and neighboring states, for January 23, 2013:
Bicycling News from Kansas
Regional Bicycling News
Upcoming Kansas Bicycling Events
This coming weekend features two races: the Cancer-Thon in Leavenworth on Saturday, January 26th, and "Jeffs Flat Track" on January 27, part of the Blanket Series of central Kansas mountain bike races.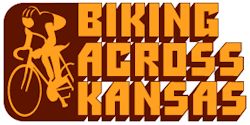 But personally, by mid-January each year, I only have one ride on my mind, and it actually won't happen until the second week of June. Each year, Biking Across Kansas makes their annual route announcement on January 29th, known as "Kansas Day" to commemorate the state's birthday.
Speculation among prospective riders is always rampant in the period leading up to the announcement. Which towns will host the 800+ cyclists during the week-long tour?
Let's look back at the routes for the last few years:
Most of those are central and northern routes. It's been quite a while since BAK has traversed a true southern route (2006), so that is perhaps a reasonable guess for the 2013 route…
Or maybe not! We shall see in a few days.
Upcoming Regional Bicycling Events
Iowa: Hit the road Jack (frost) with four winter rides — Okoboji Winter Games Freeze Your Fanny Ride on Jan 26, Bike Ride to Rippey (BRR) on Feb 2, Ididaride on Feb 2, and Cedar Rapids Alternative to BRR, Frozen-A** Road Tour (CRAB FART) on Feb 16. Yay for winter bike fun!
Nebraska: BRAN 33 Registration Is Open — BRAN (Bicycle Ride Across Nebraska) is June 2-8, 2013 starting in Kimball and ending at the Strategic Air & Space Museum near Ashland, with overnights in Chappell, Paxton, Gothenburg, Kearney, Aurora, Brainard.
See also: Kansas Ride Calendar, Regional Ride Calendar
Site News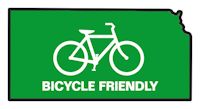 New resources at Kansas Cyclist:
---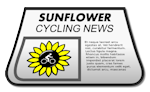 The Sunflower Cycling News is a periodic publication of Kansas Cyclist, featuring bicycling news from Kansas and neighboring states.
If you have a news item or upcoming event you'd like to share, please contact Kansas Cyclist with details.