Fresh, hand-picked bicycling news from Kansas and neighboring states, for January 9, 2013:
Bicycling News from Kansas
Regional Bicycling News
Upcoming Kansas Bicycling Events
Sunday, January 13 is the "Old Forest" race in the 2012-13 Blanket Series. It takes place in Great Bend. The last two races in the series are "Jeffs Flat Track" on January 27 (not sure where) and "River Trail" in Great Bend on February 10th.
The Blanket Series is a low-key, grass-roots type of mountain bike event, where each racer brings a $10 gift, and after the race each rider will choose a prize from the blanket in the order of their finish. The series is sponsored by Golden Belt Bicycle in Great Bend. Unfortunately, the info on their web site is far out of date. Contact them by phone (1-800-561-2453) if you need more information or directions to the races.
See also: Kansas Ride Calendar, Regional Ride Calendar
New Resources at KansasCyclist.com
---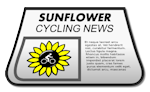 The Sunflower Cycling News is a periodic publication of Kansas Cyclist, featuring bicycling news from Kansas and neighboring states.
If you have a news item or upcoming event you'd like to share, please contact Kansas Cyclist with details.
Post tags: Digest, Dodge City, Iola, Newton, Wichita