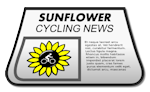 The Sunflower Cycling News is a periodic publication of Kansas Cyclist, featuring a compendium of hand-picked bicycling-related news items from Kansas and neighboring states.
The following is a recap of recent bicycling news from the region, as well as a look ahead to upcoming rides, races, and bicycling events coming up.
---
Bicycling News from Kansas
Flint Hills Nature Trail Reopens Near Vassar
A bridge was replaced over the Flint Hills Nature Trail near Vassar, where K-268 highway crossed the trail. The bridge over the trail was converted to a box culvert, creating a short tunnel on the trail. The trail had been closed at that point since the project began in mid-summer. [link]
Trial Postponed For Salina Man Accused of Killing Bicyclist Gail Kline
The trial of Lewis Grider, which had been scheduled to begin on November 15th, was instead "rescheduled Friday for 9 a.m. Dec. 20 in Saline County District Court. Attorney Roger Struble, who represents Lewis D. Grider, 63, said he needed more time to prepare for presentation of evidence to Judge Jared Johnson. Prosecutor Amy Norton, an assistant county attorney, said she could use additional time as well." [link]
Top City Cranksgiving A Success
Topeka cyclist held a "Cranksgiving" ride to help gather food for the Community Thanksgiving Dinner. "Participants rode throughout the city, stopping at Dillons, Tilton's, Apple Market and other places to gather food for the dinner. The first person back with the highest score won the 2013 Cranksgiving title and a prize." [learn more]
Bike/Ped Bridge Proposed to Cross Topeka Train Tracks
"A concept is in the works to construct a pedestrian and bike bridge over the railroad tracks crossing N. Kansas Avenue near the Topeka Rescue Mission. The Union Pacific Railroad presented the idea to the city of Topeka, even offering to help fund the estimated $2.5 million project. A pedestrian and bike bridge could serve as a destination point, said Doug Kinsinger, president and CEO of the Greater Topeka Chamber of Commerce. The bridge would contribute to a 'complete change in psychology' of the area around the mission. It already has started to transform from industrial to mixed use of retail and residential, yet another reason for a bridge over the tracks." [read more]
Time to donate used bicycles for Toys for Tots in Wichita
"If you have an old bike and aren't using it, consider donating it to the Toys for Tots program. Bob and Ruth Holliday at the Bicycle Pedaler, are currently taking old bikes and refurbishing them for the program. Volunteers are also needed to help repair, wash and polish the bikes. This is the 24th year the Hollidays have worked for the Toys for Tots program. They will take any color, size and model of bike, although smaller bikes are preferred." [link]
Regional Bicycling News

— Arkansas: Northwest Arkansas Regional Bicycle and Pedestrian Master Plan — "The Northwest Arkansas Regional Planning Commission (NWARPC), with the support of communities and advocates throughout the Northwest Arkansas Region, has begun preparation of a Regional Bicycle and Pedestrian Master Plan. The planning process began with a project Kick-Off Meeting on August 28, 2013 and will continue through 2014. The purpose of this Plan is to build upon previous regional bicycle and pedestrian planning and development efforts in setting a clear path for Northwest Arkansas to link its communities and regional destinations with a world-class transportation network."

— Weld County, CO: Effort to build trails is winding process — "Efforts to get trails built have been as fractured as the trails themselves. Even the Poudre Trail in Greeley, Windsor and Fort Collins, perhaps Weld's biggest success story, doesn't connect to much besides itself, and many residents have to drive to get to it. Clearly the public is saying, 'Yeah, we value trails, and we value connections to other towns, and this makes our quality of life much greater when we can bike rather than drive our car.'"

— Des Moines, IA: Memorial bike ride puts the 'fun' in funeral — "With age 50 bearing down, Brice Nelson sold everything and took off on his bicycle from Des Moines to live on $3 a day and the kindness of strangers. He did this for several years and it largely worked. 'Find what you love and do it,' he wrote in his trip journal. 'For me, collecting smiles, meeting people, hooting and hollering, and riding my bike.' Some people may not be known to the masses, but they can certainly show a glorious way to live and how to celebrate it upon death."

— Kansas City, MO: Bike-sharing a worthy cause — "Kansas City's downtown network averages 700 to 1,000 rides a month. That represents a lower level of use than in some other cities. But in Kansas City, which hasn't yet done enough to encourage alternative forms of transit, it's a credible range. Bike sharing is healthy and convenient. Visitors appreciate it and so do residents who give it a try. It is a transit model for the future, and sponsors here deserve credit for getting it started."

— Omaha, NE: Benson on track to become Omaha's bike-friendly business district — "There are plans to install more bike racks near popular destinations in Benson, and soon the area will house a self-serve bike repair station for minor adjustments. Several area businesses even offer discounts to cyclists to promote biking. Benson store owners support cyclists because they can help boost business. People who bike are more likely than someone in a car to stop at a shop they notice in passing. To that end, several area businesses are offering incentives to encourage biking. Everyone who bikes to the stores opens up space for drivers. That allows businesses to serve more people.

— Edmond, OK: Edmond Works Toward More Than 100 Miles Of Bike Lanes, Trails — "More than 100 miles of bike lanes and trails are in the works in Edmond. It's part of a push to get people healthy, active and happy. Harvey is excited for what's in store, which is a 146.2-mile system of trails and lanes on streets and in parks. The estimated price tag is about $17.2 million. But, that cash will be spread out over the next 25 to 30 years. Most Edmond taxpayers tell News 9 they don't mind."
Event News
This weekend the Lost Trail CX cyclocross races take place at Louisburg Cider Mill near Louisburg, Kansas. It's the second year for this event, hosted by the Miami County Velo Cycling Club, and features two days of racing, a fire pit to keep you warm, Cider Mill donuts and cider, Lost Trail soda, local NightHawk Winery, Boulevard Beer, and food vendors each day. Free to spectators!
See also: Kansas Ride Calendar, Regional Ride Calendar
Bicycling Inspiration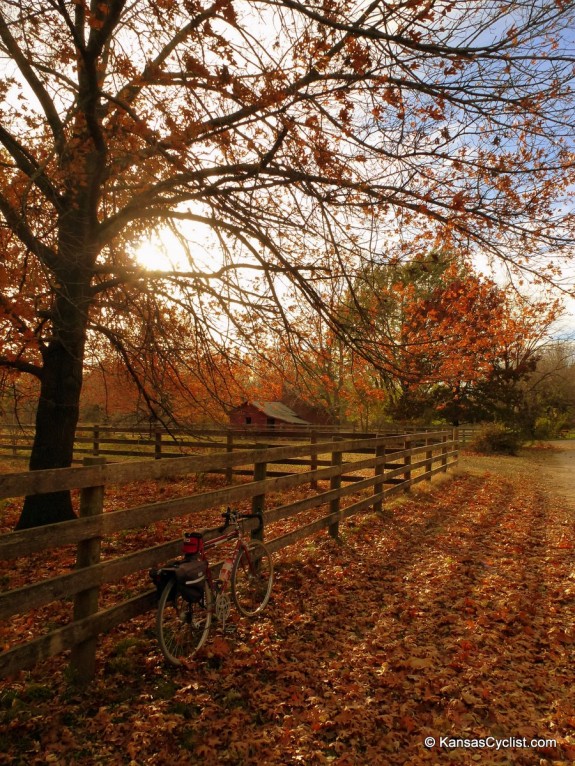 A bit of rural bliss as the last few leaves of autumn cover the ground alongside this rustic wooden fence in Allen County, Kansas.
---
If you have a news item or upcoming event you'd like to share, please contact Kansas Cyclist with details.