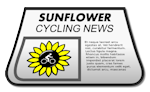 The Sunflower Cycling News is a periodic publication of Kansas Cyclist, featuring a compendium of hand-picked bicycling-related news items from Kansas and neighboring states.
The following is a recap of recent bicycling news from the region, as well as a look ahead to upcoming rides, races, and bicycling events coming up.
---
Bicycling News from Kansas
Child Hit By Car In North Topeka
"Crews responded to an accident involving a vehicle and a child on a bike Friday, according to police dispatchers. The initial call reported the incident around 12:30 p.m. at Northwest St. John and Topeka Boulevard, according to police dispatch. The boy was hit by an older model truck. He was taken from the scene by ambulance to an area hospital with minor injuries." [link]
K-268 bridge project to detour traffic through Lyndon, Quenemo
"On Monday, Aug. 5, weather permitting, a replacement project will begin on the K-268 bridge over the former Missouri Pacific Railroad right of way, now the Flint Hills Nature Trail, in Osage County. The bridge is located just east of the state Highway 368 and K-268 intersection, approximately 4.77 miles east of the U.S. Highway 75 and K-268 intersection. Project work includes the removal of the existing bridge over the right of way, and replacement with a rigid frame box structure for pedestrian use on the Flint Hills Nature Trail. The scheduled completion date for the bridge replacement project is November." [link] It is unknown how trail traffic will be affected … hopefully a detour will be provided.
Hutchinson Aims to be Bike-Friendly
"In the last year, community leaders have worked to pass measures to make Hutchinson a more pedestrian- and bicycle-friendly town. The city adopted Complete Streets policies, and HEAL-Reno County sponsored bike and walking audits. Avenue A will be repaved this summer to include bike lanes. 'Our goal is to get people biking for transportation.' Hutchinson is home to about regular 50 bicycle commuters and he believes it's safe to ride to work – especially because most commutes are only a few miles." [link]
Hudson Chicken Ride a Success
"If you like fried chicken, baked goods, and bicycling, then Hudson, Kansas was the place to be this past Saturday. At least 111 persons from all parts of the state (even Minneapolis) decided that the 26 or 56 mile ride was worth the drive to Hudson for the delicious meal which followed the ride. The event was the annual Chicken Ride, hosted by the Hudson Bicycle Club." [link]
Leawood Active Transportation Plan Kick-Off
"Leawood is beginning a new Active Transportation Plan for bicycling and walking, and kicking it off with an expo showcasing regional organizations and businesses serving people who walk and bike. Learn about the new plan, suggest your own ideas for improving walking and biking in Leawood, check out the expo and enjoy the BMX skills show." [link]
The event is Monday, August 12, 2013 starting at 5:30pm at 147th and Mission Road in Leawood.
Family Struggling To Provide Care For Young Boy Hit By Uninsured Driver in Topeka
"An 11 year old boy who was hit by a truck while riding his bike Friday, August 2nd, in north Topeka, is recovering from injuries more serious than first believed. His family is worried about paying the medical bills and they say the driver who hit him, was uninsured. The truck hit his whole right side, dragging him under the truck and flipping him from his bike. Nicholas broke both collar bones, his left and right pelvic bones and his ankle. Topeka Police could not tell us if the driver involved faced any citations." [link]
Kansas Rail Trails: Interview with Clark Coan
"In Kansas, the rail-trail conversion and creation process has resulted in over 100 miles of usable trail throughout the state with 100+ either in the concept or project stage. Former Director of Development at Kanza Rail-Trails Conservancy, Clark Coan agreed to answer a few of our questions about the Kansas rail-trails." [link]
Regional Bicycling News
— Colorado: The date for the 2014 Colorado Bicycle Summit has been announced. The fourth annual Colorado Bicycle Summit will be held on February 10-11, 2014 in downtown Denver. Registration will open in December.
— Erie, CO: Erie Velodrome hit by Storm — The Boulder Valley Velodrome in Eire, Colorado was heavily damaged by a wind storm on August 3rd. It had been expected to open later this summer. More info from the Daily Camera.
— Cedar Falls, IA: For senior cyclist, life's a fun, wild ride — 82-year-old Phyl Michel didn't start riding until she was 53, but has since ridden over 170,000 miles, including 21 RAGBRAIs, and still rides between 20 and 60 miles most every day.
— Nixa, MO: Two Rivers Bike Park opens south of Springfield — "Two Rivers Bike Park offers 8.5 miles of mountain biking, hiking and trail-running paths cut into the hills near the confluence of the Finley and James rivers. It opens to the public at 10 a.m. Saturday after months of construction and preparation. The park is free to enter, and will be open from sunrise to sunset, seven days a week."
— Lincoln, NE: Mayor Urges Residents to Take New Online Survey — "Mayor Chris Beutler today encouraged all residents to take a new online survey at lincoln.ne.gov to share their ideas on City programs and spending. The survey is part of the Taking Charge initiative, which Beutler credits with helping the City develop the consensus needed to move forward." BicycLincoln suggest that cyclists complete the survey and prioritize investments in active transportation.
— Sand Springs, OK: Angry Driver Bullies Cyclist Off Road, Into Ditch — "'You can not pass within three feet of a cyclist, said assistant Sand Springs Police Chief Mike Carter. He says some drivers just have a bad attitude. 'I think some people want to make a point in passing bicyclists too closely that if I scare this guy maybe he'll think twice about being out here,' he said. It's a mindset that poses a challenge to cyclists who want to be enthusiastic about a more bike friendly Green Country."
— Tulsa, OK: Proposed bike lane project debated at Tulsa capital improvements plan town hall meeting — "Not every Tulsan is willing to go along for the ride when it comes to funding the implementation of a bicycle/pedestrian master plan." Some cyclists, in particular, object to planned bike lanes, preferring an education program.
Event News
There don't appear to be any Kansas events scheduled for the coming weekend, but looking a bit further ahead, several events loom for the following weekend, including the Cathedral Criterium and Cathedral Gran Fondo in Kansas City, the Dusk To Dark 60 Gravel Ride in Emporia, and Heather's Ride in Clearwater.
Elsewhere around the region this weekend, we have: The Eurekan Bike Ride in Arkansas, the Red Rocks Century and Stonewall Century in Colorado, the Blue Springs Night Ride in Missouri, the 7 Cities Century Bike Ride, the Kool-Aid Classic Bicycle Tour, and Rollin' to the River in Nebraska, and Spin Your Wheels in Oklahoma.
See also: Kansas Ride Calendar, Regional Ride Calendar
Bicycling Inspiration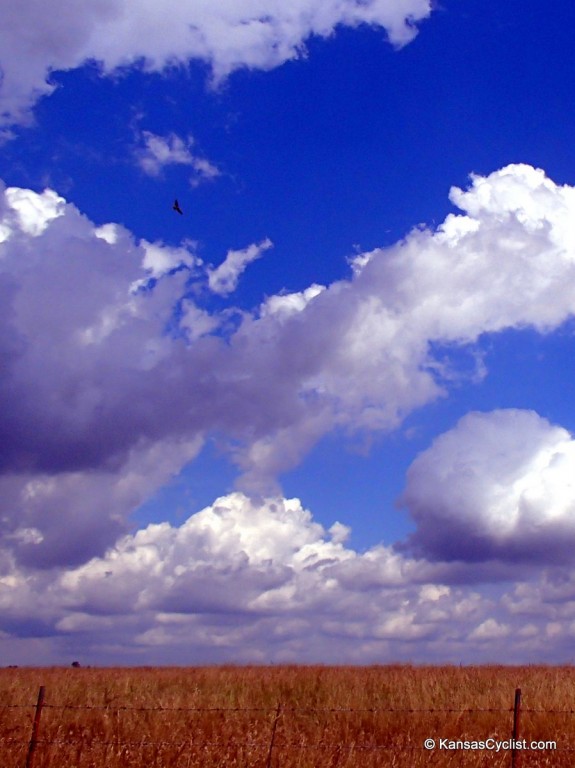 It's been a pretty mellow beginning to August in my area, and like this red-tailed hawk, I'm enjoying the freedom and beauty of the Kansas countryside. Hope you're getting in some good rides, too!
---
If you have a news item or upcoming event you'd like to share, please contact Kansas Cyclist with details.
Post tags: Digest, Hutchinson, Leawood, Topeka