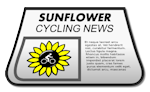 The Sunflower Cycling News is a periodic publication of Kansas Cyclist, featuring a compendium of hand-picked bicycling-related news items from Kansas and neighboring states.
The following is a recap of recent bicycling news from the region, as well as a look ahead to upcoming rides, races, and bicycling events coming up.
---
Bicycling News from Kansas
Federal Bike/Ped Funding Threatened Again
"The Transportation Alternatives program is under attack in Congress, with a new amendment calling for key funding to be wiped out entirely. Sen. Rand Paul (R-Ky.) has introduced an amendment to the Transportation Appropriations bill to prohibit any money to go to Transportation Alternatives — instead he calls for the funds to be redirected to bridge repair. TA represents 2 percent of transportation funding, and that percentage would hardly put a dent in bridge repair. Taking that small amount of funding away would dangerously undermine efforts in our cities, towns and counties to provide safe and efficient transportation options for everyone. With rates of bicycling and walking fatalities on the rise, that is a trade we can't afford to make." [link]
Contact your Senators today (it's quick and easy!).
Shawnee County rejects Wittenberg Bridge trail without vote
"Shawnee County won't be partnering with the Kansas Turnpike Authority to build a sidewalk along the reconstructed Wittenberg Bridge, leaving any connection to the county's Deer Creek and Lake Shawnee trails up in the air." [link]
Old Town Lenexa shop peddles bikes and coffee
"His new bike shop, Velo + is now open in Old Town Lenexa and it will soon have a cafe where he will sell his custom-roasted coffee beans, along with espresso beverages, teas and pastries. Velo + offers some bicycle brands that are a bit unique to the area, such as Kona, Masi and Linus, as well as custom-built bicycles made in-house. He also carries mostly Made in America cycling apparel and accessories." [link]
Connect the Flint Hills Nature Trail to the Katy Trail
"The Kansas City region would benefit abundantly from being a hub in a trail network that would begin near St. Charles, Mo., on the east and extend to Herington, Kan. (near Council Grove) on the west. Imagine being able to hop on a bike trail and travel for miles into either Kansas or Missouri. Imagine the possibilities for restaurants and inns and shops at the trailheads. Imagine the tourism potential. Connect the trails and we'll have a bistate celebration." [link]
Hedge Lane Path To Be Built in Paola
"When sidewalks are extended along Hedge Lane heading north toward Lake Miola, they may be asphalt instead of concrete and wider to accommodate bicyclists after a decision last week by the Paola Planning Commission. The changes would accommodate the city's future plan for a trails system leading to Lake Miola." [link]
Friends of Lawrence musician raising funds after serious bicycle accident
"Leo Posch is a popular local musician known for strumming his banjo with the Midday Ramblers. But now, friends of Posch are lending a helping hand after a serious bicycle accident. Last week Posch was riding his bicycle on a country road when a dog starting chasing after him. He was trying to out cycle the dog and the dog ran in front of his bike, and he flipped over the handle bars and hit the gravel with his face. Posch was then flown to a Stormont-Vail hospital in Topeka in critical condition. He broke both cheek bones, two places in his jaw, his nose, and then now there's been some neck issues too. To help with medical costs, Mass Street Music and the Mandolin Cafe are hosting a Leo Posch Medical Fund with all funds going to Leo and family." [link] [learn more]
Lawrence Law Enforcement Asking For Help From Public in Investigating Fatal Collision
After Hayley Berrios was killed by a car while trying to cross the South Lawrence Trafficway on Sunday, "the Kansas Highway Patrol and the Douglas County Sheriff's Office are looking for help from anyone who was in the area. The sheriff's office is especially looking for the driver of a red passenger car who drove through the intersection just prior to the accident. The car wasn't involved in the accident, Lewis said, but might be able to help investigators piece together the chain of events leading up to it. Anyone who was in the area at that time and has information is asked to call Sheriff's Detective Jay Armbrister at 785-330-2828." [link]
Cyclists avoid deadly Lawrence intersection
The intersection where Hayley Berrios lost her life on Sunday "is one that many bicyclists tell 41 Action News they try to avoid at all cost. No matter your level of experience, the K10 bypass also known as the South Lawrence Trafficway in Lawrence is dangerous. A friend of Berrios did not want to go on-camera, but said over the phone that she was actually out riding with her husband and two other people at the intersection when she was legally trying to cross and was struck and killed." [link]
Leavenworth County Trails Open Houses
There's a new comprehensive trails map available for Leavenworth County, and you can view it and get your own copy at open houses scheduled for Wednesday, July 31, 5:30–7:30pm at the Leavenworth Public Library, Tuesday, August 6, 5:30–7:30pm at the Basehor Community Library, and Wednesday, August 7, 6:00–8:00pm at the Tonganoxie Public Library. [link]
Construction starts on Turkey Creek Trail through Overland Park
"This spring the City of Overland Park started construction on the next piece of the popular Turkey Creek Trail. This segment is at the city's northerned edge along I-35, between Antioch Road and Metcalf Avenue. The new trail should be open by the end of this summer!" [link]
Leawood Bike-Ped Master Plan Expo August 12
"Leawood is beginning a new Active Transportation Plan for bicycling and walking, and kicking it off with an expo showcasing regional organizations and businesses serving people who walk and bike. Learn about the new plan, suggest your own ideas for improving walking and biking in Leawood, and check out the expo." The expo is August 12th, 2013 from 5:30-7:30pm at The Lodge at Ironwoods (147th and Mission Road). [link]
Bicyclist Struck By Vehicle In South Wichita
"It happened shortly before 3:30 Wednesday afternoon at 30th Street South and Seneca. A bicyclist was struck by a vehicle on Seneca. The bicyclist was transported to Via Christi Hospital on St. Francis for potentially critical injuries. The driver in the car was also taken to the hospital." [link]
Regional Bicycling News
— Lakewood, CO: Cyclist killed in crash worked on moon project — "The 83-year-old man who was killed in an accident while riding his bicycle at the intersection of 6th Avenue and Garrison Street in Lakewood Tuesday morning helped bring America to the moon. According to his neighbor of 14-years and good friend, Donald Schaefer was a mechanical engineer who worked on the moon project. Schaeffer's life ended at the age of 83 Tuesday morning. He was riding bicycles with his 90-year-old brother when the driver of a moving truck struck him."
— Iowa: Political Reporters Hit The (Bike) Trail In Iowa — Three political reporters with National Public Radio are among the thousands of cyclists pedaling across Iowa. "NPR's Don Gonyea, Scott Horsley and Brian Naylor are all on vacation together, pedaling across the state of Iowa, hundreds of miles with thousands of other cyclists. It's an annual summertime ritual known as RAGBRAI."
— Maryville, MO: City completes new link in trail network — "The newest addition to Maryville's growing network of paved hiking/biking trails is complete and will be dedicated by city officials during a ribbon cutting set for 2 p.m. Thursday. Eventually, the trail is to merge with a citywide pedestrian/cycling network consisting of both cement paths and designated street lanes that, when completed, will provide more than 40 miles of access both in Maryville proper and at Mozingo Lake Recreation Park."
— Kearney, NE: Passion for cycling lands Vermeire a Safe Routes to School position — "Vermeire started riding his bike to Cabela's for work not long after starting college at the University of Nebraska at Kearney in 2000. It began as a way to save gas but became a way of life. Because of his dedication to cycling, Vermeire was recently chosen to head Buffalo County Community Partners' Safe Routes to School program. Vermeire will work with schools and city and state officials to assess areas around Kearney, Pleasanton and Ravenna schools to determine and develop the safest routes possible for students that choose to walk and bike to school."
— Omaha, NE: Repurposed Omaha rail line would include light rail system, trail — "Today it is an abandoned railroad line, a mostly unused swath of weedy land that cuts from north Omaha through South Omaha and into Bellevue. If replaced by a light rail system coupled with a parallel recreational trail, the repurposed Omaha Belt Line could spark industrial and other development that could bring an estimated 9,000 jobs and 4,500 new homes in just one 3.5-mile stretch of the 20-mile corridor."
Event News
There's one Kansas event this weekend, the Cider Mill Century in Miami and Linn counties.
Elsewhere around the region is the Arkansas Ride for the Cure, the CoCo Century, the Colorado-Eagle River Ride, the Grin & Barrett Black Canyon Buttkicker, and the InnovAge Moonlight Classic in Colorado, the Farmhouse Classic in Missouri, and the Dehydrator Bicycle Ride and Race in Oklahoma.
Also on tap is the annual El Torreon Bicycle Swap Meet just across the state line in Kansas City, Missouri.
See also: Kansas Ride Calendar, Regional Ride Calendar
Bicycling Inspiration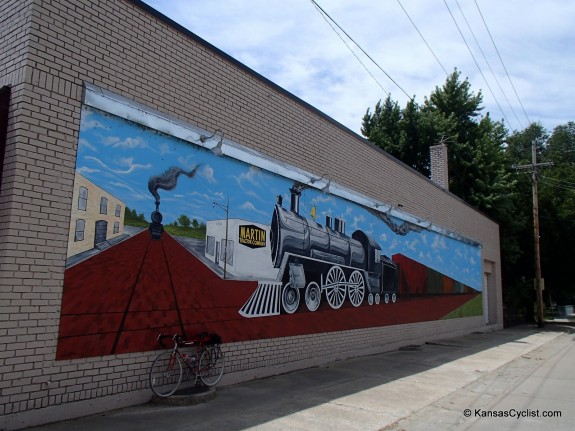 This mural in Ottawa, Kansas depicts the railroad history of the community. But this mural is actually adjacent to the intersection of the Flint Hills Nature Trail and the Prairie Spirit Trail, at 1st and Walnut Streets.
Today, it's the bicycle that's up on the pedestal!
---
If you have a news item or upcoming event you'd like to share, please contact Kansas Cyclist with details.