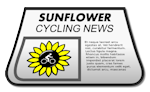 The Sunflower Cycling News is a periodic publication of Kansas Cyclist, featuring a compendium of hand-picked bicycling-related news items from Kansas and neighboring states.
The following is a recap of recent bicycling news from the region, as well as a look ahead to upcoming rides, races, and bicycling events coming up.
---
Bicycling News from Kansas
Fall Cycling in Leavenworth County
"When we rode around Leavenworth County, we heard the leaves crunch under our tires and we smelled the smoke of burning leaves. We saw the beautiful colors of fall. The 25 miles went away quickly and we enjoyed a toasted bagel with some coffee." [read more]
Lawrence Police Department increases bike patrols
"Students can plan on seeing more cops patrolling the streets in the coming months, but they may not be in squad cars. The Lawrence Police Department ramped up its bicycle patrol program earlier this year for high-need areas of Lawrence. The department designed the program for more than cracking down on offenders. Officers are always hoping to gain a sense of trust with the community, and many find that the bikes make them more personable." [learn more]
Topeka Driver Sentenced After Striking 12-year-old Bicyclist
"Motorist Charles Dwayne Cashman, 36, of Topeka, pleaded no contest to three infractions tied to a pickup truck-bicycle collision Aug. 2 at N.W. Topeka Boulevard and St. John. Cashman was driving a pickup when it and a bicycle ridden by a 12-year-old boy collided. Cashman pleaded no contest Oct. 17 to interference with a law enforcement officer (false report) based on statements to a Topeka police officer, driving while a habitual violator and no liability insurance, according to district court records. Cashman was sentenced to three concurrent 90-day jail terms and fined a total of $400, according to court records." [link]
Bike Routes Coming to Pratt
The city of Pratt, Kansas is taking steps to make itself more bicycle friendly, with bicycle route signage recently approved by the city council. [link]
Flat Tire Bike Party in Topeka December 6th
The Topeka Community Cycle Project is hosting their fourth annual Flat Tire Bike Party at the Burger Stand in Topeka on December 6th from 8pm to midnight. It's a fundraiser for the community bike shop, and features a DJ, roller bike races, and delicious food and cold drinks. [flyer]
Regional Bicycling News

— Little Rock, AR: Officials push for trail along former railroad route — "When county and municipal officials from across Saline County come together for a quarterly meeting on Tuesday, one of the topics several members want to discuss is the proposed Southwest Trail project, the concept of creating a 56-mile bike trail linking Little Rock to Hot Springs. The proposed route from Pulaski County through Saline County and into Garland County would roughly follow the Southwest Trail that settlers used to travel from the eastern states to Texas."

— Steamboat Springs, CO: Voters approve using lodging tax for new bike trails — "Steamboat Springs voters this week overwhelmingly approved using an existing accommodations tax for local trail development, supercharging the city's two-year 'Bike Town USA' effort to establish itself as a cycling destination. Almost three-quarters of Steamboat voters favored reallocating a 1 percent lodging tax toward trails and recreational amenities, a move that will pump $6 million into 46 projects and 130 miles of new trails around the city."

— Des Moines, IA: Downtown rental bikes stolen — "The owner of the Des Moines Bicycle Collective told police someone rented the four bikes between Monday and Wednesday and never returned them. They are valued at $4,800. The rental bikes, which are checked out by swiping a credit card, have become a staple downtown since they were installed three years ago. This week's thefts mark the first time any of the bikes have been stolen, according to the report."

— Kansas City, MO: B-cycle on a roll, plans to expand beyond downtown KC — "If you like what B-cycle has done so far to promote bicycling in downtown Kansas City, the plan to begin rolling it into the Plaza, UMKC and as far south as Waldo should really ring your bell. The bike rental program, launched with a dozen downtown docking stations and 90 bicycles in July 2012, is embarking on an expansion throughout the urban core that it wants to complete over the next three years. So far bicycles have been checked out more than 9,600 times from the dozen downtown stations, with riders logging a total of 29,000 miles."

— Gering, NE: Western Nebraska could attract bicycling enthusiasts — "With its natural beauty, nationally-known attractions and network of existing trails, recreational bicycling could become Scottsbluff and Gering's next big draw. Bicycling enthusiast and retired Gering Police Chief Mel Griggs is teaming up with the Scotts Bluff County Tourism Committee to find new ideas for promoting new bicycling events and opportunities. Funding assistance available through the Department of Transportation could help develop Scottsbluff-Gering-Terrytown into Bicycle Friendly cities such as those throughout Colorado's Front Range area."

— Wagoner, OK: 12-year-old boy riding bike killed in Wagoner — "Police in Wagoner say a 12-year-old boy who was riding a bicycle was struck and killed by a sport utility vehicle and that the driver has been arrested. The driver left the scene, but later returned and was arrested for first-degree manslaughter, suspicion of driving under the influence, and leaving the scene of a personal injury accident."
Event News
Recreational bicycling events have pretty much petered out for the year, but it's definitely cyclocross season, with Johnson's Garden Center CycloCross Race scheduled for this weekend in Wichita, and Lost Trail CX on tap for the following weekend in Miami County.
See also: Kansas Ride Calendar, Regional Ride Calendar
Bicycling Inspiration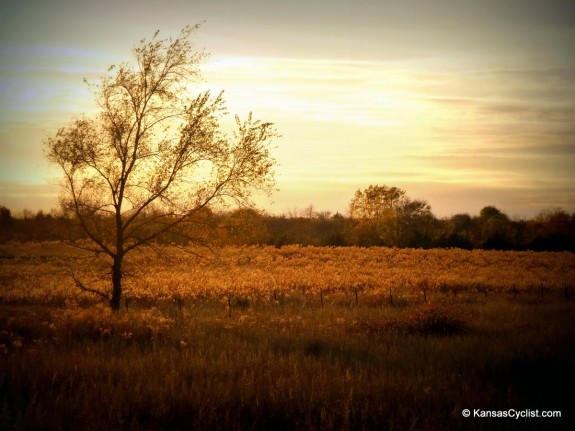 This is another photo in the "as seen by bike" series, this one showing an overgrown pasture on a late autumn afternoon, a scene dominated by subdued shades of brown and gold. I love Kansas like this — it's not an ostentatious type of beauty, but a landscape where, if you take the time to observe, it'll take your breath away.
---
If you have a news item or upcoming event you'd like to share, please contact Kansas Cyclist with details.
Post tags: Digest, Lawrence, Leavenworth, Topeka