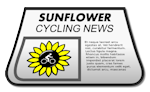 The Sunflower Cycling News is a periodic publication of Kansas Cyclist, featuring a compendium of hand-picked bicycling-related news items from Kansas and neighboring states.
The following is a recap of recent bicycling news from the region, as well as a look ahead to upcoming rides, races, and bicycling events coming up.
---
Bicycling News from Kansas
Kansas Cycling Association Plans Annual Banquet
The Kansas Cycling Association is hosting their annual banquet on Sunday, January 26, 2014 in Lawrence. "Our Annual Banquet is a great opportunity to socialize with our racing community, celebrate our 2013 racing season, and learn more about the KCA. The evening will include a cash bar opening at 5:30 p.m., pasta bar served at 6:00 p.m., and recognition of KBAR, KBCXR, KBAT, KBCXT and Keen Wealth winners." [learn more]
Call me 'Big Poppi:' Local bike store earns national honor
"Big Poppi Bicycle Company, a small locally owned bike shop in Aggieville, was named one of America's Best Bike Shops for 2013 by the National Bicycle Dealers Association. The store, owned by Jeff Koenig and Aaron Apel, does more than just fix and sell bicycles; the staff strives to treat every customer with care and help create a healthier public. Big Poppi got its start five years ago and has grown in impact and popularity ever since." [learn more]
Powerful "Bicycle Lobby" Raises Agenda 21 Fears in Olathe
"Dannenberg said some of the predictions that the money will be used for purposes other than road maintenance stem from fears of United Nations' Agenda 21. Ken Dunwoody, a blogger in Olathe, posted council member emails obtained through an open records request that he says showed the words 'upgrade and improve' were added in order to appease the bicycling lobby by allowing tax revenue to be used to add bike paths to the road. Dunwoody linked that effort to Agenda 21, a 20-year-old nonbinding sustainability resolution that, in some conservative circles, has sparked fears of private property usurpation. 'Agenda 21 (United Nations) is alive and well in your back yard,' Dunwoody posted online." [learn more]
Charges Filed Against Driver Who Critically Injured 12-year-old Topeka Bicyclist
"A motorist has been charged with the May 6 incident in which a 12-year-old bicyclist was struck as she rode on the shoulder of S.W. Topeka Boulevard near S.W. 53rd. The Shawnee County District Attorney's office charged Rebecca Lynn Horting, 33, of Topeka, with aggravated battery (great bodily harm), a felony, according to court records. Rylee Robinson, of Topeka, who was a seventh-grader at Washburn Rural Middle School in May, was riding her bicycle about 3 p.m. May 6 on the gravel shoulder of S.W. Topeka Boulevard when she was struck from behind, authorities said in May." [learn more]
Douglas County Bikeway Plan Available for Public Comment
"The Lawrence-Douglas County Metropolitan Planning Organization (MPO), in coordination with the City of Lawrence, Kansas, invites you to share your comments on the Multimodal Planning Studies draft reports. The draft reports include a Park & Ride Study, a Fixed-Route Transit and Pedestrian Accessibility Study, and a Countywide Bikeway System Plan." [learn more]
See also: Countywide Bikeway System Plan DRAFT
Regional Bicycling News
— Little Rock, AR: Ron King Steers 'Recycle Bikes for Kids' Program — "For many children, the desire to own a bike is fulfilled Christmas morning when they discover a shiny new bike under the tree. For other children, and even some adults, a bicycle isn't that easy to come by. That's where Ron King, founder of Recycle Bikes for Kids, comes in. King accepts broken or discarded bikes and parts, repairs them and churns out "new" bikes for kids and some adults. It all started around the holidays in 2007, when he saw on the news that the Little Rock Fraternal Order of Police was repairing bikes for kids and donating them to the Watershed Project. Inspired, King set out to do that very thing on his own."
— Colorado: Fat bikes going big in Colorado — "While still a relatively small market, fat bikes are the fastest growing segment in the bike industry. In Colorado, anything that keeps riders on their bikes longer is sure to catch on. And after a few years feeling out the market, fat bikes—specialized frames that can hold a tire meaty enough to tackle snow—are taking over the terrain in the West. What started as a small niche has turned into a winter phenomenon. Now we can ride bikes all year."
— Iowa: Guess the Route Contest for RAGBRAI XLII is Now Open! — "Do you think you can pick the eight overnight towns for RAGBRAI® XLII? Enter the contest and see how close you come. Last year, 6 of 8 towns was the best that anyone could do! Whoever correctly chooses the most overnight towns in order will receive a certificate worth $100 of RAGBRAI merchandise. No purchase is necessary to enter, and please only one entry per person. All entries must be received by January 17, 2014."
— St. Louis, MO: St. Louis County wrestling with Complete Streets legislation — "Legislation being considered by the St. Louis County Council would prompt the county's transportation department to include more pedestrian and bicyclist-friendly elements in road projects. The people of St. Louis County have spoken very loudly and clearly on what they desire. There's a lot of support for Complete Streets policy. This is not a policy that's going to overrun the budget. Everything would be done within budget."
— Lincoln, NE: Lincoln Winter Bike Challenge — "With our top place finish in this year's National Bike Challenge, we are excited to show how we are not just fair weather riders. The Lincoln Winter Bike Challenge starts December 1st. and will end February 28th. If you are signed up for the National Challenge you are all ready to log your miles in the Lincoln Winter Bike Challenge. Lincoln riders are a hardy bunch and we want this challenge to be a fun way to show that. Or maybe this challenge can inspire new cold weather riders. We'll see you out there and ride on!"
— Oklahoma: Bicyclist struck and killed on Interstate 35 — "The Oklahoma Highway Patrol says a bicyclist was killed while riding on Interstate 35 in Carter County. A preliminary report says the collision happened early Friday at the 45 mile marker on Interstate 35. Authorities say the bicyclist was traveling southbound on the outside lane of Interstate 35 when he or she was struck by a van driven by a 25-year-old Lawton man."
Event News
This coming weekend is the Kansas State Cyclocross Championships in Topeka, which will be held at Hummer Park. Prologue Cycling Magazine has details.
See also: Kansas Ride Calendar, Regional Ride Calendar
Bicycling Inspiration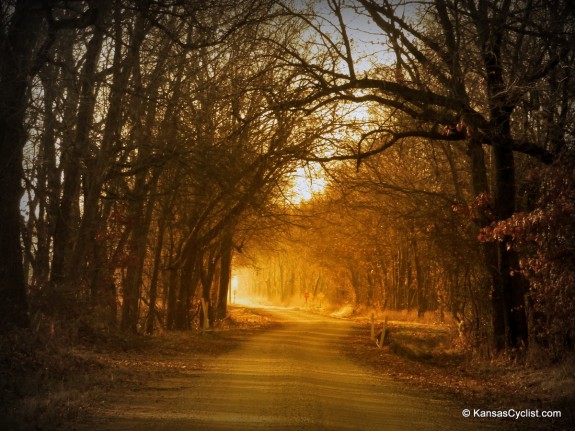 The golden glow of the late-afternoon sun beckons, on a scenic gravel road in Allen County, Kansas.
---
If you have a news item or upcoming event you'd like to share, please contact Kansas Cyclist with details.