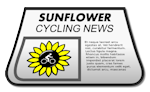 The Sunflower Cycling News is a periodic publication of Kansas Cyclist, featuring a compendium of hand-picked bicycling-related news items from Kansas and neighboring states.
The following is a recap of recent bicycling news from the region, as well as a look ahead to upcoming rides, races, and bicycling events coming up.
---
Bicycling News from Kansas
Charges filed in fatal Salina hit and run
"The Saline County Attorney's office has filed charges of reckless involuntary manslaughter, leaving the scene of an injury or fatal accident, and failing to report an accident against 63-year-old Lewis Dennis Grider of Salina. The arrest and charges against Grider stem from a May 31st incident in which 49-year old Gail Kline of Delphos was struck and killed while riding her bicycle on W Crawford, west of Salina. Grider's first appearance in court is scheduled for Monday September 30th at 2:30pm." [learn more]
No Charges in Lawrence Bicycling Fatality
"The Kansas Highway Patrol says no charges will be filed against the driver of a vehicle that struck and killed a 29-year-old Lawrence bicyclist. Hayley M. Berrios was riding a bicycle east across the South Lawrence Trafficway in July when she was struck by a vehicle. Berrios was declared dead at the scene. The highway patrol and Douglas County Sheriff's Department found the driver had a green light at the intersection where the accident occurred." [learn more]
Hillsboro Elementary Kids Learn Bike Safety
"Leaning into the turns, stopping, and yielding when directed, Hillsboro Elementary students learned about bike safety at school on Tuesday. Physical education teacher Doug Dick said he has organized the event for the past couple years. Elementary students navigated a course outlined with chalk, cones, and traffic signs. Dick coached them on the rules of the road. Safe Kids Marion County coalition coordinator Sondra Mayfield provided helmets for kids who needed them." [learn more]
Santa Fe Trail trek brings bicyclists to Baker campus
"The riders took the northern Santa Fe Trail route, which took them over Raton Pass just south of Trinidad, Colo. The ride has given him new respect for the Native Americans who lived on the prairie and the early traders who traveled the trail. The trek ends Saturday in New Franklin." [learn more]
Big Changes to Hays Street
"A busy street in Hays is going to look a lot different in the next few weeks. City Manager Toby Dougherty told Hays Post that beginning at Milner and heading East, 13th St will be changed from 4 lanes to 3 lanes. The street will have one lane for driving in each direction and a turning lane in the middle. The road will also be striped to include an on-street bike path in each direction. However, Dougherty said that while striping will be done on 13th St, the stencils and signage designating the lane as a bike path won't be in place until some time next year." [learn more]
Actually, the street is being changed from 4 lanes to 5 lanes — a center turn lane, a shared lane in each direction, and a bike lane in each direction…
Topeka grad bicycles to Topeka from California for 50th reunion
"Topeka High School graduate David Briery said he had an adventure each day and averaged around 50 miles a day on his Surly — a sturdy bike for longer distances, he said — with a luggage cart in tow. The least he traveled on a given day was 27 miles. The peak was 115 miles in southwest Kansas as he struggled to locate a hotel with a vacancy, which made him question whether he would be able to make it. Briery biked as a child but said he didn't start again until he was 40. Having done this journey, along with blogging daily about his experiences (search Bikenado on Facebook), Briery wants to continue writing, traveling and generally be outside in search of other adventures." [learn more]
Regional Bicycling News
— Augusta, AR: Arkansas man pleads not guilty in deadly cyclist crash — "A 21-year-old man accused of driving into and injuring a group of bicyclists traveling through Arkansas on a cross-country trip has pleaded not guilty. Martin faces a negligent homicide charge after one of the cyclists died this summer. He also faces one count of careless and prohibited driving and 13 counts related to overtaking a bicycle."
— Boulder, CO: City's numerous pathways and underpasses successfully conveyed floodwaters through Boulder — "Did you know that years/decades ago one of the successful sales pitch used to convince conservative council members to agree to a Boulder Bike Pathway system was that they might help mitigate flood waters in the event of a flash flood. During recent flooding, the city's numerous pathways and underpasses successfully conveyed floodwaters through Boulder, reducing flooding of streets and properties. Many of these underpasses are now closed because they are flooded and filled with sediment."
— Iowa City, IA: Community offers its visions for downtown Iowa City — "Another popular proposition from the community was bike-friendly infrastructure, such as installing more sharrows, bike lanes and a citywide bike share program. Installing more single-bike lanes and sharrows would help the downtown economy thrive, as well as make for safer commutes for residents and students who currently face dangerously busy streets. The take-home point is that cycling shouldn't require bravery, and furthermore, it shouldn't require advocacy. Cyclists shouldn't be an afterthought in these discussions."
— Kansas City, MO: Is Kansas City Bike Friendly? — "It may be time to diversify Kansas City's transportation portfolio. With a growing movement of individuals taking their bike to work, or even using their bicycle as their main mode of transportation, Kansas City must find a way to accommodate them. Our city has made some progress with new bike paths and rentable bikes, but the biking community feels that we're a long way from being considered a 'bike-friendly' city."
— Lincoln, NE: Protected Downtown Bike Lane Project Rolls On — "The city says they are creating a new way for bikers to travel downtown. 'It is a protected bike way which means it is separated from traffic by a median or a bio swell.' This bike lane will connect the Billy Wolf Trail on the east side and the Jamaica Trail on the west side to create an even flow of bicycle traffic through downtown. The current bike lanes downtown can sometimes run in the middle of the road and by creating a safer atmosphere the planners hope this will increase bicycle traffic. This nearly $1.3 million dollar project will be completed sometime during next summer. The project is funded by both private and public dollars."
— Edmond, OK: Edmond's first bike lanes close to completion — "Construction of Edmond's first designated bicycle lanes is almost finished along University Drive between Second Street and Chowning Avenue. Work on the striping and placement of the signage was being completed this week. University Drive was made into a two-lane road with a center turn lane and a bike lane on each side of the road. The project was recommended as part of the bicycle master plan adopted in November. The plan suggested 146.2 miles of paths, bike lanes and marked areas for people to ride bicycles throughout the city."
Event News
On tap for this coming weekend:
— Manion's Cross – A cyclocross race on a rolling course located near Wyandotte County Lake in Kansas City, Kansas.
— Yellow Brick Road Ride – Looking for an early fall ride? Then please join us for a day of bicycling in beautiful Pottawatomie County, Kansas. 16-50 mile routes available.
— Pedal Power Tour – An annual bicycle event that takes place in Marquette, Kansas with 10, 33, and 46 mile route options.
— Walnut Valley Metric – This fundraising ride for Prairie Travelers takes place in Winfield, Kansas and offers 35 and 65 mile options.
— Midwest Bicycle Fest – This free, family-friendly celebration of bicycles of all types including antiques, choppers, lowriders, kustoms, and other odd and unusual creations. Haysville, Kansas.
See also: Kansas Ride Calendar, Regional Ride Calendar
Personal Notes
My wife and I have closed on our new home in Iola, and are now in the process of touching it up, with expectations of finalizing the move within a few weeks. So between cleaning, painting, handyman work, sorting, packing, and driving back and forth, my free time is pretty limited … if I miss a bit of news, or don't get around to listing an event as soon as normal, I appreciate your patience.
And thanks all, for the well wishes!
Bicycling Inspiration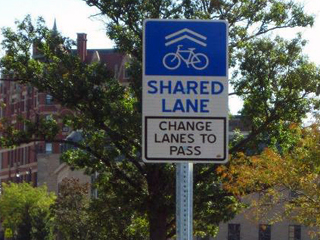 I love these signs from Ohio: "Shared Lane — Change Lanes to Pass"
"The City of Cincinnati has developed new signage promoting bicycle safety, the first of its kind in the region. The signs alert motorists that they should change lanes in order to safely pass cyclists. The signs will be installed in corridors where the City has already installed "sharrow" (shared lane) pavement markings. Sharrows are pavement markings that are installed within shared travel lanes — lanes shared by cars and bicycles." [read more]
The signage is clear, concise, and encourages the safest behavior. Of course, pretty much all lanes are shared lanes, whether marked with sharrows or not…
---
If you have a news item or upcoming event you'd like to share, please contact Kansas Cyclist with details.
Post tags: Baldwin City, Digest, Gail Kline, Hays, Hillsboro, Lawrence, Salina, Topeka