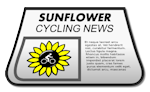 The Sunflower Cycling News is a periodic publication of Kansas Cyclist, featuring a compendium of hand-picked bicycling-related news items from Kansas and neighboring states.
The following is a recap of recent bicycling news from the region, as well as a look ahead to upcoming rides, races, and bicycling events coming up.
---
Bicycling News from Kansas
Safety Concerns on Trail Access Road in Marysville
"At Monday's City Council meeting, Marysville residents Terry and Karen Hughes voiced concerns over the safety of walkers, bikers and joggers along Jayhawk Road just north of Marysville between the Blue River Rail Trail and 16th Street. Council members agreed the city should approach the county commissioners about the possibility of lowering the speed limit and posting signs on the road, which gets dusty with traffic, making it difficult to see people on foot or bikes as they go to and from the trail. [read more]
Hays Moves Forward With Bike Plan Implementation
"Hays city commissioners received an update concerning the on-street bike route and trail engineering design agreements. The next step in the Bike Hays plan implementation is to select an engineer to provide bid documents and work with KDOT to ensure their standards are met." [read more]
Wichita Driver Crashes Onto Bike Path
"Sedgwick County Sheriff's Officers think the SUV went around a turn too quickly while exiting the freeway onto Zoo, went over a guardrail and down a bicycle path – approximately 15 feet. Rescue crews found the man still in the SUV, impaled by a steel pole from a fence. The pole went through his chest area, and crews had to leave part of it inside him during the trip to the hospital. The driver has been identified as 31-year-old Robert Nickelson of Clearwater. As of 11 a.m. Wednesday, he's still listed in critical condition. High speed and alcohol are being investigated as possible factors in the crash." [read more]
Kansas Opts In to Recreational Trails Program
The Kansas Department of Wildlife, Parks and Tourism has announced that Kansas will be back in the Federal Recreational Trails Program for Federal Fiscal Year 2013, after having opted out of the previous years funding. [read more]
Topeka gearing up to carry out bicycle, pedestrian count
"Carrying clipboards and donning yellow vests, volunteers this coming week will carry out the city of Topeka's first-ever count of bicyclists and pedestrians. Data from the count provide local governments information they can use to decide whether to make improvements — such as adding bike lanes — to make streets safer for bicyclists and pedestrians. Having that information is important because without any data, city officials must make an educated guess about what types of changes are needed." [read more]
McPherson College honors fallen cyclist with safety event
Paul Ziegler was killed by a distracted driver last September near McPherson, and a month later family and friends honored his memory with a bike ride they called Pedals for Paul. "The ride was such a success McPherson College has decided to make Pedals for Paul an annual event to sustain Ziegler's memory and to raise awareness for peace and cycling safety. There's no entry fee, but preregistration is required at www.mcpherson.edu/pedalsforpaul and donations are accepted for the Paul Ziegler Memorial Scholarship Fund." [read more]
Galena committee to consider bike/hike trail along Shoal Creek
"A committee will meet for the first time to discuss the possibility of creating a biking and walking trail along Shoal Creek in Southeast Kansas, possibly connecting to Joplin. Kevin Cure, a Galena attorney and bicyclist, is spearheading the effort. He said he sees such a project as a potential draw to visitors, as well as an attraction for residents and it would make use of an area known for its natural beauty."
Regional Bicycling News
— McCrory, AR: Ark. man accused of hitting cyclists faces charges — "An Arkansas man accused of driving into a pack of bicyclists, including a young Massachusetts woman who died of her injuries, was charged Friday with negligent homicide and other offenses. In addition to the negligent homicide charge, Teagan Ross Martin, 21, faces one count of careless and prohibited driving, six counts of failing to properly overtake a bicycle causing serious physical injury or death and seven counts of failing to properly overtake a bicycle.
— Denver, CO: Cars being illegally parked along 15th Street Parkway — "Denver's Public Works department on Thursday said since the bike-only lane opened it has been clogged with weekend visitors and by delivery trucks making stops during the week. Motorized vehicles are only allowed in the bike lane to make left turns or to enter a driveway. In all cases, bicyclists have the right-of-way. "We've been getting pictures sent to us," Denver Police spokesman Sonny Jackson said. "Cyclists are frustrated." Ya think?
— Ames, IA: Report raises questions about Ames alternative transportation — "While Ames might be seeing more use of bike lanes and sidewalks, Iowa State University and city of Ames officials said there is still work to be done to accommodate the many forms of alternative transportation. I definitely don't think we're keeping up in terms of what would be the modern definition of safety for cyclists, from an infrastructure standpoint. This massive increase in cycling has been happening over the last decade and municipalities and road infrastructure doesn't really change at the same rate. It's sort of normal on the one hand, and also unsafe at the same time."
— Springfield, MO: Don't sweat the small stuff: Short trips were made for walking, biking — "Springfield is mostly flat and its streets are built on a grid system — perfect for bicycling. I found it so easy to maintain riding a bicycle as basic transportation here that I put my journalism training to work writing about bicycling on my Carbon Trace blog. The 1-mile Solution grew out of my realization that not everyone has it as good as we do in the urban core of Springfield. The 1-mile Solution is about finding some measure of participation in a wider variety of situations."
— Lincoln, NE: Man fined $100 for hitting bicyclist — "A Roca man has been fined $100 for causing a crash that nearly killed a bicyclist. Kile Casteel pleaded guilty on Aug. 28 to a count of negligent driving and was fined $100. Records show he paid that, plus $48 in court costs. Casteel told police he didn't see 23-year-old Isra Somanas on the Lincoln street when he hit Somanas on July 15."
— Oklahoma: Bike Riding Minister Enroute Oklahoma — "Reverend Johannes Myors has ridden about 225-thousand miles over the 20-years that he has been doing this bicycle mission work. He is currently headed to Moore, Oklahoma to help with disaster relief. Already this year, Myors has ridden over 8,300 miles. His mission work has taken him to all states in the continental U.S., along with three Canadian provinces."
Event News
It's a busy weekend for Kansas bicycling events, with Tour de Chicken Creek in Lawrence, the Bike MS: Kansas City Ride in Olathe, the Heartland Pregnancy Care Center Annual Life Ride in Newton, the Western Vista Sunflower Classic in Oakley, the Grains for Hope Bike Ride in Sabetha, and the Wicked Wilson 100 in Wilson. It's great to see so much geographic diversity, with events spread out across the state!
See also: Kansas Ride Calendar, Regional Ride Calendar
Bicycling Inspiration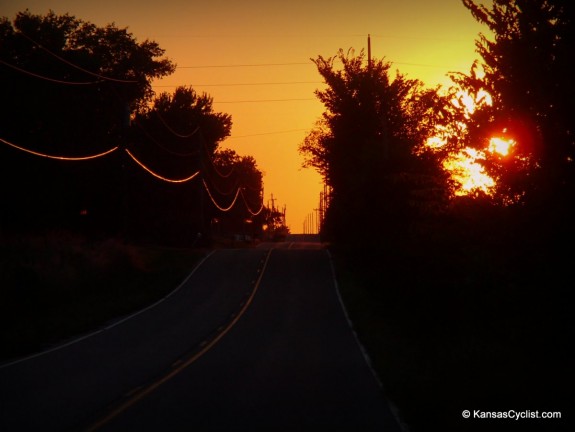 Though the days have been hot, the evenings have been remarkably pleasant, and the light at dusk has been beautifully golden. Hope you're getting out and enjoying it!
And please remember to use front and rear lights in the evening, night, morning, or other low-visibility conditions. It's the law, and knowing you're well-lit and visible to other traffic makes bicycling at night very easy and stress-free.
---
If you have a news item or upcoming event you'd like to share, please contact Kansas Cyclist with details.
Post tags: Digest, Galena, Hays, Marysville, McPherson, Topeka