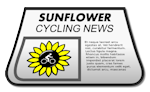 The Sunflower Cycling News is a periodic publication of Kansas Cyclist, featuring a compendium of hand-picked bicycling-related news items from Kansas and neighboring states.
The following is a recap of recent bicycling news from the region, as well as a look ahead to upcoming rides, races, and bicycling events coming up.
---
Bicycling News from Kansas
Meadowlark Trail Progress
The final steps are being completed on the Meadowlark Trail, which will stretch between McPherson and Lindsborg in central Kansas. The McPherson Sentinel reports that "Four miles out of McPherson already have been completed, while eight miles remain leading up to Lindsborg. If the weather cooperates, the rest of the trail should be finished by the end of next week." [link]
Topeka on road to being more bicycle-friendly
"The wheels are turning to make Topeka streets more bicycle-friendly. The city is taking steps to improve safety and access. The city also has applied for a $1.4 million federal grant that would help finance the first phase of a project to implement a Topeka bikeways system." [link]
MCC regional director biking to 50 churches in Kansas
"Before John Stoesz steps down as executive director of Mennonite Central Committee Central States, he's spending the month of May on a farewell bike tour of 50 Mennonite churches in Kansas. Stoesz has divided the state into five regions — Newton, north, south, northeast and west — to cover in five weeks." [link]
Fastpitch League Pitches In To "Recovering Rylee"
"Friends are pitching in to help a teammate injured in a bicycle accident. 12 year old Rylee Robinson remains in critical care at Stormont-Vail Hospital. She was hit by a car while bicycling last week on South Topeka Boulevard." [link]
"A spokeswoman for the family of a 12-year-old Topeka girl who sustained serious injuries after being struck by a car while riding her bicycle said Friday afternoon that family members and friends are seeing 'small improvements' in her condition every day. Rylee Robinson was riding her bicycle in the gravel shoulder of S.W. Topeka Boulevard when she was struck from behind by a vehicle driven by Rebecca Lynn Horting, 32, of Topeka, authorities said." [link]
No word on charges against the driver; the collision is apparently still being investigated…
Regional Bicycling News
— Little Rock, AR: Proposed Bike Lane Could Shrink Road for Cars — "A bicycle-friendly route to work could cost Little Rock drivers an extra lane. On Thursday a public meeting was held to discuss proposed changes to parts of Main Street from a four-lane road to a three-lane one with a lane for bicycles." Foment conflict between bicyclists and motorists, just in time for bike week. Classy.
— Conway, AR: Conway Police observe National Bike Month with education efforts and more directed patrols — "An avid bike rider himself, Conway Police Chief AJ Gary said the enforcement is not about hassling bike riders, but about safety. 'Vehicles and bikes should be able to share the road in a safe manner and that can only happen when all involved obey the rules of the road. With this in mind we are using these concentrated efforts to make sure citizens are familiar with the laws,' Gary said."
— Colorado: Cyclists Take Note- There Is A Growing Movement In Your Local Community To License You! — "A concerning trend over the last year has been the increased call by frustrated residents for the mandatory licensing of bicycles and the requirement that cyclists display a license plate and/or pay a license fee to operate their bicycle on public roads." An interesting discussion about the motivations behind proposals to license bicyclists and/or bicycles in Colorado.
— Lyons, CO: Wrong-Way Motorist Kills Cyclist — "A cyclist was killed after being struck by a SUV in Lyons Saturday evening. A Boulder County Sheriff's Office spokesman, Sgt. Nick Goldberger, said the SUV was going the wrong direction at 5:11 p.m. when the fatal crash happened."
— Sioux City, IA: Big donation means more bike racks in the Sioux City area — "The Southern Hills Scheels store donated $10,000 for decorative bike racks. A Scheels spokesman says the bike racks will have a positive impact on the community. 'These racks not only provide public bicycle parking, but also help and enhance the community and encourage people to pedal to their destination.' The city plans to install 330 on-street bicycle signs, totaling 84 miles worth of bike paths."
— Missouri: Historic Missouri Transportation Funding bill, first ever to incorporate biking & walking, passes Missouri House 100-57 — "Today bicycling, walking, and transit took another step towards being officially recognized in the Missouri Constitution and funded by Missouri transportation dollars. If approved by Missouri voters, in either August or November 2014, the measure will, for the first time, completely integrate bicycling, walking, and transit funding into the Missouri state transportation system."
— Kansas City, MO: Trails KC System Expanding in Platte County — "The City of Kansas City, MO will expand the City's Missouri Route 152 Trail and Line Creek Trail this summer using a combination of federal and local funds. 'Our commitment to trails that serve both as transportation and recreational needs allowed us to leverage $1.5 million of federal funds and will allow our residents to hike and bike from Riverside all the way to the Zona Rosa area with minimal cost to Kansas City taxpayers'"
— Omaha, NE: Hit and Run; Truck hits 10-year-old on Bicycle — "The Gomez family were out for a bicycle ride on Saturday afternoon. Anthony Gomez tells Fox 42 News he saw a white pickup truck hit his 10-year-old daughter who was riding her bike. He says the truck then speed off in the other direction. His daughter, Mya, walked away with bumps and bruises."
— Oklahoma: Oklahoma Establishes Historic Chisholm Trail Bike Route — "New legislation has been signed into law in Oklahoma, establishing the Historic Chisholm Trail Bike Route through the state, from Texas to Kansas. There is not yet an official Chisholm Trail route in Kansas."
— Oklahoma City, OK: Driver sought in OKC fatal hit and run of teen — "Police in Oklahoma City are looking for a hit & run driver who fatally struck a 16-year-old boy on a bicycle. The youth was struck by a pickup truck and killed at 11:30 p.m. Saturday near SW 51st Street and May Avenue."
Event News
Events on tap for this coming weekend include:
— The 40th Annual Wicked Wind 100 welcomes riders of all abilities for 25, 50, Metric Century, and 100-mile rides southwest of Wichita. May 18.
— Elrod's Cirque is a gravel grinder set in the southern Flint Hills of Kansas, starting and ending in downtown Winfield, with 16, 61, and 121 mile route options. May 18.
— MMCT Salina 2 Day offers a weekend of bicycle racing in Salina, Kansas, with a Road Race on Saturday May 18th and a Criterium on Sunday May 19th.
— Ozsome Bike Fest is a free family-friendly festival featuring both bike riding and activities for all ages, at OJ Watson Park in Wichita, Kansas. 1, 2, 5, and 25-mile route options. May 18.
— The Capitol Classic is a showcase for the very best in Topeka area cycling, with 16, 38, 60, and 100 mile routes. May 19.
— Dirty Little Secret is an annual mountain bike race that takes place on the challenging trails at Fancy Creek State Park near Manhattan, Kansas. May 19.
— Also of note is the annual Tour de Brew Kansas City ride, which takes place primarily in Kansas City, Missouri, but does venture into Kansas, briefly, on the longest route. May 19.
And looking further into the future, mark the Kansas Built Environment and Outdoors Summit on your calendar. This educational event helps municipalities and advocates work together to improve the bicycling and walking environment in our communities. The 2013 Kansas Built Environment and Outdoors Summit is scheduled for September 24-26 in Topeka.
See also: Kansas Ride Calendar, Regional Ride Calendar
Bicycling Inspiration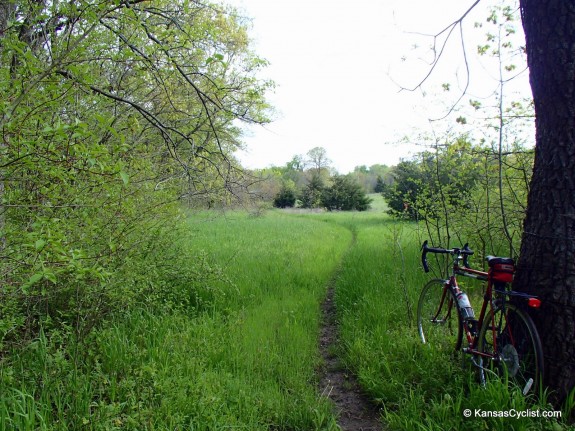 This is some smooth singletrack at Hillsdale Wildlife Area, just south of Gardner, Kansas.
---
If you have a news item or upcoming event you'd like to share, please contact Kansas Cyclist with details.