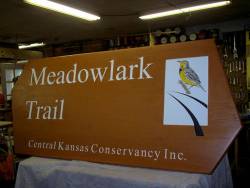 There is progress to report on the Meadowlark Trail, which will connect Lindsborg and McPherson over a distance of about 13 miles on the former right-of-way of the Union Pacific Railroad.
According to the McPherson Sentinel:
The final steps are being completed on a recreational trail that will stretch between McPherson and Lindsborg. The Meadowlark Trail, which lies on a former railroad track, is getting covered with limestone screening. The limestone, when made wet, will harden, making a smooth, even trail.

The trail out of McPherson begins at the intersection of Moccasin and Old Highway 81. It then goes up to Lindsborg, and stretches a total of 12.4 miles.

Four miles out of McPherson already have been completed, while eight miles remain leading up to Lindsborg. However, before limestone is laid on the rest of the trail, maintenance, such as removing weeds and grass, must be finished.

If the weather cooperates, the rest of the trail should be finished by the end of next week.
The Meadowlark Trail and the Sunflower Santa Fe Trail are being developed by the Central Kansas Conservancy. Their web site is currently down, but they have a Facebook page that you can use to keep up with news on these trails.
(Photo courtesy of Central Kansas Conservancy.
Post tags: McPherson, NewsBlog, Rail Trail