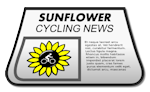 The Sunflower Cycling News is a periodic publication of Kansas Cyclist, featuring a compendium of hand-picked bicycling-related news items from Kansas and neighboring states.
The following is a recap of recent bicycling news from the region, as well as a look ahead to upcoming rides, races, and bicycling events coming up.
---
Bicycling News from Kansas
Bicyclist Seriously Injured in Collision with Motorcycle in Topeka
"A bicyclist involved in an accident with a motorcycle just before 10 p.m. Sunday was taken with life-threatening injuries to a local hospital. Police on scene couldn't describe the nature of the injuries, but a witness said the bicyclist was unresponsive with labored breathing and had severe injuries to his head and limbs." [link]
Car-Lite in Great Bend
"If I were to move away, I would want to move to a vacation destination though–someplace where I could ride my bike, get close to nature, enjoy a hike, walk to the store, have fun activities to attend, wouldn't need to rely on a car to get around. The more I thought about it, the more it sounded like I'm already here." [link]
Cross-country bike trip raises violence awareness
"Many people talk about the problem of violence in America. Jack Cadwallader, 53, Annapolis, Md., got on a used bicycle he bought for $45 and started pedaling. He stopped in Pittsburg on his way from Key West, Fla., to Seattle, Wash. He's been on the road about 60 days now, and has passed through Florida, Georgia, Alabama, Mississippi, Tennessee. Arkansas and Missouri. Cadwallader has been encouraged by the goodness in human nature that he's seen along his trip, the acts of kindness shown to him by strangers. [link]
Chanute man helps Topeka children get new wheels
"After 18 years of fixing bicycles in Chanute, Dean Aikins donated numerous bike parts and tools to the Topeka Community Cycle Project. Aikins made the donation after a broken hip resulting from a fall prevented him from working on bicycles and he wanted to make sure that those bikes and bike tools found a good home with people who would use them. Aikins said he never owned a bicycle as a child and began working on bikes at the age of 72. Soon Chanute residents took notice of Aikins and made him the go-to guy when it came to bicycle maintenance." [link]
Riding the Meadowlark and Sunflower Santa Fe Trails
Randy & Nova's Bicycle Scrapbook brings us photos and videos from the Meadowlark Trail and the Sunflower Santa Fe Trail. Nice work!
Journey of Hope Cycling Team Returns to Olathe
"On Monday, July 15, a team of cyclists participating in the Journey of Hope will arrive in Olathe as part of a nine-week, 4,000+ mile cycling event across the country to raise funds and awareness for people with disabilities. The public is encouraged to cheer on the cyclists as they arrive in Olathe and are welcomed at Olathe City Hall, 100 E. Santa Fe, at 12:30 p.m. on Monday July 15." [link] The cyclists were in Garden City earlier this week.
Health Care Foundation Grants Awarded
The Health Care Foundation of Greater Kansas City has awarded a number of bicycling-related grants, including: $32,000 for Bike Share KC to plan for expansion of the system; $14,160 for Freewheels For Kids, to "start ride clubs" in Kansas City, Kansas; $71,194 for Rosedale Development Association, to "increase opportunities for physical activity for children and their families in Rosedale, a neighborhood of Kansas City, Kansas" (Rosedale Development Association is the first silver-level bicycle-friendly business in Kansas). [link]
Bicyclist Killed in KCK Collision
A bicyclist was killed in Kansas City, Kansas on Tuesday, July 9, 2013. Information on the collision is still sketchy at this point, and police have not released the identity of the victim. [link]
Lawrence Hosting Bike and Build Cyclists
"A group of 30 cross-country cyclists participating in this summer's Bike & Build 2013 trek across the US. The P2C team (Providence to California) will make a pit stop in Lawrence this week to build a home with Lawrence Habitat for Humanity. The riders will work on Lawrence Habitat's home at 212 N. Comfort lane from 9 a.m. until 3 p.m. on Thursday and Friday." [link]
Regional Bicycling News
— McCrory, AR: Hurt cyclist dies after group hit by car in Ark. — "An 18-year-old Massachusetts woman died after she was injured when a car struck a group of bicyclists traveling through Arkansas on a cross-country summer trip, authorities said Thursday. Prosecutors are considering filing charges against the 21-year-old driver who struck the cyclists, but prosecutor John Bell said no charges had been filed as of Thursday." The group's trip was subsequently cancelled.
— Arkansas: Tragedy In Woodruff County-18 Year-old Rider Dies. What Do We Do? — "We have a 3-foot safe passing law that requires motorists to give cyclists a 3 foot buffer when passing. There has not been a single ticket written under this law, even in cases where cyclists were struck and injured or killed. That's got to change. I don't have the answers, but we need action at the state level to at least demand that motorists learn that cyclists have a right to the road."
— Boulder, CO: Possible road rage incident in Boulder County injures pro triathlete — "Boulder triathlete Richie Cunningham was injured Thursday after he crashed his bike trying to avoid a car that Cunningham said appeared to purposely stop in front of him in a fit of road rage. Cunningham said a car passed them over a double-yellow line, honked its horn and 'buzzed' them. "It just went flying by as we were starting to go down the hill," said Cunningham, who was at the head of the group. "Then halfway down the hill, all of a sudden he just slammed on the brakes."
— Sioux City, IA: Sioux City riverfront trail takes shape — "Crews have begun work in the Sioux City stockyards on a long-proposed recreational trails linking two riverfront parks. The project is part of a larger effort to connect the city's trail system. The new path will connect the existing trail from Chautauqua Park, which ends south of the railroad bridge, to the current trail just north of the Floyd River at Chris Larsen Park. It will require bridges over the Floyd Channel and Floyd River."
— Kansas City, MO: Kansas City installs 200 miles of bike route signs — "Kansas City has been working to create a bicycle route network since the mid 1970s. Grant funding was received in the late 1990s. Why didn't things happen faster? Well, over the years there were far too many bumps and potholes in the road to even start naming them all. But city staff and advocates made it past all of them, and the city's bicycle routes are finally coming together!"
— Lincoln, NE: Protected Bikeway Planned for Lincoln — "The city is proposing the creation of a two-way protected bikeway in downtown, which would be among the first in our region. The purpose of the bikeway is 'to provide a safe connection through downtown between the Billy Wolff Trail and the Jamaica North Trail', completing a missing link in the Lincoln trail network."
— Nebraska: Guitar Ted writes about the recent "Odin's Revenge" gravel grinder: "This is one hard event. There is definitely more and harder climbing here than in something like the DK 200. Odin's has better scenery, (with the possible exception of the Gold Rush 100), as much 'remoteness' as anything else out there, is very difficult to tackle, and has the 'grassroots' feel that many say that they like in an event. Add it all up and you have one tough cookie to chew if you decide to race this one. Anyone that says Nebraska is 'boring' is just ignorant of the facts. The dirt roads alone are worth going to see and ride on."
— Stillwater, OK: Pedal power at Oklahoma State — "Since the wheels began turning on its Orange Ride program, Oklahoma State University has seen students, community members and visitors taking advantage of the orange bicycles for rent. Anyone wishing to rent a bike can do so for $2 a day, $8 a week or $30 a semester."
Event News
— The Sunflower State Games begins on July 12th in Topeka, with cycling events including a Criterium and a Road Race.
— The Lenexa Midnight Bike Ride is July 13th.
— The Olpe Downhome Fun Ride offers 15 and 30 mile gravel rides on July 13th.
— The Baldwin City Bicycle Swapmeet is July 13th.
Events elsewhere around the region this weekend include: the Eureka Springs Fat Tire Festival in northwest Arkansas, the Guitar Ted Death Ride Invitational gravel ride in northeast Iowa, the Norman Conquest in Oklahoma, the Owl Ride in Nebraska, the Ride the Ridge 100 in Arkansas, and the Triple Bypass and Breckenridge 100 in Colorado.
See also: Kansas Ride Calendar, Regional Ride Calendar
The Latest Bicycling Resources at Kansas Cyclist
I've added a few new bicycle camping resources in northeast Kansas, including Atchison County Lake, Mission Lake near Horton, Old Military Trail Campground at Perry Lake, and Riverside Park in Valley Falls.
Bicycling Inspiration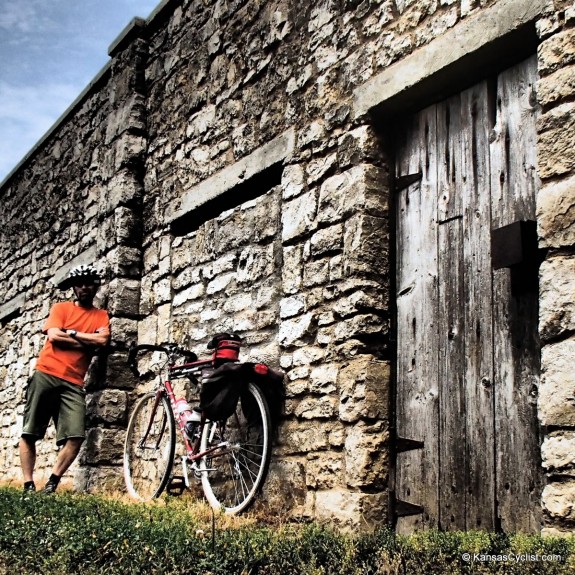 I found this gritty backdrop at Wallace Park in Paola, Kansas. Rock Stadium was built in the 1930s. It's great to see that it's still being used to host ball games. The parking lot adjacent to the stadium will also serve as a trailhead for the future Paola Pathways trails in Wallace Park.
Note: Wallace Park is on the route for the annual Cider Mill Century, which takes place on July 28th this year. It's a fine opportunity to get your own photo at scenic Rock Stadium!
---
If you have a news item or upcoming event you'd like to share, please contact Kansas Cyclist with details.
Post tags: Chanute, Digest, Great Bend, Kansas City, Lawrence, Olathe, Pittsburg, Topeka