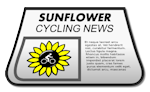 The Sunflower Cycling News is a periodic publication of Kansas Cyclist, featuring a compendium of hand-picked bicycling-related news items from Kansas and neighboring states.
The following is a recap of recent bicycling news from the region, as well as a look ahead to upcoming rides, races, and bicycling events coming up.
---
Bicycling News from Kansas
Topeka Considers Bicycle Parking Ordinance
"Where to park bicycles was a topic of discussion at Monday's Topeka Planning Commission meeting. Officials took a look at rules and regulations relating to bike parking around the city. Officials decided to work on the language a bit more, then have a public hearing to gather input before making a final decision." [link]
Wichita Bicycle Commuter Stats
"Wichita ranks 57th among the 70 largest US cities with the highest share of bicycle commuters. Wichita has 516 bicycle commuters which is 0.29% of it's 385,586 population. From 1990 – 2012 Wichita had a growth of 10.9% in bicycle commuters. From 2000 – 2012 the growth has been 64.5%." [more info]
Hit-and-Run Driver At Large in Lawrence
"A 21-year-old Kansas University bicyclist was taken to Watkins Memorial Health Center with nonlife-threatening injuries Monday afternoon after colliding with a vehicle, which drove away from the accident. As of Monday evening, police had no vehicle or driver information." [learn more]
Artist Making a Mark in Newton
"When you walk up to the Newton Bike Shop, the old-time lettering on the windows draws your eye. Inside, you'll be struck with the groovy atmosphere and the vivid, funky artwork. Artist Adrian Buentello has been displaying and selling his art at the Bike Shop since they opened in April. The Newton Bike Shop is not the only local business to enjoy Buentello's art—he has also painted windows at Warehouse Furniture, Big Brothers and Big Sisters and Newton Performing Arts Center (NPAC)." [read more]
Free Wheels for Kids Box Truck Campaign
The non-profit organization Free Wheels for Kids helps kids in Kansas City, Kansas earn bicycles, learn how to repair them, and learn how to ride safely. The organization is looking to expand their services, and needs a truck. They're running neighbor.ly campaign to raise money for their cause. Learn more at Free Wheels for Kids – Box Truck Campaign.
Regional Bicycling News

— Arkansas: $1M pledge to Memphis Bike/Ped Bridge — "The Plough Foundation made a $1 million pledge to the boardwalk project Thursday. Previous pledges to the to the planned pedestrian and bicycle bridge include more than $1 million from Memphis entrepreneur and cycling promoter Charles McVean and $250,000 from the Hyde Foundation. Organizers expect the public walkway over the mighty river to open in either July or August 2014."

— Colorado: Bicycle Access On Highways Limited — Though the Colorado Department of Transportation (CDOT) has repaired and reopened all of the state highways between the Front Range and the mountains that were damaged during the September floods, "CDOT is temporarily restricting bicyclists from riding the recently repaired highways, to maintain safety for riders and motorists alike. CDOT will be working over the next two to three weeks to open up at least one of the recently reopened highways to cyclists."

— Iowa City, IA: Winter Warrior Bike Challenge encourages a cool bike commute — "The University of Iowa Bicycle Advisory Committee invites UI faculty, staff, and students to join the Winter Warrior Challenge, a fun way to show that a bike commute is possible despite chilly temperatures, Dec. 1-20. The committee is encouraging people to bike to work or class as long as they feel safe and comfortable. At the end of each week, participants will log their trips and mileage to be eligible for prizes from local bike shops."

— St. Louis, MO: County Council puts Complete Streets legislation on hold — "The St. Louis County Council on Tuesday held off on a vote that could ultimately improve access for bicyclists and pedestrians along county roads. Councilman Pat Dolan, the co-sponsor of the bill, joined Trailnet official Rhonda Smythe in predicting passage of the measure, perhaps as early as next week."

— Omaha, NE: Bike patrol receives plenty of gear thanks to Facebook post — "Members of the Omaha Police Department's bike patrol have some new gear, thanks to some appreciative fellow cyclists. The Dundee Chain Gang Cycling Club donated two bike racks and more than $1,100 to bike patrol officers. Omaha cycling activist Kurt Goetzinger heard the department needed new bike racks so officers could alternate between their bikes and squad cars. He reached out to the bicycle club and wrote about it on Facebook."

— Edmond, OK: Bike ride inspires new book on Route 66 — "To commemorate his adventure, Steve Kime, who received statewide attention for biking across the state in 2004 to raise money and awareness for Special Olympics Oklahoma, wrote a children's book about his journey along the historic Route 66. The fictional book, titled "Rollin on Route 66," is about a kid named Owen, named after Kime's grandson, who daydreams in history class about what fun it would be to ride his bicycle along Route 66."
Event News
There are a couple of bicycling events coming up to commemorate the Thanksgiving holiday:
— The Lawrence Mountain Bike Club is hosting the Turkey Day Ride '13 on the North Shore Trails at Clinton Lake near Lawrence, from 9am-12pm on November 28th.
— In Topeka, you can ride with the Topeka Community Cycle Project in the Miracle on Kansas Avenue Parade, starting at 4pm on November 28th, from the shop at 423 S Kansas.
See also: Kansas Ride Calendar, Regional Ride Calendar
Bicycling Inspiration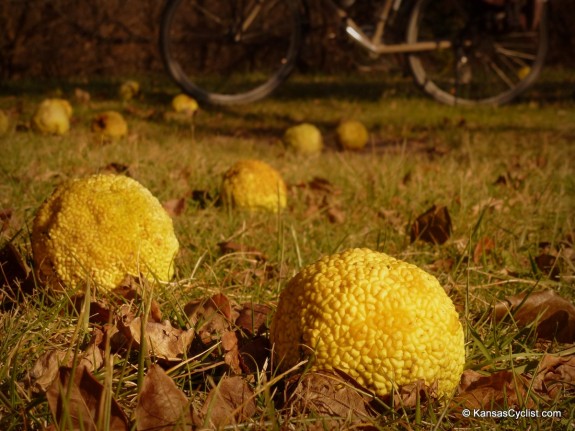 Hedge apples lie among fallen leaves as autumn all-too-quickly slips away…
There's always beauty out there to be found, just start riding, pay attention, and you can't help but notice it!
---
If you have a news item or upcoming event you'd like to share, please contact Kansas Cyclist with details.
Post tags: Digest, Kansas City, Lawrence, Newton, Topeka, Wichita