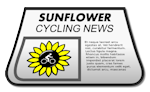 The Sunflower Cycling News is a periodic publication of Kansas Cyclist, featuring a compendium of hand-picked bicycling-related news items from Kansas and neighboring states.
The following is a recap of recent bicycling news from the region, as well as a look ahead to upcoming rides, races, and bicycling events coming up.
---
Bicycling News from Kansas
3-Foot Passing Law Education in Harvey County

Local cyclists in Harvey County, Kansas (Newton) have recently taken the initiative to have 70 signs erected around the county, educating motorists about the Kansas 3-Foot Passing Law. This is probably the first city in the state that has made any effort to spread the work about the new law. [link]
Topeka Hires Bikeways Coordinator
Topeka has a hired Julie Anderson as their bikeways coordinator. "She coordinates implementation of the Topeka Bikeways Master Plan that the city's governing body approved in May. The plan is targeted at establishing a network of bikeways, which consist of bike lanes and routes on city streets. Anderson will coordinate the activities of the city's bikeways advisory committee to assist the implementation of the master plan." [link]
Kansas Moving Forward with U.S. Bicycle Route 66
While Oklahoma has recently claimed to be "out in front of the other efforts of the other eight Route 66 states leading efforts to establish the new designation" for U.S. Bicycle Route 66″, Kansas is apparently not far behind. While the official Kansas status is "there is interest", according to KDOT, "Kansas is coordinating with Oklahoma so when Kansas moves forward with the USBR 66 we can tie into the Oklahoma plan." Looking forward to officially designated and signed U.S. Bicycle Routes (USBR 66 and USBR 76) in Kansas!
Award To Be Used To Promote Bicycling in Wichita
The Health and Wellness Coalition of Wichita has won a $2,500 "BlueCHIP Award" from Blue Cross Blue Shield of Kansas. The coalition says it will use the money to "help a local committee promote bicycling in the community". [link]
Free MAP-21 Training in Wichita April 4th
This Wichita workshop is a great opportunity to learn about how to navigate the new Transportation Alternatives program that provides funding for bicycle and pedestrian projects through the federal MAP-21 transportation bill. Learn More
Bicycle-Friendly Candidate in Gardner

My friend Randy Gregorcyck is running for re-election to the Gardner City Council. He's been involved in mountain biking and trail-building in both the Wichita and Kansas City areas. Here, he demonstrates his stair-riding technique in Osawatomie. Randy's web site is gregorcykforgardner.com.
Cross Country Skiing with a Bicycle
Bill Poindexter of Car-Free American writes from Kansas City: "I have been going to the gym a lot, but prefer being outside walking or cycling. Now with all the snow I am able to do my favorite winter sport, Cross Country Skiing. I love being able to use my bicycle as a ski holder while I ride to Loose Park and other trail heads around the City for some quality Ski time."
Promoting Biking in Russell County
Unfortunately, it's the motorized kind: "Russell County Economic Development and Convention and Visitors Bureau has announced the development of a motorcycle club brochure promoting Russell County. Research shows that motorcycle clubs enjoy a day trip or weekend trip to smaller communities with local owned stores and eateries. They also enjoy historic attractions and scenery that they can ride through." Hey, Russell County, bicycles mean business, too! [link]
Looking Forward to Biking Across Kansas
Matt Nowak writes in Looking forward to long bike ride across Kansas: "I have crossed Kansas many times in a car and several times on a bike and I can say for certain that there is no better way to experience Kansas than on a slow ride on a bicycle through small towns. Even the larger cities are fun to cross on a bike; especially when you take the time to stop in at places that you probably would not even slow down for if you were in a car." Amen, Matt!
Kansans Advocating for Bicycling in Washington D.C.
A delegation from KanBikeWalk is in Washington D.C. this week at the National Bike Summit to meet with our Senators and Representatives to deliver the message that 'Bicycling Means Business'. Thank you for your time and commitment!
Regional Bicycling News
— Fayetteville, AR: "A network of hiking and biking trails wind through some of the privately owned property. Built and maintained by Ozark Off-road Cyclists, the 8 miles of trails are open to the public after registration with Mt. Kessler Greenways, an advocacy group created in 2004. For those looking for more information, the group has a website at mtkesslergreenways.com." The group is proposing that the University of Arkansas purchase some of the land for an environmental reserve.
— Boulder, CO: Trial for driver in Boulder County truck vs. bike fatal accident to begin — "Christopher Loven, 47, of Boulder, is facing one count of careless driving resulting in death — a Class 1 traffic offense — after prosecutors say an investigation showed his lack of 'due regard' caused the accident that killed Eugene 'Phil' Howrey, 73, of Boulder, nearly two years ago. If convicted, Loven could face a possible sentence of up to one year in jail and up to a $1,000 fine."
— Fort Collins, CO: Fort Collins' bike-share efforts getting a boost from EPA — "The EPA named Fort Collins as one of 43 communities in 27 states awarded free assistance to expand its bike-share program. The EPA will help by providing workshops held by EPA staff and national experts on using bike sharing to create additional commuting options." The EPA program is called Building Blocks for Sustainable Communities.
— Iowa: Iowans' bicycles stolen in San Diego before 3,000-mile ride — A group of six Iowans planning a cross-country bicycle tour had their bikes stolen in San Diego just before embarking on their trip. They are planning to replace their bikes and gear, and soldier on. You can follow their story on their blog at Southern Tier Comfort Ride.
— Carthage, MO: Bike trail progressing — "The city and representatives of bicycle riding groups will meet to plan the next steps in putting a single-track bicycle trail in the wooded area along Spring River. It's a project that the city has been discussing for the past several months as a relatively inexpensive way to improve the quality of life in Carthage by giving bicyclists a place to practice their hobby where they won't come into conflict with cars and trucks."
— Dutzow, MO: MoDOT Favors Wide Shoulders Along Route 47 — "The Missouri Department of Transportation is taking a strong look at building 10-foot-wide paved shoulders along both sides of Highway 47 in Warren County to connect Franklin County to the Katy Trail at Dutzow". MoDOT is using an interesting rationalization for their support of the wide shoulders: they "would serve as a multi-use path to accommodate wider farm equipment during crop seasons". Whatever gets them to do what's right…
— Missouri: In Virginia, a proposed law that would have made opening car doors into traffic (i.e. "dooring") against the law was criticized as "stupid" and "asinine" in the local media (despite it being law in the majority of the states, and despite many cyclists being injured or killed by dooring). In Missouri, the Ozarks Sentinel calls bicycle ban bill HB672 "just plain silly". Couldn't agree more. Feels a bit like progress.
— Springfield, MO: New Greenway Trail Section Opens — A new section of trail, which was once part of the historic Butterfield Overland Mail Stage route, opened last Saturday in Springfield, MO: "From 1858-1861, this famous stagecoach carried mail, freight and passengers between St. Louis and San Francisco, passing through what's now Springfield's Park Central Square."
— Omaha, NE: B-cycle bike-sharing system rolls out in Omaha — "People can rent a bike from one of five stations in central Omaha, ride it and return it to any station for a fee. It's designed for short commutes, though it can be used for longer trips and recreational use, too. More than 1,000 people used the system during the nine months it was available last year. They took 1,282 rides." They held a Launch Party on March 1st.
— Stillwater, OK: OSU faculty member seriously injured after bike-motor vehicle collision — "An Oklahoma State University faculty member was hospitalized with serious head injuries after a motor vehicle collided with the bike he was riding." The 20-year-old driver "said he was looking at a vehicle behind him" when he turned in front of the bicyclist, knocking him down and then running him over. The driver "was issued a citation for failure to yield while turning."
— Tulsa, OK: Suspected DUI driver arrested in August wreck involving bicyclist — "A man accused of driving under the influence of several prescription and street drugs faces felony charges after striking a bicyclist in August. Prosecutors allege that Highers was under the influence of methamphetamine, methadone, oxycodone, oxymorphone, pseudoephedrine, amphetamine and alprazolam."
Event News
—

There is a Prairie Spirit Rail Trail State Park Open House scheduled on March 9th, from 8am to noon in Iola, with speakers from Thrive Allen County, the Franklin County Convention and Visitors Bureau, the Garnett Chamber of Commerce, and the Iola Chamber of Commerce, along with free snacks provided by the Friends of the Prairie Spirit Trail. The 17th Annual Trail Celebration is March 27th in Garnett, which is an annual fund raiser for trail projects, with a silent auction and a buffet dinner. Learn more about these and other upcoming Prairie Spirit Trail events from the Prairie Spirit Rail Trail News.
—

The Miami County Velo Cycling Club (MiCoVelo) has announced the first annual Tour de Vino, a bicycle wine tour of wineries in Miami County, Kansas, with free wine tastings, and a commemorative shirt and wine glass for pre-registered riders. 14, 20, and 32-mile gravel route options. The Tour de Vino is April 20th near Paola.
See also: Kansas Ride Calendar, Regional Ride Calendar
Bicycling Inspiration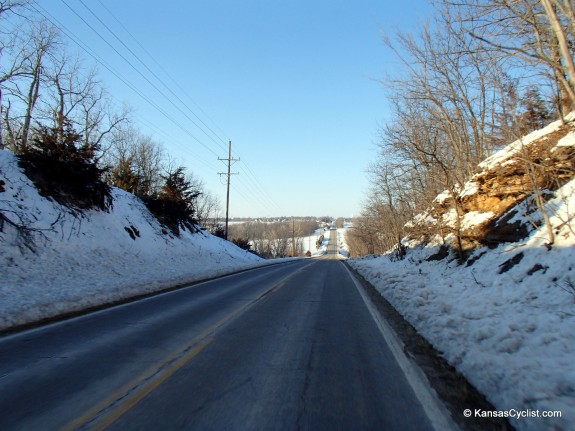 Felt good to get back on a dry road after all the snow in the last two weeks. It was nice in the sunshine, but chilly in the shadows!
---
If you have a news item or upcoming event you'd like to share, please contact Kansas Cyclist with details.