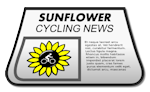 The Sunflower Cycling News is a periodic publication of Kansas Cyclist, featuring a compendium of hand-picked bicycling-related news items from Kansas and neighboring states.
The following is a recap of recent bicycling news from the region, as well as a look ahead to upcoming rides, races, and bicycling events coming up.
---
Bicycling News from Kansas
Riverfront Park Trails Progress in Fort Scott
Fort Scott: "Riverfront Park plans are moving along, albeit slowly. Phase One of the project is the main loop trail and the River Loop Road. The walking trail is a riverfront trail, plus loop trails and connections to area attractions for both pedestrians and bicyclists. The hope is to do the River Loop Road by the end of the year. The funds are awarded; we are waiting for permits." [link]
Lawrence To Address Tennessee Street Problems
Lawrence is working to "identify solutions to traffic congestion and lack of parking availability, improve the walkability of the area by exploring public transportation options and encourage bicycling by making the area more biker-friendly. The city will be looking increase bike lanes, to make the area friendlier to pedestrians and bikers." There will be an April 17th public meeting on the project.
Trial Date Set For Driver Who Killed Bicyclist in Paola
A trial date has been set in Paola Municipal Court for the driver involved in a fatal accident that took the life of 9-year-old Johnna Feugate last September. Autumn Bassett, 33, of Paola is charged with speeding, inattentive driving and operating a motor vehicle without insurance. She pleaded not guilty in January.
Southwest Johnson County Area Plan Open House is February 28
KDOT is holding an open house in Gardner on February 28 to discuss transportation needs around the new BNSF Intermodal Facility going up near Edgerton. There are a number of popular bike routes in the area that are going to carry increasingly heavy truck traffic. Cyclists need to speak up to maintain safe access to the roads. Cyclist visibility at this event can make a big impression. [link]
Valley Center Bike Plan Open House
The city of Valley Center, Kansas held an open house on Tuesday, February 19th to present their draft Pedestrian and Bicycle Facilities Master Plan.
Wichita City Council Candidate Dismisses Economic Impact of Bike Paths
In an article in the Wichita Eagle, Wichita City Council candidate Craig Gabel dismissed the city's efforts to become more bicycle friendly: "Gabel, president of Kansans for Liberty and a spokesman for the local tea party movement, said his No. 1 priority is jobs. 'Our council has tunnel vision for economic development. Maybe they believe if they put up enough pretty signs, build enough pretty hotels, put in bike paths and streetscaping, that will create economic growth,' he said."
Perhaps Mr. Gabel is unfamiliar with the research that reveals that bicycle and pedestrian projects are actually a great way to create jobs: "The next time someone argues that bicycle facilities are a waste of money, tell them to think of the job opportunities."
Regional Bicycling News
* Arkansas: Biking and Hiking Trail Will Span 88 Miles Through Central Arkansas — The Arkansas River Trail System will be extended 88 miles across multiple cities and counties, connecting 38 parks and six museums with 44,000 residents and 54,000 jobs, all located within a half-mile of the trail. It has become the catalyst for the development of bicycling, walking, and running trails in the entire metropolitan area. 'This is not only the premier trail for recreation, but also the premier trail for commuting.'"
* Boulder, CO: Judge rejects plea deal for Erie man accused of harassing cyclists — "This has put a lot of stress on me. I am riding on the road that is too narrow for bicycles, no shoulder, double-yellow line for miles."
* Boulder, CO: Boulder businesses to benefit from bike rack pilot program — "The city has launched a pilot program to offer subsidized bike racks for Boulder businesses. Safe auto parking is a part of business, so safe bike parking should be too."
* Fort Collins, CO: World-class cycling park could be next step for Fort Collins — "The Fort Collins Velo Park Association believes there is need for a facility that supports all types of cycling for education, recreation, fitness, competition, tourism, events and safety training. The common thread is creation of a safe and automobile-free bicycling environment. An important side benefit is that such a park would bring additional notoriety and revenue to our community."
* Iowa: Iowa law would make drivers give cyclists more space — "House and Senate legislation would require vehicles to stay at least 3 feet away when passing bicyclists. Twenty states, including Nebraska, have similar rules. The bills would update a 2010 law that says drivers have to give bicyclists a 'safe and reasonable distance.'"
* Council Bluffs, IA: Pottawattamie County pledges $60,000 to trails — "The County Board agreed to commit $60,000 to the project this year. The board will discuss funding an additional two years at the same rate. Members of the trail committee said they hope to leverage as much as $1 million by the end of the year with the funds. The plan is to have 30 miles of trail finished in three years."
* Missouri: The threatened Missouri Bicycle Ban is now a bill, which would ban bicycles from using a roadway when there is a bicycle path within two miles of the road. The Missouri Bicycle and Pedestrian Federation has issued an Advocacy Alert. If you live in Missouri, or know someone who does, please ask them to contact their Missouri Representative to oppose the bicycle ban.
(An article in the Riverfront Times used my photo of MO-150 Highway, and succinctly summed up the logic behind the bike ban proposal: "Huh?")
* Oklahoma City, OK: Neon colors beckon customers to Oklahoma City bicycle shop — "Before opening his new bicycle shop, Lewis Lindenberg had the exterior painted eye-catching neon green and bright red. We wanted a color that when people were driving by, it hit them straight in the face. The color scheme reminded him of a watermelon, so the business was named Melonbike."
* Stillwater, OK: Bike rental program coming to Oklahoma Ste University — "Orange Ride bicycle rental and repair is a new bicycle rental program being offered to promote affordable and convenient transportation to the campus and Stillwater community, with rates of $2 per day, $8 per week, and $30 per semester."
National Bicycling News
* The League of American Bicyclists has issued an action alert: "Even though bicyclists and pedestrians now account for almost 16% of all traffic fatalities in the US, states are spending less than 0.5% of their safety funds to solve this problem. This is exactly the time to establish meaningful national goals and performance measures to tackle bicyclist and pedestrian safety as part of an overall, comprehensive and multi-modal traffic safety program."
Please take a moment to sign your name and ask for national goals and performance measures for bicyclist and pedestrian safety.
* A proposed bill in Utah would close a gap in state law, where motorists causing serious injuries to bicyclists and pedestrians may only face a minor traffic ticket. The proposed bill "Seeks to protect anyone using a roadway that is not surrounded by thousands of pounds of steel in a car," according to the sponsor of the bill. "The bill encourages motor vehicle drivers to use increased caution when operating around vulnerable road users." [link]
Event News
Road biking season is here!
The first event in the 18th Annual Spring Fling Criterium Series is this coming weekend, February 23rd, near Lawrence. Additional crits run on March 2, March 16, March 23, and March 30.
Also, registration has opened for one of the early-season recreational rides, the Highway 71 Classic, in northwest Arkansas. The ride is on March 3rd, and this year's event includes a raffle for a Schwinn Single Speed Fixed Gear Road Bike.
And, looking slightly further ahead, registration is now open for both the Santa Fe Trail Spring Bike Ride in Alta Vista on April 13th, and the 3rd Annual Operation Pedal Express, in El Dorado on April 20th, to raise funds to send packages to troops in combat zones.
See also: Kansas Ride Calendar, Regional Ride Calendar
The Latest Bicycling Resources at Kansas Cyclist
• Kansas Regional Bicycle Summits — A directory of Bicycle Summits and Conferences in Kansas and neighboring states, as well as national bike summits and outdoor conferences.
• Tour de Dirt — Oklahoma Mountain Biking Series
• Thurman's Bike and Sport — Nebraska City, NE
Site News
You may notice some formatting changes for this post. This is an effort to make the information render more reliably on some mobile devices. Feedback on these changes is appreciated.
Bicycling Inspiration
---
If you have a news item or upcoming event you'd like to share, please contact Kansas Cyclist with details.
Post tags: Digest, Fort Scott, Gardner, Hutchinson, Lawrence, Newton, Paola, Wichita