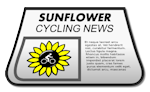 The Sunflower Cycling News is a periodic publication of Kansas Cyclist, featuring a compendium of hand-picked bicycling-related news items from Kansas and neighboring states.
The following is a recap of recent bicycling news from the region, as well as a look ahead to upcoming rides, races, and bicycling events coming up.
---
Bicycling News from Kansas
Topeka Council approves $1.6M budget to improve bikeways
"Putting bike routes throughout Topeka would make the city healthier, safer and more attractive to companies thinking about moving to the capital city, cycling enthusiasts told the Topeka City Council on Tuesday evening. The council then voted 9-0 to approved a $1,622,400 budget to carry out the first phase next year of the city's Bikeways Master Plan to make the city's streets more bicycle-friendly. Mayor Larry Wolgast described the vote as 'an important step up' for this community."
Blazing new trails across Paola
"Life is about to get easier for walkers, joggers and cyclsts in Paola. After clearing and burning brush in multiple areas, Paola Public Works crews members began constructing the trail last week using limestone screenings. The screenings were poured onto the path and then packed and smoothed out to create a flat, hard surface for the trail. The Wallace Park trail system is expected to be complete by mid-November." [read more]
Lawrence police bike patrol makes officers as visible, or stealthy, as needed
"This year, the department's bike patrol unit is experiencing a revitalization, both in the equipment used and areas patrolled. In May, the department bought four 2013 TREK mountain bikes designed exclusively for police patrol from Lawrence's Sunflower Outdoor & Bike Shop, bringing the department's total to eight bikes. Later, four Lawrence police officers certified through an international mountain bike association instructed 12 officers in specialized riding tactics and techniques, namely navigating difficult areas such as hills and stairs." [learn more]
Topeka City Council Discusses Bikeways And New Schedule
"Topeka Public Works Director Doug Whitacre detailed two projects that would open up Topeka to bicyclists and nature walkers. First, a $1.3 million dollar extension of the Shunga Trail, west and south along Shunga Creek. Second, $1.6 million dollars for the first phase of a nine trail bikeways plan for the city. The council could vote on both projects as early as November." [link]
Wichita Toys for Tots bike ride set for Nov. 3
Bicyclists are invited to gather on Nov. 3 for the next Toys for Tots Bicycle Ride, a non-motorized event that benefits the U.S. Marine Corps' annual holiday toy collection drive. Participants are asked to donate new, unwrapped toys; cash; or nonperishable food that can be strapped to their bicycles for the ride." [learn more]
Topekan Nordgren undertakes 350-mile bike ride for children with cancer
"Topekan Eric Nordgren said he considered not going through with his eighth annual Sunflowers-to-Roses cancer fundraiser, a 350-mile, nonstop bike ride throughout northeast Kansas. But Nordgren said he changed his mind after he reviewed the stories and conditions of the two young cancer patients he was considering supporting with this year's ride's proceeds." [read more]
Prairie Spirit Trail News
From Trent McCown, manager of the Prairie Spirit Trail State Park: "This is a great time of year in Kansas as the weather is comfortable to be outside exercising and the trees are changing colors, as well as there are still some fall flowers showing colors along the trail. The trail is in good shape and is open from Ottawa to Iola. Currently, all restroom facilities are open and water is available at all rest areas except Carlyle. We will begin to winterize and close our facilities on October 31, 2013. Restrooms in the Depot in Garnett and at the Depot Museum in Ottawa will remain open through the winter." [read more]
Regional Bicycling News
— Searcy, AR: Student fatally hit by White County patrol vehicle — "A female student at Harding University died early Friday after she was struck Thursday by a patrol car driven by a White County sheriff's deputy. Arkansas State Police spokesman Bill Sadler said state authorities are investigating the crash that killed 24-year-old graduate student Courtney Book. The vehicle struck the bicycle from behind.The collision appears to be an accident, and the department doesn't anticipate taking any personnel action against the driver, whom he identified as Lt. Brandon Grimes."
— Fort Collins, CO: Bicycle Advisory Committee puts the brakes on stop-as-yield — "Fort Collins won't adopt a stop-as-yield ordinance, the Bicycle Advisory Committee decided Monday night. Jurisdictional conflicts, concerns with safety, public confusion, lack of research and a worry for more animosity among motorists and cyclists all factored into the BAC's decision."
— Des Moines, IA: New Rules for Sharing the Road — "Des Moines added just over 4 miles of bike lanes and lanes shared by bikes and cars downtown this summer to encourage bicycle commuters and to safely bring riders into the city core from its recreational trails. But do cyclists and motorists know the rules for safely sharing the road?"
— Missouri: Ferguson and Clayton named as newest Bicycle Friendly Communities in Missouri — "Two Missouri cities were added to the rolls of nationally recognized Bicycle Friendly Communities in the latest round of announcements in the League of American Bicyclist's Bicycle Friendly America program. That brings the total number of Missouri communities recognized as BFCs to seven, and the total number of communities, businesses, and university in Missouri recognized to 30 and the total number of Missourians living in a recognized Bicycle Friendly Community to 1,262,000."
— Omaha, NE: With Mayor Stothert, bike-friendly projects may face more head winds — "While new Mayor Jean Stothert says she supports efforts to make Omaha accessible by all forms of transportation, she wants to take a close look to see if more bike lanes, trails and other suggested improvements make sense for the city's needs and budget. With Stothert pushing to tighten city spending, some cyclists in Omaha's growing bicycle community fear that Stothert would slash bike lane projects or cut the city employee who oversees that work."
— Tulsa, OK: City designated as bicycle friendly by group — "The city of Tulsa has been designated as a Bicycle Friendly Community for the second time by the League of American Bicyclists. The bronze designation recognizes Tulsa's commitment to improving conditions for bicycling by promoting cycling, providing education programs and improving infrastructure and pro-bicycling policies."
Event News
We have some racing on tap for this weekend!
Two events in the Big Ring Dirt Road Race Series roll out in the Wichita area, with "Musher's Mayhem" on Saturday near Augusta, and "Gordon Ring" on Sunday near Gordon.
And in Eskridge, Jagger (Just Another Gravel Grinder Race) offers 13 miles of gravel and hills.
Otherwise, it's a thin weekend for recreational bicycling events around the region, so if you're looking for a place to ride, check out one of the many amazing Kansas Bicycle Trails, including bike paths, mountain bike trails, and rail-trails!
See also: Kansas Ride Calendar, Regional Ride Calendar
Bicycling Inspiration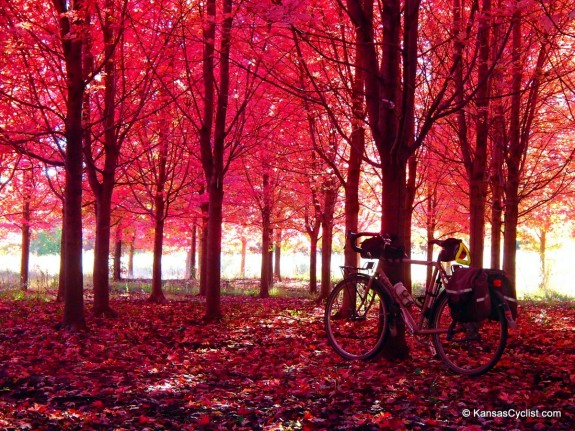 We're getting to the "prime time" of fall color … hope you're getting out to enjoy the show!
---
If you have a news item or upcoming event you'd like to share, please contact Kansas Cyclist with details.