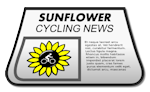 The Sunflower Cycling News is a periodic publication of Kansas Cyclist, featuring a compendium of hand-picked bicycling-related news items from Kansas and neighboring states.
The following is a recap of recent bicycling news from the region, as well as a look ahead to upcoming rides, races, and bicycling events coming up.
---
Bicycling News from Kansas
Topeka Bicyclist Dies After Collision With Motorcycle
A bicyclist who was struck by a motorcycle in Topeka on July 7th has died. 61-year-old Ralph Lowe passed away on July 10 as a result of injuries he sustained in the collision. [link]
Bicycling program popular with KCK kids and parents
"FreeWheels for Kids teaches bike safety to children as young as age 8. Through the FreeWheels Earn a Bike program, middle school- and high-school can learn bicycle repair skills as they refurbish donated two-wheelers for themselves and other children. Alexander also tries to teach the students the benefits of mastering new skills and taking on big jobs." [link]
Marysville Trail enthusiasts see benefits in health and promoting town
"The trail's northern links in Nebraska are now completely paved between Beatrice and Lincoln. Funding for the link from Beatrice south to connect with the local trail at the state line is shaping up. 'I see a period where we will become the end point for the trail from Nebraska. That would be good for Marysville commerce.' The uniqueness in having the trail is 'a jewel in Marysville's crown' and will draw more people to the community, whether to live or visit." [link]
Hutchinson youths ride to keep dead teen's dream alive
The Peace Trek ride, sponsored by the Community Church of the Brethren, was in memory Paul Ziegler, who died in September when a motorist hit him as he biked just south of McPherson. "Paul Zieglar's dream was to ride his bicycle across the country for peace, but never got the chance. 12-year-old Magdalena Wenger, 12, said it was sad to learn what happened to Paul. "But, it's really nice that people are gathering together to keep his dream alive," Magdalena said." [link]
Ticket for a Treat in Emporia
"Using a little positive reinforcement — via the offer of a free sweet treat — to encourage children to use a helmet while riding their bicycles. Through the month of July, youngsters age 12 and younger can select a coupon to receive either a frozen custard courtesy from Freddy's or a cookie from Subway, if they get 'caught' by a police officer for being a safety-conscious citizen. Some kids were cautious at first when they were approached by police officers, but when they realized what it was for and they would be getting a free ice cream or cookie, they walked away with smiles." [link]
MS Bike ride looking for Wichita area cyclists
"It's a good ride for a good cause and the local chapter of the MS Society is letting cyclists know about it at local bike shops around Wichita. This weekend, registration for the 27th annual Autumn Hills Trails Classic began at three local bicycle shops in Wichita. Last year, 200 cyclists took part. This year, the MS Society is hoping for more to help them raise funds for MS research. The two-day ride leaves from Pratt on September 7 offering 30, 50, and 80 mile options on day one and 30 and 50 mile options on day two." [link]
Shawnee County defers action on bridge project
The Shawnee County Commission deferred action Thursday on a proposal to partner with the Kansas Turnpike Authority to replace a bridge crossing the turnpike — and put the county in a position to connect its Deer Creek and Lake Shawnee trails. Parks and recreation director John Knight said the KTA, which plans to replace the bridge, is willing to design and build an 11-foot-wide trail on its west side. The trail's presence on the bridge would pave the way for the county to build a trail covering the roughly two-mile gap from north to south between the Deer Creek and Lake Shawnee trails." [link]
Shawnee County to pay $70,000 in cyclist's lawsuit
"Shawnee County will pay a $70,000 settlement to a bicyclist injured in an accident in which another cyclist was killed in 2007 on a steep hill on the Lake Shawnee Trail. The fatal accident has changed the way Shawnee County looks at its trails system. 'If that trail was built today to existing standards, that slope would not be permitted.' Eckert acknowledged the slope involved didn't meet guidelines for trails established by the American Association of State Highway and Transportation Officials." Judge Franklin Theis wrote that the trail's design "could likely be seen to constitute, in light of the danger posed, gross and wanton negligence and could well be seen to have likely contributed to the injuries claimed by plaintiff." [link]
Paola Pathways Receives $24K Grant
"City officials recently announced that Paola received a matching grant from the Sunflower Foundation that will allow for the construction of trails at Wallace Park, which is the first phase of the city's master trails plan. The $24,000 grant for Paola joins $33,000 in cash donations from more than 80 giving units and $18,000 in pledges, for a total of $75,000 raised by the local task force. Groundbreaking on the trails at Wallace Park is scheduled to take place during a chamber coffee Sept. 13. All 3.5 miles of trails at the park are expected to be completed by the end of the year." [link]
Delano Bike/Walk Path
The Delano Wichita Neighborhood News writes: "The Delano bike/walk path has been in the works since the Delano Plan was conceived over ten years ago. It's time we got it done." [link]
Perry Bicycle Route Signage Installation
Via Coasters Bicycle Club of Wichita: "The City of Wichita is in the process of installing the signs for the Perry Street Bicycle Route in the North Riverside Neighborhood. This project will provide signed wayfinding for cyclists along the bicycle route, connecting the Rosalie Bradley Path (along the Little Arkansas River and 21st St.) to both the East and West Arkansas River Paths." [link]
Missouri River Bridge Closure Alerts
KDOT will soon be performing bridge inspections on the Missouri River bridges at Atchison and Leavenworth. On Tuesday-Thursday, July 23-25 from 9am-3pm, the right lane and shoulder of the Amelia Earhart Bridge on U.S. Highway 59 will be closed. Bicycle traffic will need to share the remaining one lane in each direction with motor vehicle traffic. And the K-92 Centennial Bridge at Leavenworth will be closed to all traffic on Friday, July 26 between 9:00am and 3:30pm. No marked detour will be provided. The nearest option to get across the river is Atchison.
Regional Bicycling News
— North Little Rock, AR: Kids learn bicycle safety by hitting the streets — "Not only did they get a lesson, but they were also able hit the streets and use the tools they learned on the road with real cars and real traffic scenarios like the ones they will see when these instructors aren't with them. 'Riding a bike is just like learning how to drive a car, and we always teach that cyclists fair best when you act and are treated as drivers of vehicles.'"
— Aspen, CO: Aspen Police Rigging Bikes To Catch Thieves — "The police department is using GPS-enabled bicycles to snare crooks. Police have identified the most common spots around town for bike thefts, and are leaving rigged bikes in those locations as bait. If the rigged bike is stolen, the GPS will allow officers to track where it goes–and hopefully lead police straight to the crooks."
— Des Moines, IA: Exhibit shows how Iowa cycling has evolved since 1869 — "A new exhibit, "Riding Through History," tells the story of the Register's Annual Great Bicycle Ride Across Iowa and bicycling in the state. Twenty-three bikes suspended from the ceiling guide visitors through the exhibit hall as Iowa bicycling history intersects with RAGBRAI history."
— Cape Girardeau, MO: Missouri's first obstacle-course bike lanes — "This is a newly designated bike lane along Highway 74, just west of the Mississippi River Bridge. This isn't an ordinary bike lane, though. It features built-in obstacles. It's really quite an ingenious design. Bicylists, no doubt bored after riding on flat Highway 3 in Illinois, need something to wake them up as they enter Missouri. This MoDOT-designed obstacle course is just the ticket. It's our way of saying "Welcome to Missouri!"
— Lincoln, NE: Bicyclist seriously hurt after being hit by car — "A bicyclist was fighting for his life Monday after being hit by a car. The cyclist also was eastbound, and riding along the south shoulder of the roadway. He was wearing a helmet and had lights on his bike. Police suspect the driver drank alcohol prior to the crash, Flood said. No citations had been issued as of Monday afternoon."
— Tulsa, OK: Council Approves Money to Implement Bike/Ped Plan — "The City Council approved a draft list of proposed capital improvement projects totaling $919.9 million on Thursday night. Councilors propose spending $15 million for a bus rapid transit system along Peoria Avenue, and $4.2 million to implement the bicycle/pedestrian master plan. If approved by voters, the proposed funding package would be the largest single capital improvements initiative in the city's history."
Event News
Kansas rides this coming weekend include the Lawrence Community Bike Ride and the Mowbray Metric in McPherson.
Elsewhere around the region, highlights include Bike 2 Build, the Bob Cook Memorial Mt. Evans Hill Climb, the Courage Classic, and Tour de Steamboat in Colorado, iGranFondo in Iowa, and the Care to Learn Ride to Provide in Missouri.
Of course, the big news is 10,000+ cyclists gathering in Council Bluffs for the 41st annual RAGBRAI, a full week of riding, eating, and partying on two wheels across Iowa!
See also: Kansas Ride Calendar, Regional Ride Calendar
Bicycling Inspiration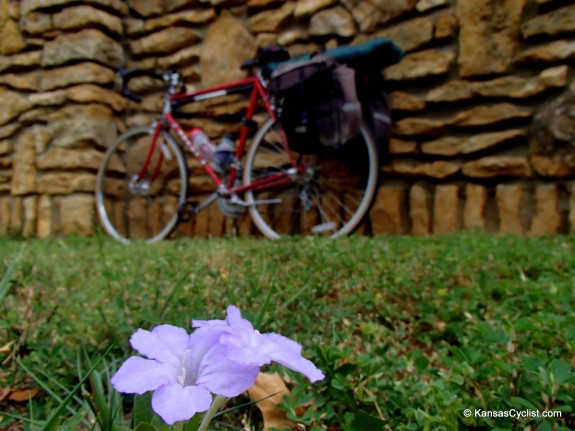 This is the delicate Fringe-leaf Ruellia (AKA "Prairie Petunia"), captured here in Baldwin City, Kansas.
---
If you have a news item or upcoming event you'd like to share, please contact Kansas Cyclist with details.
Post tags: Digest, Emporia, Hutchinson, Kansas City, Marysville, Topeka, Wichita