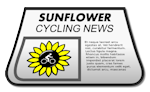 The Sunflower Cycling News is a periodic publication of Kansas Cyclist, featuring a compendium of hand-picked bicycling-related news items from Kansas and neighboring states.
The following is a recap of recent bicycling news from the region, as well as a look ahead to upcoming rides, races, and bicycling events coming up.
---
Bicycling News from Kansas
Hays bike lanes on fast track
"The Bike Hays Master Plan includes bike lanes in different parts of Hays, including that stretch of 13th east of Vine. Resurfacing of that part of 13th is scheduled to begin later this month, then the roadway will be striped. The city in 2013 budgeted $400,000 for 25 miles of on-street bike lanes and a 1.5 mile multi-use path along the Big Creek levee. The city also was awarded a Transportation Enhancement Grant from the state for approximately $430,000." [read more]
Topeka Counts Cyclists
"The count represents Topeka's first foray into the National Bicycle and Pedestrian Documentation Project. Cities involved collect information that goes into a national database available for use by planners, governments, and bicycle and pedestrian professionals. They also use the information to decide whether to initiate improvements, such as adding bike lanes, to make streets safer for cyclists and pedestrians." [read more]
Peabody Adventure Club gets grant to continue programs
"Adventure Club is the recipient of a $4,875 grant to help them pursue their objective of establishing healthy lifestyles through biking and other adventure activities. The club received its first grant from the foundation in 2011. Green said the group is primarily a mountain bike club. They ride different off-road trails around the area, such as Miller's Meadow, east of Wichita, a single-track trail with lots of curves, trees, and ups and downs. The students also ride the trails at East Lake and in North Newton." [read more]
See also: The Only High School Mountain Biking Club in Kansas
Wichita Editorial: Welcome walking, biking
"Local leaders deserve praise for trying to better Wichita as a city that welcomes walking and bicycle riding. Success should be good for Wichitans' health and the local economy. 60 percent of Wichitans would ride bikes more frequently if they felt safer on the streets. As more and longer bike lanes draw more users, more Wichitans at the wheel will need to adjust their attitudes and driving accordingly." [read more]
commuterDude: It's vest season…
The fall solstice arrives this weekend, and here's a good reminder to make sure you're visible to other traffic, particularly around dawn and dusk … headlight, tail like, reflectivity! "The sun is quickly marching southward across the horizon each morning, and each morning dawns a little later than the one before. As the sun aligns itself with the east/west parallels, I find myself reaching for the reflective vest … possibly for the super-bright taillight." [read more]
Dangerous Driver Alert in Olathe
Via the Kansas City Metro Bicycle Club on Facebook: "Anyone who rides on Ridgeview Rd. between 175th and 207th streets in Olathe/Spring Hill needs to be on the lookout for a white Ford F250 truck with no tailgate and KS license plate 025-EMR. He has made numerous attempts to run members of our Monday night group off of the road with the extended mirrors on his truck. Please be on the lookout for this truck as he is extremely dangerous and has shown obvious intent to try and scare/harm cyclists."
Hope this guy is not escalating from intimidation to assault (or worse). Gotta watch out for the crazies…
Regional Bicycling News
— Fayetteville, AR: Businesses embracing Fayetteville's cyclist community — "Businesses are catching on to the fact that this city has a strong cyclist community. The availability of secure bike parking can often dictate whether one will stop at an establishment or not."
— Fort Collins, CO: Rain, mud force many trail closures in Fort Collins — "The torrential rain storms this week have left trails wet and muddy and forced the closure of roads leading to popular recreation areas. It is unknown at this time when campgrounds and open space trailheads will reopen."
— Iowa City, IA: Iowa's bicycle history to be topic of talk at State Historical Society — "Landis will share stories of cycling including the first Iowa bicycles in the 1860s and a series of scrapbooks highlighting a man's stove and bicycle shop in Bonaparte. Landis' presentation follows the opening of the State Historical Museum's "Riding Through History" exhibition in Des Moines. The 3,000-square-foot display of artifacts, stories, photos and videos includes one of the first bicycles ridden in the state from 1869."
— Kansas City, MO: Bob Watts Bridge Dedication — "Join us for an event Friday, September 20, at 2pm on the north end of the Heart of America Bridge bike/ped path to commemorate a Kansas City area bike advocate whose advocacy had national impact. Bob Watts of Liberty was one of the founders of MoBikeFed, a long-time president of the organization, a bike shop owner, and an advocate for better bicycling who made a real impact at the local, state, and national levels."
— Nebraska City, NE: City bikes ready for next phase — "They set up the program in April of 2013 to 'provide green, healthy and happy transportation.' Bicycles were donated and students disassembled, painted and re-assembled them. The next phase features B-Cycle, a bike sharing system used nationally including five stations in Omaha. City Bike organizers proposed two Nebraska City stations with 12 bicycles, but say one station with 10 bikes will be an acceptable start. With B-Cycle, durable three-speed bikes are available with the swipe of a bank card at no cost for the first half hour and $5 for the next hour."
— Oklahoma City, OK: Cyclists want an end to bicycle deaths — "There have been three to four deaths recently, and there's always people we're hearing about that have gotten hit or clipped by cars that maybe aren't reported as a death, but someone getting hit by a mirror, or someone getting yelled at."
Event News
It's another big weekend of bicyucling events in Kansas, including the Bruce Whaley Spirit Ride in Topeka, the Buffalo Bill Century in Leavenworth, the MCC Flatlander in Newton, the Sunflower Suffrage Ride in Pittsburg, Topeka, and Wichita, the Heart Choices Walk Run Ride 4 Life in Beloit, the Becky Craft Classic Bike Ride in Junction City, and the Gypsum Creek Cruise in Wichita.
Also on tap is the Bike America Bicycle Swapmeet in Overland Park, and, mid-week, the Kansas Built Environment and Outdoors Summit begins in Topeka.
See also: Kansas Ride Calendar, Regional Ride Calendar
Bicycling Inspiration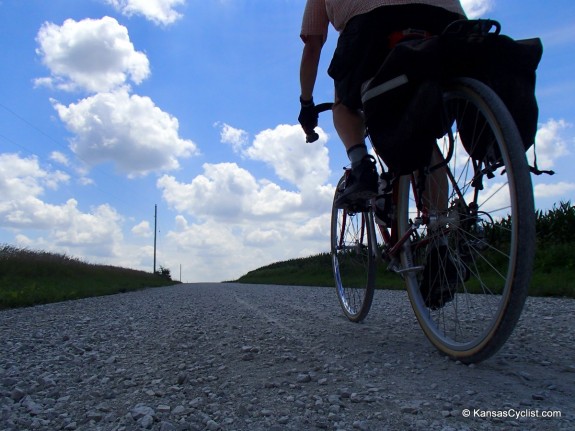 Riding gravel …
---
If you have a news item or upcoming event you'd like to share, please contact Kansas Cyclist with details.