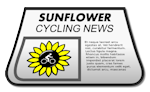 The Sunflower Cycling News is a periodic publication of Kansas Cyclist, featuring a compendium of hand-picked bicycling-related news items from Kansas and neighboring states.
The following is a recap of recent bicycling news from the region, as well as a look ahead to upcoming rides, races, and bicycling events coming up.
---
Bicycling News from Kansas
Bicyclist Killed By Hit-and-Run Driver Near Salina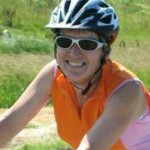 On May 31st, Gail Kline was riding in the first day of the Kandango bike tour, when she was struck from behind by a driver who left her to die. A police search for the hit-and-run driver yielded an arrest of 62-year-old Lewis Grider, who was charged with involuntary manslaughter. On Tuesday, Grider was released from jail "after Saline County Attorney Ellen Mitchell requested additional time to review evidence and receive law enforcement reports before filing formal charges". Local cyclists have erected a ghost bike in Gail's honor at the crash site.
Meanwhile, the Salina Jounal posted an amazingly tone-deaf editorial advising bicyclists to "stay off county roads during harvest": You're not training for the Olympics
Rediscover Wichita
"The Wichita Bike Trails, particularly the river trails, offer perhaps the best way to discover Kansas' biggest city, and the best part is that it's free. The trails offer a good glimpse of Wichita and its many facets — from parks to river to downtown to busy traffic byways to quiet residential areas." [link]
Hays Officers peddle safety on pedals
"Tim Dreiling, a member of the Hays Police Department's bicycle patrol, gave a bicycle safety presentation along with HPD officer Chris Hancock to children attending the school-age summer program at Hays Area Children's Center. After showing several slides about the dos and don'ts of bicycle riding, the two officers took the children outside to check their own bicycles. 'Sharp kids,' Dreiling said. 'They asked a lot of questions and were a very attentive audience.'" [link]
Wichita River Festival Encourages Bicycling
"The Wichita River Festival is making a concerted effort to get people to ride bikes to the festival this year by offering free valet parking for bicycles and two themed tours of downtown for riders. The new Bike Valet will give people a safe place to leave their bicycles while attending the festival. Bicycle riders can take part in two themed tours through downtown on their bikes from 10 to 11 a.m. Sunday and June 8." [link]
Topeka Bicyclist Left-Crossed By Motorist
"A bicyclist was taken to a hospital with serious injuries after being struck by a pickup Tuesday morning in downtown Topeka. The driver of the pickup was westbound on S.E. 6th and turned left onto S.E. Quincy as the bicyclist, who had a green light, was traveling through the intersection. The motorist didn't see the bicyclist and struck him." [link]
Louisburg To Review Bicycling Ordinances
Louisburg Mayor Travis Thompson "asked the council to consider a clarification of the city's biking laws after a Louisburg resident was told by a law enforcement official that he couldn't ride his bicycle on the road and needed to move to the sidewalk. These regulations, as well as the driving of all-terrain vehicles on city streets, will be examined when the council updates the traffic ordinance after July 1." [link]
Galena Plans Welcome For Biking Across Kansas
Galena is making plans to welcome over 800 bicyclists to their community on June 15th on the last day of Biking Across Kansas: "The Economic Development Committee requested closure of Main Street from Fifth to Sixth from 6 a.m. to 2 p.m. They requested permission to purchase drinks, cups and ice for the event. She said that the Fire Department had said that they could use their tables and chairs, council approved." [link]
Statewide bike race in Crawford County seeking volunteers
"Organizers of the Kansas State Time Trial Championship for road cyclists, which will be held in Crawford County again year, are recruiting volunteers. The 40-kilometer race is scheduled for Saturday, June 15." [link]
Regional Bicycling News
— Danville, AR: Danville bicyclist dies in collision — "A 64-year-old man was struck and killed while riding his bicycle on a state highway in Yell County. A preliminary report says Bobby Wayne Gist was riding his bike northbound when he was struck from behind by a man driving a pickup truck. Police say the driver told authorities he did not see Gist on the bicycle." No word on whether the driver is being prosecuted for inattentive driving.
— Durango, CO: City paves way for cyclist-friendlier grid — "Durango has much to brag about as a gold-rated bicycle-friendly city, but one shortcoming is that fewer than half of its arterial roads have bicycle lanes. Cities such as Boulder and Portland, Ore., accommodate 75 to 90 percent of their arterial roads with bike lanes."
— Des Moines, IA: TRAIL COMPLETE: Now Nation's Longest Paved Loop — "The Raccoon River Valley Trail completed construction on a 33-mile loop which will bring the total trail to 89 miles. It is now the longest paved loop in the country. The trail travels from Des Moines, through a dozen communities and ends in Jefferson."
— Carr Creek, MO: Highway 106 to Be Widened in 2013 — A local resident asks MoDOT to add bike lanes to Missouri Route 106, on the Trans-American Bicycle Trail. MoDOT is planning to widen 106, but whether that takes the form of actual bike lanes, wide paved shoulders, narrow paved shoulders, or simply wider travel lanes, is not explained in this article. "The final result, however, should be much safer highways in the near future for both gas-powered and man-powered vehicles."
— Omaha, NE: After brutal hit-and-run, cyclists help one of their own — Thomas Burbach is slowly recovering after being struck by a car and left to die while on a RAGBRAI training ride on May 20. "He's also seen an outpouring of support from the local cycling community, including donations to help with his medical bills. It's a group that has grown significantly in recent years and one that often bands together when a cyclist is involved in an accident."
— Tulsa, OK: River Parks needs cycling speed limit so all can enjoy trails — "Two years ago, my daughter was 3, learning to ride a bike and teetering a bit on training wheels. She was almost run over three times by serious racing cyclists. Rather than risk it again, my kids learned to ride in vacant parking lots and smaller city parks and on neighborhood sidewalks. Learning to ride a bike is a childhood rite of passage. It can lead to a lifelong love of cycling, with excellent health benefits. Serious cyclists were once beginners themselves, and they ought to support that. That should be enough to either slow down or opt for the road."
Event News
— Biking Across Kansas officially starts on June 8th, traversing the state from west to east, from Johnson City to Galena, over the course of a week.
Elsewhere around the region, event highlights include the Tulsa Tough festival starting June 7th, the Death Ride Tour: Ride For Life tour in southwestern Colorado, the Ride The Rockies tour through Colorado's Rocky Mountains, the Tour of the Mississippi River Valley and Tour the Raccoon in Iowa, the City of Fountains Bicycle Tour in Kansas City MO, and the Oklahoma FreeWheel begins its annual trek from Texas to Kansas.
See also: Kansas Ride Calendar, Regional Ride Calendar
Bicycling Inspiration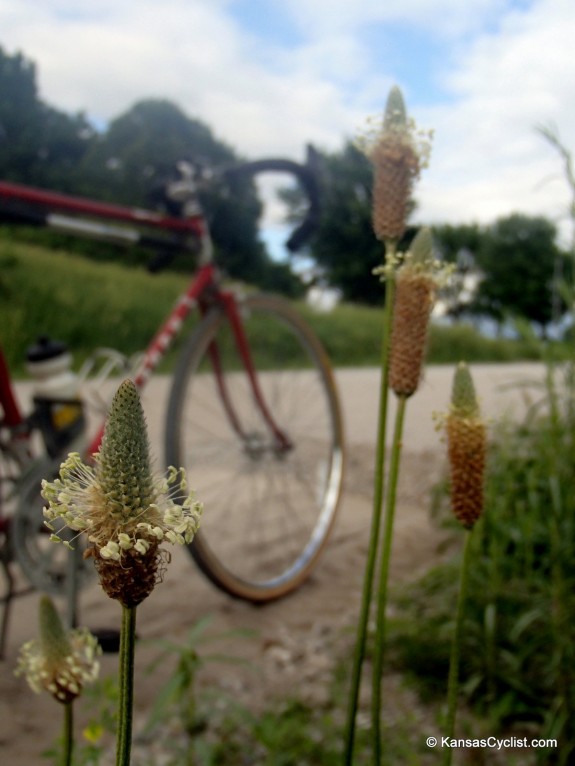 Love to see the Spring flowers finally appearing!
---
If you have a news item or upcoming event you'd like to share, please contact Kansas Cyclist with details.
Post tags: Biking Across Kansas, Digest, Gail Kline, Galena, Hays, Louisburg, Salina, Wichita