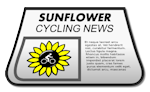 The Sunflower Cycling News is a periodic publication of Kansas Cyclist, featuring a compendium of hand-picked bicycling-related news items from Kansas and neighboring states.
The following is a recap of recent bicycling news from the region, as well as a look ahead to upcoming rides, races, and bicycling events coming up.
---
Bicycling News from Kansas
No Formal Charges Yet In Gail Kline's Death
Lewis Grider, the man accused of killing bicyclist Gail Kline near Salina on May 31st, remains free while the Saline County sheriff's office continues the investigation. The next court date is July 15th. 'Not every accident is a crime,' said attorney Roger Struble, who represents Grider." [link]
Meanwhile, the Salina Journal published an editorial that blamed the victim and told bicyclists to stay off county roads: Responding to Ignorance. The paper then followed that up with an article detailing Kansas bicycle laws, some of which it got very wrong: Newspaper, Highway Patrol Misquote Bicycle Laws.
Neither Wind Nor Gravel Will Stop These Grinders
From the New York Times, of all places, a profile of our very own Dirty Kanza 200, which took place recently in the beautiful Kansas Flint Hills: "For some, the allure of the ride is the scenery: the Flint Hills are home to one of the last stands of the native tallgrass prairie that once blanketed much of the Great Plains. For others, it is the absence of honking horns. On the gravel, traffic might be limited to the occasional tractor or stray cow. Emporia has embraced the gravel grinders, seeing them off at dawn and welcoming the fastest back to town 12 hours later with cheers and ringing cowbells. Many stay up into the early hours to see the last stragglers across the line." [link]
Incidentally, this year's DK200 was won by Dan Hughes, owner of Sunflower Outdoor and Bike in Lawrence. This was Dan's third win in a row, and fourth in all. The Adventure Monkey blog has a collection of race reports, as well as his always-excellent photos.
Topeka Boy suffers minor injuries after bike collides with car
"A 7-year-old boy suffered minor injuries Friday morning after he rode his bicycle through a stop sign and was hit by a car in southeast Topeka, authorities said. The driver of the car, a 17-year-old girl, hit her brakes and swerved into the southbound lane in an attempt to avoid hitting the youngster. Bulmer said the girl's car left skid marks on the road, but she was unable to avoid hitting the child. No citations were issued to the car's driver in connection with the accident." [link]
Goddard Bike/Ped Survey
The City of Goddard is conducting a survey on walking and biking in and around their community. Take the survey
2013 Transportation Enhancement Grants Announced
The Kansas Department of Transportation has selected 35 projects for funding through the federal Transportation Enhancements program. The list include bicycling-related projects in 17 Kansas communities. [link]
Civil Air Patrol Simulates Missing Bicyclist Rescue Mission
"The Kansas Wing of the Civil Air Patrol was simulating real life situations Friday, Saturday and Sunday in Abilene. The rescue missions involved an overdue aircraft, a missing parachutist and a missing bicyclist. State Director Rich Almeida was unaware of the bicycle accident that claimed the life of a 49-year-old Delphos woman May 31 in Salina. "I didn't know about that until this morning," said Almeida who works at Whiteman Air Force Base in Missouri. "That was tragic and this has nothing to do with that. I wouldn't do that. It would be insensitive of me." The simulation was very similar to the hit and run. This exercise involved a missing bicyclist on a cross-country trek from Salina to Herington. "He was overdue and he evidentially went into a ditch or ran off the road," he said." [link]
Wichita man died while trying to steal copper in Southeast Wichita
A bicyclist made a very bad decision on June 7th in Wichita: "'The deceased individual had taken his bicycle and leaned it up against the electrical pole, climbed the pole with their bolt cutters and attempted to cut the line and was unfortunately deceased,' said Lt. Dennis Wilson, Wichita Police Department. Wichita Police believe the man may have been electrocuted sometime overnight." [link]
Regional Bicycling News
— Little Rock, AR: Closing the Loop on the Arkansas River Trail — "It seems logical and safe to run the trail along the river – and not along city streets, but so far that is not the case. Since it was built, a big draw for out of town cyclists has been the Big Dam Bridge, but the draw is now not what it was. Now those who use the trail are using social media to gain, and show city leaders the support for a fix is very real."
— Denver, CO: Tension mounts as 881 cyclists, 1,412 motorists share Deer Creek Canyon — "The strife between residents who drive the canyon roads and bicyclists began more than a decade ago, fueled by everything from aggressive motorists who honk and crowd cyclists, to discourteous cyclists who ride more than two abreast and urinate in front yards. 'When you look beneath the helmets and the Lycra, there are real people and we like the canyon for the same reasons residents like the canyon.'"
— Norwood, CO: Proposed Southwest Colorado Bike Loop gains traction — "Approximately three months ago, the Norwood Chamber of Commerce formed a committee to work on creating the Southwest Colorado Bike Loop (SCBL) in hopes of enticing cyclists to enjoy the grandeur of the region and, more importantly, spend their money in the communities along the route. Much of the work that the chamber committee will undergo has to do with trying to convince the Colorado Department of Transportation (CDOT) that the shoulders along the SCBL should be widened – a tough sell in a time when agencies across the state are feeling the pinch of the economy."
— Ottumwa, IA: Bicycle racks open up city to riders — "Officials are hoping new bicycle racks on city buses will gain popularity this summer. Taking the bus is the perfect form of alternate transportation, and now being able to sling your bicycle on the front of a bus provides the public with more access to more of the city. Ottumwa Transit operations manager Jay Allison said with more communities developing walking trails and bike paths and getting in a mindset of healthier living, bike racks are a natural fit."
— Urbandale, IA: Council OKs construction of new trail — "Bob Layton Trail will be artery for cyclists, joggers and walkers. 'It's a great link within the city and within the park system because as we develop the regional park, everything will kind of stem off that trail. This is the main spine for the trail through that park.'"
— Kansas City, MO: Help the City update its bike master plan — "The City of KCMO is updating the 2001 Bike KC master plan. Your input is needed to help the City figure which of the planned bike routes are best served by bike lanes, trails, sharrows, signed bike routes, or perhaps even innovative new facilities like cycle tracks or buffered bike lanes. If you want to see the City pick up the pace of building bike lanes, trails, and other new facilities, then please plan to stop by one of these public meetings. A strong show of public support is critical."
— Missouri: Top Trail State — "Missouri has been named the 'Best Trail State' by American Trails, a national, nonprofit organization. The Conservation Department maintains more than 700 miles of foot, bicycle, and equestrian trails on 136 conservation areas and 10 nature and education centers statewide." See also: Missouri capitalizes on unused railroads to build trails.
— Central City, NE: Central City woman dies in bike crash — "A Central City woman died early Tuesday morning when she was struck by a car while riding a bicycle near 28th Street and Highway 14 in Central City. Betty Churchill, 66, was pronounced dead at the scene, according to a news release. Central City Police Chief Dennis Wagner said he was unsure of the type of her injuries. Central City Police Department and Nebraska State Patrol are continuing the investigation."
— Scottsbluff, NE: City holding meeting on expanding pathways — "The purpose of the Scottsbluff Valley Pathway North Project is to provide a safe, alternative transportation option for the residents of Scottsbluff that connects and expands existing pedestrian/bicycle facilities, while increasing access to neighborhoods, parks and businesses."
— Norman, OK: Construction set to begin on Legacy Trail — "Construction will begin next week on the extension of Norman's Legacy Trail, connecting it with other trails stretching across the city. It will provide safe jogging, walking and biking access from Highway 9 past the university and downtown Norman all the way to Ruby Grant Park past Tecumseh Road and Interstate 35."
Event News
No Kansas events on the calendar for this coming weekend, but elsewhere around the region we have a bunch!
— Arkansas: Hunger to Ride Tour, Tour de Fun, and Tour de Oink
— Colorado: The Denver Century Ride, G'Knight Ride, and Starlight Spectacular
— Missouri: Freedom from Cancer Ride, Katy Trail Ride
— Nebraska: Loup d' Loup, Rollin' to Colon, 5 Days ~ 500 Miles Endurance Ride
— Oklahoma: Baptist Children's Home Bike Ride
See also: Kansas Ride Calendar, Regional Ride Calendar
Bicycling Inspiration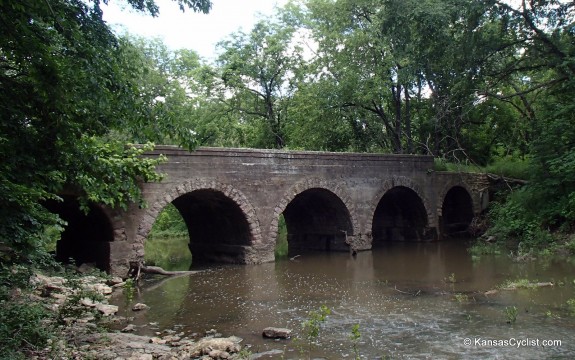 From the "cool things seen while riding a bike" department: This is the Landers Creek stone arch bridge near Goodrich, Kansas. Built in 1920, and listed on the National Register of Historic Places.
---
If you have a news item or upcoming event you'd like to share, please contact Kansas Cyclist with details.