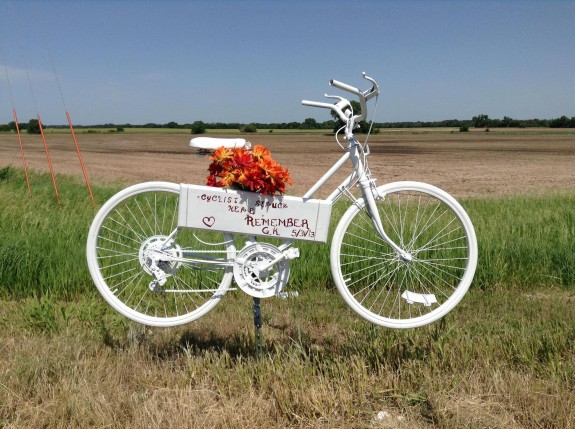 Over the weekend, a ghost bike was erected for bicyclist Gail Kline, who was killed by a hit-and-run driver on May 31st near Salina.
The placard reads "Cyclist Struck Here. Remember G.K. 5-31-13".
Gail's husband, Kevin Kline, posted the photo to his Facebook profile, and said:
Does it get any better than Kansas? In a little less than four days, someone has placed a memorial for Gail. This act of kindness has filled our family with much needed condolence. It was placed anonymously, yet I would love to thank in person whoever took the time to make this possible.
The man arrested for killing Gail, 62-year-old Lewis Grider, was initially charged with involuntary manslaughter. Today, Grider was released from jail "after Saline County Attorney Ellen Mitchell requested additional time to review evidence and receive law enforcement reports before filing formal charges".
Meanwhile, the Saline County Sheriff's Office seeks two drivers in hit-and-run investigation:
Deputies with the Saline County Sheriff's Office wish to speak with two drivers who might have seen something at the scene of a fatal hit-and-run collision Friday.

Deputies would like to speak with a male driver of a white sports utility vehicle who might have stopped to help the driver of a white full-sized van after the bicycle collision in the 3800 block of West Crawford Street between 8:20 and 8:45 a.m. Friday, according to a press release from the sheriff's office.

Deputies would also like to talk to the female driver of a gray sports utility vehicle who was "waved through" the scene of the collision by civilians at about the same time, according to the statement.

Neither driver is a suspect in any crime. Deputies wish to speak with the drivers to determine if they have information helpful in the investigation of the hit-and-run accident that killed Gail L. Kline. Those drivers are asked to call the sheriff's office at 826-6500.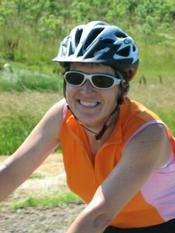 Gail's funeral is June 6th, at Bennington Bible Church in Bennington, Kansas. According to her Obituary:
Survivors include her husband Kevin; son Taylor Kline; twin daughters Sydney and Krysten Kline; and her siblings Richard Tondreau, Ryan and Shane Kelly, Jody Weidman, Krysty Michl, and LaChelle Huffman; and her father and mother-in-law Larry and Brenda Kline.
Memorials may be made to the Gail Kline Memorial Fund, in care of Wilson Family Funeral Home, P.O. Box 166, Minneapolis, Kansas 67467. Proceeds from the memorial will go to promote bicycling safety in Kansas.
Post tags: Gail Kline, Salina