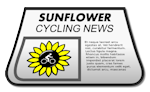 The Sunflower Cycling News is a periodic publication of Kansas Cyclist, featuring a compendium of hand-picked bicycling-related news items from Kansas and neighboring states.
The following is a recap of recent bicycling news from the region, as well as a look ahead to upcoming rides, races, and bicycling events coming up.
---
Bicycling News from Kansas
Derby cyclist to start 700-mile ride to raise awareness of immune disorder
"A Derby man will begin a 700-mile bike ride Saturday as part of an effort to help fight an immune disorder that killed his daughter. Paul Douglas Myers will join five other riders from Missouri, Tennessee, New York, Puerto Rico and Canada on a seven-day ride from Jackson, Miss. to the Cincinnati Children's Hospital in Ohio to raise awareness of an under-diagnosed disorder called hemophagocytic lymphohistiocytosis (HLH)." [read more]
Celebrating 40 years on 2 wheels
"RANS got its start in 1973 when a young Hays man, fresh out of high school, began building Sailtrikes. That evolved into the manufacturing of recumbent bikes, and the business took off. It got its name from the founder of the company, Randy Schlitter, also an artist whose signature on his paintings in high school was written simply, 'RANS.' RANS now sells worldwide and employs nearly 35 people who build bikes, as well as kit planes, at the Hays factory. Next month, RANS will celebrate the 30th anniversary of building planes." [read more]
Bicyclist suffers serious injuries in accident near Highland Park
"An 18-year-old man suffered serious injuries Friday afternoon when the bicycle he was riding collided with a pickup truck in the Highland Park area of southeast Topeka. As the truck was left turning onto S.E. Sage, it collided with a bicycle that was being ridden east in the westbound lane." [read more]
Salina Hit-and-Run Killer Faces Preliminary Hearing Nov. 15
"A preliminary hearing has been scheduled in November for 63-year-old Salina man charged in the death a bicycle rider west of Salina on May 3st. The charges are reckless involuntary manslaughter, leaving the scene of an injury or fatal accident, and failing to report an accident. Bond was set at $25,000, cash or surety. The preliminary hearing was scheduled for Nov. 15 at 9am in Courtroom 301. The charges against Grider stem from a May 31st incident in which 49-year old Gail Kline of Delphos was struck and killed while riding her bicycle on W Crawford, west of Salina. Charges against Grider were filed last week after a more than three month investigation by the Saline County Attorney's Office and Saline County Sheriff's Office." [learn more]
Take a Kid Mountain Biking Day is October 5th
Enjoy a day of learning mountain bike skills while experiencing the great outdoors at the Lawrence River Trails, starting at 10am. [learn more]
New "Cyclists Dismount" signs at K-State
New signs on Kansas State University sidewalks, instructing bicyclists to dismount or yield to pedestrians, has apparently caused a bit of an uproar: Bike signs unnecessary, pedestrians should be more attentive, Dismount signs a welcome reminder for cyclists to be courteous.
Regional Bicycling News
— Little Rock, AR: Big Dam Bridge 100 Saturday — "Cyclists from across the nation will participate in the Eighth Annual Big Dam Bridge 100 Cycling Tour of Central Arkansas on Saturday. Crossing the longest bridge built specifically for cyclists, runners and walkers, the event is expected to draw about 2,800 riders of all ages from 27 states and throughout Arkansas."
— Eagle-Vail, CO: New section of trail coming to Eagle-Vail — "Work is set to start on the final section of the Eagle Valley Trail between Edwards and Eagle-Vail. Caryl said even though it won't be finished by winter, every little bit makes a difference. "It's a busy section of road and a lot of people are currently walking on the shoulder of the road," she said. Hildreth said the trail provides connectivity to amenities such as open space land."
— Cedar Falls, IA: Halloweenie ride brings out costumed bikers — "Big Brothers Big Sisters of Northeast Iowa hosted the third annual 'Spooks, Spokes and Sneakers' bike ride and powder fun run Saturday at Gateway Park. Costumed cyclists trick-or-treated along the 17-mile Halloween ride or a nine-mile 'Halloweenie' ride. Runners and walkers got powdered along a 3.5-mile Zombie Powder Fun Run."
— Missouri: TransAmerica Trail/USBR 76: First U.S. National Bicycle Route in Missouri officially designated and signed — "New signs have gone up marking U.S. Bicycle Route 76, theTransAmerica Trail, through Missouri. The route is over 300 miles long and passes through the southern third of Missouri. The Missouri section is part of a national bicycle route has been used since 1976 when it was created as part of the BikeCentennial."
— Lincoln, NE: Local cyclocross riders looking to grow sport in Lincoln — "By design, this fall's slate of Star City CX races is intended to draw interest from beginners and grow the sport in Lincoln. On a typical cyclocross course, the riders weave across a tapestry of surfaces — grass, pavement, gravel, and sand. There's often a mud pit in there, too, because why not. There is an unmistakably impish quality to a cyclocross event. The obstacles and elements of a course are laid out in a way that throws one challenge atop the next for the duration of the set-timed race."
— Watonga, OK: Cyclists gear up to ride in Watonga's 'Race the Rail!' — "On race day, at 9 a.m. the train starts out of Geary, headed north to Watonga. Bicyclists start at Watonga, ride to Geary, turn around and at that point, the race is one to catch the train. About 125 bicyclists participated the first year. The race has made steady gains, with about 170 expected to ride this year. Through each of the first three years, about 15 to 20 percent manage to beat the train. Those who are successful receive a railroad spike."
Event News
Bicycling events scheduled for this weekend include:
— Ride to Paradise – An off-road ride on hilly sandy roads in Russell County, KS through the scenic Saline River valley. 40, 60 or 100 challenging country road miles.
—Pedals for Paul – A memorial bicycle ride in honor of McPherson College sophomore Paul Ziegler, killed in a collision in 2012.
— Wyco's Revenge MTB Race – An annual Mountain Bike Race that takes place on the awesome Wyandotte County Lake Park Trails in Kansas City, Kansas. Find out why these trails are called 'Kansas City's Best Kept Secret'.
— Flint Hills Family Fall Ride – An annual ride that takes place on the Flint Hills Nature Trail, starting in Osawatomie, Kansas. 24 and 44-mile distance options.
— 360 Cup Cross – Two days of cyclocross racing at Centennial Park in Lawrence, Kansas, hosted by 360 Racing.
— Tour de Florence – Tour de Florence is a 40-mile mountain bike ride into the Flint Hills that is breathtaking in many different ways, starting and ending in Florence, KS.
See also: Kansas Ride Calendar, Regional Ride Calendar
Bicycling Inspiration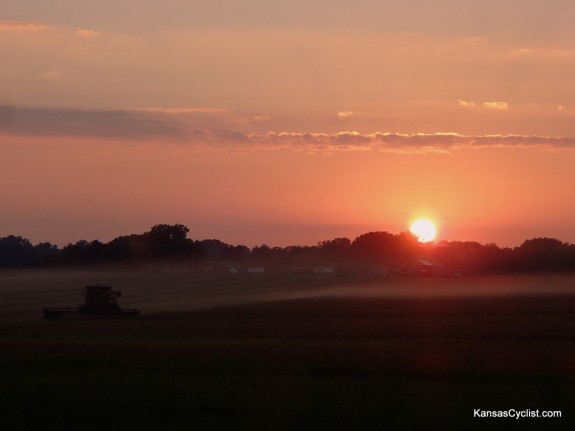 Sunset Harvest in Allen County, Kansas.
---
If you have a news item or upcoming event you'd like to share, please contact Kansas Cyclist with details.