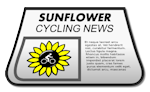 The Sunflower Cycling News is a periodic publication of Kansas Cyclist, featuring a compendium of hand-picked bicycling-related news items from Kansas and neighboring states.
The following is a recap of recent bicycling news from the region, as well as a look ahead to upcoming rides, races, and bicycling events coming up.
---
Bicycling News from Kansas
The Wichita Bicycle Master Plan was presented to the Wichita City Council on February 5th, and the council unanimously endorsed the plan, the creation of the Wichita Bicycle and Pedestrian Advisory Board, and the submission of the recommended City of Wichita TE applications. Congrats, Wichita cyclists!
El Dorado to get five new bike racks — "The El Dorado Rotary Club is planning to install five new bike racks around town. It is a joint effort between the Rotary Club and the city, as Rotary will provide the bike racks and the city will provide the pads on which they sit. The new bike racks are scheduled to be finished by next weekend or the following weekend."
Leavenworth Times columnist Matt Nowak touts the Leavenworth Bicycle Club: Bicycle Club has benefits for all types of riders — "A good club — and this is a good club — will try to represent all factions within the bicycling community and will try to promote and support all forms of bicycling."
An editorial in the Salina Journal praises that city's efforts to become more bicycle-friendly: "Salina is a city on the move, and in all the right ways. There are walking and biking trails popping up all over. No longer are we dependent on individual vehicles to get us where we need to go. We can't say enough good things about such a plan. Walking is one of the healthiest forms of exercise there is, and bicycling is one of the most efficient forms of transportation."
Dodge City is hoping to extend their existing bike/ped trail. If funding is procured, construction wouldn't begin until at least 2014.
A reminder: The Kansas Bicycle/Pedestrian Survey is soliciting input from bicyclists to help update the state's bike/ped plan. The survey runs through the end of February, at ksdot.org. The development of the plan is expected to be completed by July. Learn More.
Regional Bicycling News
Upcoming Kansas Bicycling Events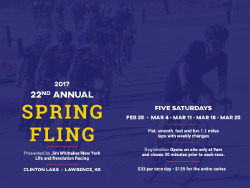 Road racers and mountain bikers can start looking ahead to some upcoming events, including the Spring Fling Criterium Series ( February 23, March 2, March 16, March 23, and March 30 at Clinton Lake near Lawrence), the Perry Road Race Series (March 3, March 10, and March 17 at Lake Perry), and the Bone Bender 3/6, an endurance mountain bike race along the scenic shores of Clinton Lake near Lawrence on April 14th.
The first Kansas recreational ride on the schedule (so far) is the Spring Classic on April 27th in Lenexa.
See also: Kansas Ride Calendar, Regional Ride Calendar
The Latest Bicycling Resources at Kansas Cyclist
Site News
I was very pleased to learn that Land Rover Bikes chose Kansas Cyclist as one of their Top 30 Blog to Watch in 2013. "We've scoured the web to find the very best cycling blogs available online. It's been tough but we've managed to narrow it down to 30 of our favourites that we follow to keep up to date on all the latest happenings within the cycling world."
It's a great list … check it out!
Bicycling Scenery
File under "interesting things seen while cycling":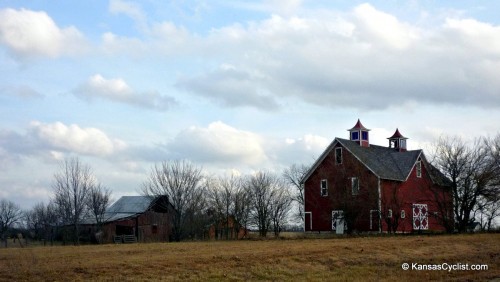 This is the William Thomas Turner Barn near Gardner, Kansas. Built in 1898 and listed on the National Register of Historic Places.
---
If you have a news item or upcoming event you'd like to share, please contact Kansas Cyclist with details.
Post tags: Digest, Dodge City, El Dorado, Leavenworth, Salina, Wichita