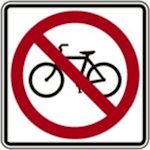 The Colorado Supreme Court has overturned the bicycle ban in Black Hawk, Colorado.
In 2009, the mountain gambling town of Black Hawk enacted an ordinance that prohibited bicyclists from using many streets in the community (citing, naturally, vague "safety" concerns). The bike ban cut off not only the only route through town, but also a segment of the popular Peak to Peak Scenic and Historic Byway, providing no alternative route for bicycle traffic.
In 2010, three bicyclists were ticketed for violating the city ordinance. The three took the issue to the courts, where they lost in both municipal and district court. The case was heard by the Colorado Supreme Court late last year.
In their ruling, the high court ruled that bicycle laws are a matter of both state and local concern, and while a city may regulate traffic, their laws must be consistent with state law. In Colorado, state law requires that if municipalities prohibit bicycles from a roadway, they must provide a suitable alternate route within 450 feet.
You can read the full text of the decision for yourself, but here are some relevant quotes:
We conclude that Black Hawk's bicycling ban is not a matter of purely local concern; rather, it is a matter of mixed state and local concern. We hold that Black Hawk's current ordinance conflicts with state law and is preempted. The statute requires Black Hawk to accommodate bicycle traffic.

We conclude there is a state interest in bicycling on streets and highways within Colorado. Colorado is a state with a lengthy history of bicycling, as described above, and the state clearly has an interest in uniform bicycle regulations as it continues to develop its bicycle infrastructure and promote bicycling within the state.

In view of the Legislature's requirement that any ban on bicycling on streets must have a corresponding alternate bike path, persons not from Black Hawk would not expect to be unable to bicycle through Black Hawk on the only route connecting it to Central City and beyond.

On the whole, we cannot conclude that this matter is so discretely local as to supersede the state's interests. Given the interests of both Black Hawk and the state, we conclude that the regulation of bicycles on city streets is a matter of mixed state and local concern.

Black Hawk cannot, by virtue of its home-rule designation, disregard state traffic laws that the General Assembly intends to be uniform.
Take that, ignorant discriminatory laws!
Yay for wisdom and common sense! Yay for bikes!
Additional coverage:
Post tags: NewsBlog