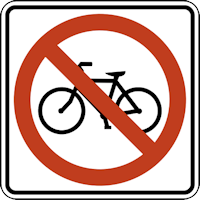 Two of our neighboring states have recently seen disturbing initiatives to ban bicycles on some roads.
In Colorado, county commissioners in Jefferson County are asking the state legislature to draft a law that would allow counties to ban bicyclists from county roads. State law already gives cities that authority, but the law is unclear when it comes to counties. If the proposed legislation goes through, this would put a huge number of routes at risk, so Bicycle Colorado, the statewide bicycling advocacy organization there, is putting together a campaign to fight this dangerous proposal. Here's their take on the issue:
Legislation to expand bike ban authority is a losing proposition for Colorado tourism, charity fundraising events, efforts to reduce congestion, and promotion of healthy bicycle travel.

There are many, many options for counties to improve road safety within existing state motor vehicle and bicycle vehicle laws. Creating county-by-county, one-of-a-kind traffic laws is a danger for everyone on the road. We need consistency, not a patchwork of rules that change at every county line or every time you exit from a state or U.S. highway.
In Iowa, a group called the "Citizens for Safety Coalition of Iowa" has created on online petition called "No Shared Farm-to-Market Roadways in Iowa":
We the undersigned are Iowa residents who urge our Legislature to support a ballot initiative for the November 2010 election which will prohibit bicyclists from using state and county defined farm-to-market roads.

A farm-to-market road is a state or county road which serves to connect rural or agricultural areas to market towns.

Over the past ten years the number of bicyclists using these farm-to-market roads for recreational purposes has increased dramatically as have the number of preventable accidents and fatalities.

Rural commerce and citizens are significantly impacted when forced to share the farm-to-market roadways with bicyclists. Because of the growth of today's commerce and agricultural business, shared roadways are no longer safe or practical in today's society.
Though the proposal is pretty obviously the work of a group of crackpots, the Iowa Bicycle Coalition is taking the threat seriously, as they should:
Bike bans would have an extreme economic impact. A recent economic impact study of RAGBRAI showed $24 million during the week-long bike ride. Bicycle tourism, including charity fundraisers, are estimated to generate as much or more than RAGBRAI during the other weeks of the year.

Bicycle bans would have an extreme impact on the health of Iowans. Recent studies by the Alliance for Bicycling and Walking have shown relationships between states with high rates of bicycling have a healthier population including lower rates of diabetes, high blood pressure, and obesity.

The Iowa Bicycle Coalition remains firm that we don't need bicycle bans, but we do need to increase safety. Safety may be increased through better roadway design, better enforcement, more education and awareness programs. Increasing safety for bicyclists and motorists can make a bigger impact on Iowa's economy and health.
The proposals hearken back to a similar threat that arose in Texas in 2001, in which a bill was introduced to the state legislature that would have effectively banned bicyclists from all farm-to-market roads in that state. The bill spurred the launch of the Texas Bicycle Coalition, which successfully defended cyclists access to Texas roadways.
Let's hope cyclists in Colorado and Iowa are successful in their efforts as well. The proposals, as I see them, make very little sense. There's plenty of road out there for all of us, all it takes is a little cooperation and patience on all sides.
More on these issues from: Des Moines Register, Bicycle Advocacy and Safety, CycleDog (he calls it "rural bigotry cunningly disguised as a petition"), Iowa counter-petition to ban motor vehicles from farm-to-market roads, Puncture Proof, Guitar Ted Productions, 303Cycling, Colorado Daily.