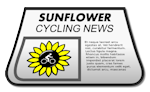 The Sunflower Cycling News is a periodic publication of Kansas Cyclist, featuring a compendium of hand-picked bicycling-related news items from Kansas and neighboring states.
The following is a recap of recent bicycling news from the region, as well as a look ahead to upcoming rides, races, and bicycling events coming up.
---
Bicycling News from Kansas
Paola's Bike/Ped Transportation Vision
An ambitious plan for Paola, Kansas: "In response to a number of recent bike/ped tragedies, the small town of Paola, Kansas has pulled together and initiated a project called Paola Pathways, which hopes to build safe paths for active transportation throughout their community."
Comment On The Valley Center Bike Plan
If you have comments on the Pedestrian and Bicycle Facilities Master Plan, please send them to Mitchell Coffman, Lead Planner, Mitchell.Coffman@pec1.com, 316-206-1333. The plan, barring major edits, is expected to go before the Valley Center city council for a vote in March.
City, Community Working To Make Manhattan More Bike Friendly
"The City of Manhattan and several local businesses are currently working to encourage Manhattan residents to get on their bicycles. With thousands of students riding on campus and in Manhattan, maintaining safe and appropriate roadways is important. Manhattan's Bicycle Advisory Committee works to improve the city's level of bike-friendliness." [link]
Bike Lanes Coming to Ninth Street in Lawrence
Lawrence city commissioners have approved a plan to widen Ninth Street between Kentucky and Tennessee streets to accommodate a center turn lane, as well as eastbound and westbound bike lanes. Construction is expected to run from July through September.
Double-Whammy Snowstorms
After a relatively mild winter, the entire state of Kansas has been walloped by two massive snowstorms within the last week, which effectively shut down most of the roadways around the entire state. At my house, in eastern Kansas, the first round dropped 12-14 inches, and the second round perhaps another 8 inches.
Road crews did a tremendous job clearing roadways (and even gravel roads), though bike lanes, sidepaths, and trails remain unusable, for the most part. That's predictable, perhaps even understandable, but it's still a shame that our communities don't invest the same effort in clearing active transportation routes as they do in clearing paths for our motorized carriages.
Here are a few photos from the storms:
Regional Bicycling News
* Colorado: Rocky Mountain National Park officials are studying two bike trails — Under consideration is a 15.5-mile nonmotorized, multi-use trail as well as two miles of singletrack. "This would provide another mode of transportation for people to access the park and use the park. Our goal is to look at a trail system that would link up with trails that are being planned in the Estes Valley."
* Grand Junction, CO: Group wants new bike path linking city to monument — "Grand Junction has some big-time visitor draws in Colorado National Monument and a vibrant downtown. Can you imagine if the three miles between the two were connected by a bike path? Local conservation group Mesa Land Trust can, and its directors are beginning a public process this week to gather community information about how that vision might become a reality."
* Storm Lake, IA: Make State Cycling-Friendly — "Iowa Bicycle Coalition staff were at Lakeshore Cyclery Feb. 10 to discuss the organization's commitment to safe biking in Iowa. 'We need an army of advocates to demand more bicycle facilities and more safety.'"
* Lawton, OK: Trails, bike paths seen as solution to challenges at refuge — Trails in the Wichita Mountains Wildlife Refuge in Oklahoma looked at as an option to make the refuge more accessible to its 1.5 million visitors. "The main thing is we want to make the refuge better. We want to make it to be a fun place for people to come and enjoy."
* Norman, OK: Bike lanes would be vast improvement — Friends for a Bike-Friendly Norman is soliciting petitions to present to the city council, seeking a more bicycle-friendly community.
* Tulsa, OK: New bike racks installed in downtown Tulsa — "Crews installed 10 custom-made, decorative bike racks across downtown Monday, adding to more than 50 simpler racks that have popped up recently in parts of Tulsa. 'It's something that Tulsa has really been lacking, and it was holding a lot of people back from riding their bikes.'"
Event News
Looking ahead to March, there are several racing series getting started, including the Spring Fling Criterium Series, the Perry Road Race Series, and the Chautauqua Red Flint Hills Gravel Crusher Series.
For a mellow recreational ride, head to Wichita on March 16th to join the Coasters Bicycle Club in a St. Patrick's Parade, followed by a Pub Pedal. You must decorate your bike and/or yourself in a St Patrick's Day/Irish theme. The Great Plains Bicycling Club in Lincoln, Nebraska is holding a similar St. Patrick's Day Ride on Saturday, March 23rd. A $25 gift card will be awarded to the best costume!
If you're looking to venture out-of-state, check out events such as the Land Run 100 (March 9th in Stillwater, OK), Salty and Tall (March 9th and 10th in Tulsa, OK), Pedaling for St Pat's (March 16th in Colorado Springs, CO), and the NWA Spring Classic (March 24th in Prairie Grove, AR).
Several area rides have recently announced their 2013 dates, including the Rope 'em Ride in Hays on May 4th, Bike and Hike with the Birds in Stafford (also on May 4th), and Tour de Brew Kansas City on May 19th.
The Santa Fe Trail Bicycle Trek is scheduled to begin in Santa Fe, New Mexico on September 8th, and travels through Kansas on an 1100-mile to follow the old Santa Fe Trail. The total number of riders is capped at 50, and they need at least 30 deposits by the end of March, or the tour won't happen in 2013. So if you're interested in this tour, sign up soon!
See also: Kansas Ride Calendar, Regional Ride Calendar
---
If you have a news item or upcoming event you'd like to share, please contact Kansas Cyclist with details.
Post tags: Digest, Lawrence, Manhattan, Paola, Valley Center