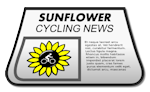 The Sunflower Cycling News is a periodic publication of Kansas Cyclist, featuring a compendium of hand-picked bicycling-related news items from Kansas and neighboring states.
The following is a recap of recent bicycling news from the region, as well as a look ahead to upcoming rides, races, and bicycling events coming up.
---
Bicycling News from Kansas
Paola Driver Convicted in Death of 9-Year-Old Girl
Judge Sheila Schultz found Autumn Bassett, 34, of Paola guilty of speeding, inattentive driving and operating a motor vehicle without insurance. Bassett killed Johnna Feugate last September, while the girl and her sister were riding a bicycle. A sentencing hearing is scheduled for April 11. [link]
$700,000 Grant for Wichita Bike Plan
About $700,000 of a $2.4 million community transformation grant from the Centers for Disease Control and Prevention will go to the City of Wichita for planning and implementation of the Wichita Bicycle Master Plan, which was recently approved by the city council. [link]
Epic Start to the Brevet Season
The first event of the 2013 Kansas City Ultra Cycling Brevet Series was last weekend, and it was "definitely one for the books". Riders on the "Princeton Roundabout" 200km (125 miles) route faced a freakish early-Spring snowstorm: "With high hopes, 18 brave randonneurs started the Princeton Roundabout route at 7:00am in Shawnee with cool temps and a steady NE wind, helping push riders nicely to the halfway point without incident. The rando-spirit saw its ultimate test around 2:00pm, with the onset of heavy sleet, then heavy snow. Road conditions worsened as afternoon became evening, creating a battle of wills amid a beautiful wintry landscape." [link]
Regional Bicycling News
— Iowa: Three Foot Passing Bills Die in House and Senate — "In the Iowa Legislature, bills must pass through a committee by the first funnel date in order to remain 'alive' and eligible for debate. Despite the widespread support by both parties on three foot passing distances, the bills did not get subcommittee approval."
— Iowa: "300 Miles Of Gravel" To Air On Iowa T.V. — A documentary about Trans Iowa called "300 Miles Of Gravel" will air April 22nd on Iowa Public TV, and is also available on DVD. This year's non-stop, self-supported, solo competition along the gravel roads of rural Iowa rolls on April 27th.
— Hastings, NE: Safe Streets May Lead to a Healthy Lifestyle — A community group has launched a "Share our Streets" campaign "to reduce bicyclist and pedestrian injuries, by making Hastings' streets safer and encouraging physical activity." Part of the campaign will attempt to educate motorists and bicyclists about Nebraska's 3-foot law, which was enacted in April 2012.
— Tulsa, OK: Lee's Bicycles pedals into its 100th year — "Lee Aldridge started the store in 1914 in a downtown Tulsa alley, catering to a generation that used the bicycle as an everyday means of transportation right up there with horses."
— Tulsa, OK: Tulsa advocates say, "Fix OUR Streets" — "Local advocates are working hard to make sure that the proposed $800 million in road improvements include high-quality facilities for bicyclists and pedestrians. For $30 million, Tulsa can widen one mile of Yale Street. Or build 100 miles of sidewalk, stripe 600 miles of bike lanes, fund 300 miles of protected bike lanes, 20 miles of high-end NYC-style cycle track, 120 miles of bicycle boulevard/neighborhood greenway, or 30 miles of multi-use trails."
Event News
Upcoming April rides include the Cabin Fever Challenge in Wamego and the Santa Fe Trail Spring Bike Ride in Alta Vista on April 13th, the Pasta 58 Road & Gravel Ride in Junction City, Operation Pedal Express out of El Dorado, and the Tour de Vino near Paola on April 20th, the Spring Classic in Lenexa on the 27th, and Tour de Cyclone Country in KCK on the 28th.
A new Kansas bike tour has been announced: Kandango is a 3-day supported bicycle tour thru the Smoky Hills and Flint Hills regions of central Kansas. I'm pretty excited about this new tour. It begins on May 30th, slotted between the Cottonwood 200 and Biking Across Kansas tours. And it's quite inexpensive. Thinking about doing this one myself!
The 30 Days of Biking challenge starts April 1st. There's just one rule: "Bike somewhere every day for 30 days—around the block, 20 miles to work, whatever suits you—then share your adventures online." I've done this the last two years, with the added challenge of publishing a photo every day (see my 2012 30 Days of Biking Photos). I hope to do the biking challenge this year, but probably won't attempt the photos again — riding every day is easy, but finding a new, non-cliche, non-lame photo every day is tough!
See also: Kansas Ride Calendar, Regional Ride Calendar
Bicycling Inspiration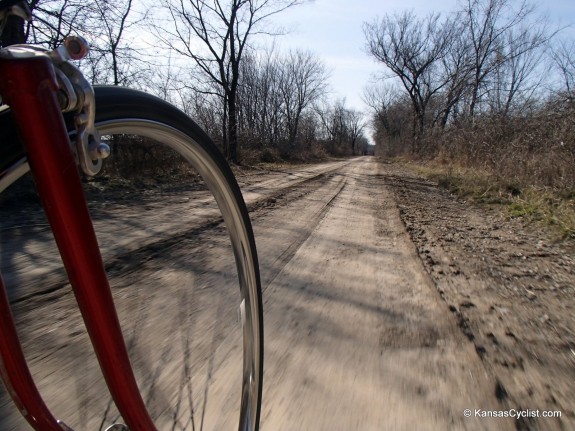 Dirt Road Ride
---
If you have a news item or upcoming event you'd like to share, please contact Kansas Cyclist with details.