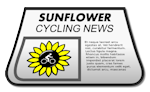 The Sunflower Cycling News is a periodic publication of Kansas Cyclist, featuring a compendium of hand-picked bicycling-related news items from Kansas and neighboring states.
The following is a recap of recent bicycling news from the region, as well as a look ahead to upcoming rides, races, and bicycling events coming up.
---
Bicycling News from Kansas
Bicycling the Route 66 Historic Byway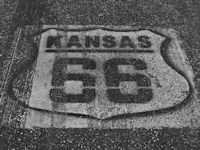 Kansas is moving forward on creating it's first official segment of the U.S. Bicycle Route System, on the Route 66 Historic Byway in southeastern Kansas. Here is a photo tour of the route as it stands today. [link]
The Joplin Globe did a follow-up story about the US Bicycle Route 66 concept: Cycling advocates seeking Route 66 map designation, with some great quotes from the Oklahoma Bicycling Coalition, KDOT, and Galena Mayor Dale Oglesby, who "said that should such a designation become reality, the City Council likely would consider making Galena attractive to cyclists with amenities such as places to take a break, bike racks in front of businesses downtown and signs."
Wichita cyclist critically injured after being hit by car
"Police said a woman driving an SUV was heading south on Oliver, when it hit a man on a bicycle traveling east on 12th Street. The victim, a 21-year-old man, was taken to Wesley Medical Center in extremely critical condition. Police are interviewing two witnesses and the driver about the accident. It is unknown at this time if the bicycle rider failed to yield at the stop sign at the intersection." The collision occured on Wednesday, March 27th. [link]
Ed. Note: If the cause of the collision is unknown, why speculate that the cyclist was at fault?
Wichita Seeking Volunteers to Serve on Advisory Board
"The city of Wichita is launching a new advisory volunteer board for issues related to bicycling and walking. The board will provide recommendations to the City Council, participate in planning and project development, evaluate policies; and make recommendations to City departments. It will also play an influential role in implementing Wichita's Bicycle Master Plan. Board members will serve a two-year term, with the potential to serve four consecutive terms. Cyclists of all skill levels can apply, from casual weekend riders to year-round commuters." [link]
Paola Pathways Fundraising
"The Paola Pathways task force recently announced it is launching a communitywide campaign to enhance fundraising efforts to start building the first phase of a pedestrian/bicycle trail system in Paola. The first section of trail will loop around Rock Stadium and the soccer fields south of the Miami County Fairgrounds in Wallace Park." [link]
Bike Challenges Begin

The 30 Days of Biking challenge runs from April 1-30, and the goal is simple: just ride your bike every day, no matter how little or how much, how slow or how fast. It's about building good habits, and making positive changes through day-by-day repetition. Oh, and it's about having fun!
Also starting up is the National Bike Challenge, in which participants log their miles for bragging rights for themselves, their workplaces, their teams, their communities, and their states. The goal this year is a big one: 50,000 cyclists and 20 million miles! The challenge officially runs May-September, but you can go ahead and register (it's free!), and practice logging your miles.
Walkability Expert Visits Crawford County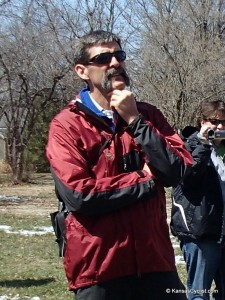 I was in Pittsburg and Girard last week to attend a visit to Crawford County by Mark Fenton a nationally-recognized public health, planning, and transportation consultant, known as "America's Walking Guru". Fenton performed walkability audits in Girard and Pittsburg, and spoke to to community leaders about how to make their cities more walkable, bikeable, and liveable. His visit to Crawford County was coordinated by Live Well Crawford County, and made possible by a healthy community initiative grant from the Kansas Health Foundation.
A few of the bike-related ideas that came out of this visit include a possible hostel in Girard for cyclotourists passing through on the TransAmerica Bicycle Trail, new bike racks in downtown Pittsburg, and a proposed bicycle route network for Pittsburg, including on-street bike lanes and sharrows on a number of streets, as well as expanded trails and paths.
Regional Bicycling News
— Denver, CO: New Denver bike path changes lanes — "15th Street project includes a number of unique characteristics. Phase one includes a patterned, plastic material that separates the bike lane from the car lanes, as well as green pavement markings that will define where a car and bike share space. There will also be a bike box on Cleveland at 15th Street. But perhaps most interesting is a queue jump, which is a signal specific for bikes, allowing them a head start to go in front of traffic."
— Fort Collins, CO: Making Fort Collins and Colo. State even friendlier bike communities — "The city of Fort Collins and CSU both have ambitious plans in store for a greener community. ASCSU, CSU and the city are in discussions for the incorporation of an extensive bike-sharing network in the city. Fort Collins is still working out the logistics of the project, which is loosely based on Denver's sharing system."
— Greeley, CO: Greeley police seek public's help finding driver who hit bicyclist — "Police say the driver was headed south on 58th Avenue in west Greeley about 6:40 a.m. Thursday and turned east onto 18th Street, where the vehicle collided with Dick Ziegler, 62. Police and family say Ziegler was on his way to work at Frontier Academy, where he is a middle school math tutor."
— Sioux City, IA: Trails seen as key to Blue Zones success — "The Siouxland Interstate Metropolitan Planning Council, a group of area government officials, is exploring options to create a walking and bike trail to link the communities of Sioux City and Le Mars, which are about 24 miles apart. 'Cycling is a very healthy lifestyle. Recreation trails are one way for us to encourage our citizens to become more healthy.'"
— Kansas City, MO: City installs 200 miles of bike route signs — "In recent weeks the City has been installing new bike route signs on 180 miles of streets, a huge step forward in implementing the 2002 Bike KC master plan. These signs include arrows to point the direction of bike-friendly streets and designated bike routes linking neighborhoods to businesses, shops, schools, and other services. They help people find safe bike routes through the city, and they give motorists another reminder to share the road safely."
— Norman, OK: Artists create colorful bike racks for Norman — "Norman soon will have bike racks with personality. A competition, sponsored by Norman Arts Council Public Arts Board, attracted 200 designs from artists throughout the state. The project will begin with five winning designs. 'Bike racks don't have to be ugly. This project demonstrates how something utilitarian becomes a work of art.'"
— Tulsa, OK: Tulsa Advocates: Fix OUR Streets! — "The City of Tulsa has been rebuilding its streets under a capital improvements program called 'Fix Our Streets' since 2008, but rebuilding them the way they were over forty years ago before they deteriorated so badly, without adding bike lanes or any other accommodations. Local advocates are working hard to make sure that the proposed $800 million in road improvements include high-quality facilities for bicyclists and pedestrians."
Event News
KC area road racers: Tuesday Night Worlds is a weekly Criterium Training Series organized by Life Balance Sports and Wellness. It takes place in Olathe each Tuesday evening, around 6pm. Life Balance also hosts the monthly Time Trial Series the second Thursday of each month (April thru September) in Gardner, Kansas.
The Wildcat Gran Prix is taking place this weekend at Kansas State University in Manhattan, with a road race, criterium, and team time trial.
Recreation riders, the first big group rides of the year are coming soon! April rides include the Cabin Fever Challenge in Wamego and the Santa Fe Trail Spring Bike Ride in Alta Vista on April 13th, the Cookie Wiebe Memorial Bicycle Ride in Newton, the Pasta 58 Road & Gravel Ride in Junction City, Operation Pedal Express out of El Dorado, and the Tour de Vino near Paola on April 20th, the Spring Classic in Lenexa on the 27th, and Tour de Cyclone Country in KCK on the 28th.
See also: Kansas Ride Calendar, Regional Ride Calendar
The Latest Bicycling Resources at Kansas Cyclist
— Kansas Bicycle Advisory Committees: A directory of Bicycle Advisory Committees in Kansas, which help address bicycling-related issues in their communities, and plan bicycling facilities activities.
— Baxter Springs Riverside Park Photos — Baxter Springs Riverside Park
Bicycling Inspiration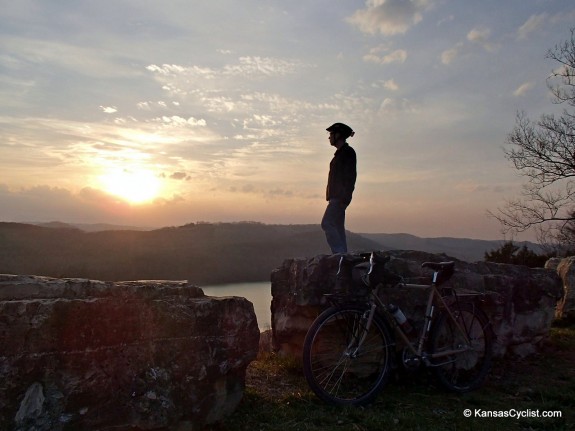 I was recently in northwest Arkansas, and this photo was taken after I arrived. I managed to get out on the bike for a quick spin just before sunset, and was treated to a magnificent view over Table Rock Lake and the town of Beaver.
---
If you have a news item or upcoming event you'd like to share, please contact Kansas Cyclist with details.