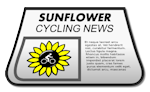 The Sunflower Cycling News is a periodic publication of Kansas Cyclist, featuring a compendium of hand-picked bicycling-related news items from Kansas and neighboring states.
The following is a recap of recent bicycling news from the region, as well as a look ahead to upcoming rides, races, and bicycling events coming up.
---
Bicycling News from Kansas
~450,000 adults in Kansas Ride a Mountain Bike?
"A study reports that more than 20% of adults mountain bike, and that adventure tourism is the fastest growing sector in the tourism industry. Mountain biking is big business. Yes, even in Kansas." [link]
KanBikeWalk Reports from the National Bike Summit
"A look back at this year's National Bike Summit in Washington, D.C., with photos, and highlights from the nation's largest gather of bicycling and pedestrian advocates." [link]
Safe Routes to School Project in Leavenworth
"Project work includes new and replacement sidewalks and modifying sidewalks to meet ADA standards as well as new curbs and gutters, crosswalks and signing and installation of fence and bicycle racks. At its heart, the SRTS Program empowers communities to make walking and bicycling to school a safe and routine activity once again." [link]
Free Helmets For Kids in Baldwin City
"The 12th annual Community Wellness Festival, sponsored by the Baldwin City Recreation Commission and Baker University, will be from 9 a.m. to noon April 6 at the Collins Center on the Baker campus in Baldwin City. There will be drawings for prizes, including adult and children's bicycles. Free T-shirts will be given to the first 250 attendees. All children will receive a free bicycle helmet as long as supplies last." [link]
New Bike Racks in El Dorado

"Members of the El Dorado Rotary Club installed new bike racks around El Dorado on Sunday. The bike racks are an artistic rendition of the old fashioned Victor bikes popular in the late 1800s, featuring a large front wheel and tiny rear wheel." [link] (image courtesy El Dorado Times)
Wichita St. Patrick's Day Parade Photos
"Whoa what a day yesterday. We always have too much fun at the St Patrick's Parade and Party that follows. 7 years now for this parade and our bike club has participated every year." [link]
Colby Bike-to-School Day
The city of Colby held a Walk/Bike To School Day on March 6th, with students, parents, teachers, and administrators encouraged to find an active way to get to class. [link]
Serve on The Wichita Bicycle and Pedestrian Advisory Board
"The City of Wichita is accepting applications for members of the new Wichita Bicycle and Pedestrian Advisory Board. The volunteer board will advise the City on issues related to bicycling and walking in Wichita. The board will provide advice directly to the City Council; participate in planning and project development; evaluate policies; and make recommendations to City departments. It will play an influential role in implementing Wichita's Bicycle Master Plan." [learn more]
Civic Groups Sought for Bike Across Kansas
"Arkansas City will be host to 940 participants of Bike Across Kansas on June 12. Many of the participants enjoy spending their meal and snack funds in supporting local civic groups. This is a great money-making opportunity for the right civic group or groups." [link]
Regional Bicycling News

— North Little Rock, AR: Arkansas 3-Foot Passing Law Educational Campaign — The city of North Little Rock, Arkansas has launched a media campaign to raise public awareness about their bicycle passing law, becoming the first community in their state to take the initiative to educate motorists and cyclists about this critical safety law.
— Denver, CO: Denver B-cycle expands from 53 to 83 Bike Stations — "30 new stations will be installed in the coming months, expanding its service to new neighborhoods beyond its current base and nearly doubling the square miles covered by the shared bicycle system. The Denver B-cycle fleet will grow to over 700."
— Cañon City, CO: Wheels are in motion for pump track — "The pump track, that is planned to be installed in the open space north of the Arkansas River and east of the Centennial Park pedestrian bridge near the Royal Gorge Route Railroad, will be an asset to the community and will offer families a way to be active while having fun."
— Coralville, IA: Cyclist Awarded $1.2 Million for Fall — "Ruden fell off her bike after riding through a thick mud patch on the North Ridge Trail. She was wearing a helmet, but suffered brain injuries that put her in a coma and left her disabled. She's since become a motivational speaker. Her lawsuit contended that flaws in the trail's design, construction and maintenance allowed mud to accumulate and created a danger for cyclists."
— Independence, MO: Jackson County settles in accident that left bicyclist paralyzed — "Jackson County is paying $300,000 to settle a lawsuit filed by an Independence man badly hurt in a bicycle crash four years ago on the Little Blue Trace Trail. He was riding slowly and at a curve tried to miss a tree but spun out on a slick spot and was thrown from the bike, coming down hard and hitting his face on gravel. He suffered a spinal injury."
— Missouri: "Same Roads-Same Rights" License Plates — "Believe it or not, we first started working on the Bicycle Missouri plates in 2005. It's great to see them finally become a reality!"
–Lincoln, NE: Lincoln's First Protected Bikeway — "Very soon the city of Lincoln will be putting in a two way protected bike lane on N St. connecting the Antelope trail on the east of downtown and the new Arena trail to the west. This east to west connection will be Lincoln's first protected bike way, or 'green lane'. A green way is an on street bike lane physically protected from motor vehicles and separated from sidewalks. These lanes can be visually divided from vehicular traffic by parked cars along the bikeway, plastic posts, curbs, planters, or painted barriers."
— Nebraska City, NE: Free bikes in Nebraska City — "Nebraska City officials are making it easier for residents and visitors, alike, to get around the city's main business district. By a 4-to-0 vote, the Nebraska City City Council Monday night approved a plan to provide free bikes for shoppers along Central Avenue. City Administrator Joe Johnson tells KMA News bike racks will be placed at City Hall, 11th and Central and 6th and Central for individuals wishing to use the bikes. Johnson says certain precautions will be taken to prevent bike thefts. 'The bikes will be painted an odd color to, hopefully, persuade people not to steal these bikes.'"
— Broken Arrow, OK: Police seek driver in hit-and-run with bicyclist — "The cyclist, Brendan Simmons, 24, of Tulsa, was riding on the shoulder of eastbound Oklahoma 51 when he was struck from behind about 4:30 a.m. near the intersection of Nashville Street. He was thrown from the bicycle and landed in the ditch. Simmons is a specialist in the Army and was en route to work at the Broken Arrow Armed Forces Reserve Center, police said. Police said he was wearing a high-visibility reflective jacket when he was struck."
— Oklahoma City, OK: Car hits man biking in dark — "The driver of the car said he simply didn't see the biker who wasn't wearing any reflective gear. He pulled over, called 911 and waited until help arrived. The cyclist has minor injuries." There is no legal requirement to wear reflective gear (though it's always a good idea), and there's no reason not to bike in the dark. However, bicyclists are required to use a headline and tail light (or rear reflector) at night, yet the newspaper article didn't report these salient facts. Why such biased and/or sloppy reporting?
Event News
A reminder: The Santa Fe Trail Bicycle Trek is scheduled to begin in Santa Fe, New Mexico on September 8th, and travels through Kansas on an 1100-mile route following the old Santa Fe Trail. The total number of riders is capped at 50, and they need at least 30 deposits by the end of March, or the tour won't happen in 2013. So if you're interested in this tour, sign up now! (Also, from the same event organizer, is the 28th annual Santa Fe Century on May 19th in Santa Fe, New Mexico. There's some beautiful cycling country there!)
See also: Kansas Ride Calendar, Regional Ride Calendar
Notable Quote
"Adventure tourism is the fastest growing sector in the tourism industry, with mountain biking topping the list."
International Mountain Bicycling Association
Bicycling Inspiration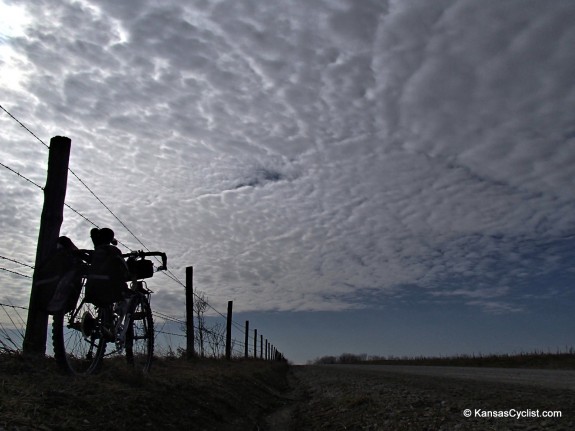 Pausing beneath a layer of dark puffy clouds…
Today's the First Day of Spring, so all will soon be green!
---
If you have a news item or upcoming event you'd like to share, please contact Kansas Cyclist with details.
Post tags: Arkansas City, Baldwin City, Colby, Digest, El Dorado, Leavenworth, MTB, Wichita