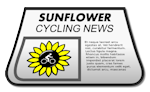 The Sunflower Cycling News is a periodic publication of Kansas Cyclist, featuring a compendium of hand-picked bicycling-related news items from Kansas and neighboring states.
The following is a recap of recent bicycling news from the region, as well as a look ahead to upcoming rides, races, and bicycling events coming up.
---
Bicycling News from Kansas
Prairie Village police ticket 26 bicyclists for disobeying stop sign
"Police pulled over a total of 26 bicyclists Thursday around 7:30 p.m. after the group rode through the intersection of 69th Street and Oxford Road without stopping at a stop sign. Police Captain Wes Lovett said the department had received a prior complaint about riders' behavior in the area, which appears to be the motivation behind last night's intervention." [link]
The local bike club worked with the Prairie Village Police Department in 2009 to develop Guidelines for group rides, which were intended "to balance the police department's efforts to enforce traffic laws for all types of traffic with the practicalities of large group rides". The guidelines require that groups make complete stops, and that up to 10 riders can proceed at once after stopping together.
The story made national news on MSN: "It's chaos out there in Kansas. Scofflaw bicycle riders ignore every rule of the road, while law-abiding motorists live in terror of clipping a carefree cyclist and going to jail. Thank God for one heroic cop in Prairie Village, Kan., who dished out tickets to an entire cycling club because they all ran the same stop sign." Classy.
Mandatory Helmet Law at Fort Leavenworth
This is, as far as I'm aware, the only all-ages mandatory helmet law in the state of Kansas: "All bicycle riders, regardless of age or ability, must wear a helmet that has been approved by the American Society for Testing and Materials or that meets or exceeds the Snell Foundation Safety Standard." [link]
Promoting Bicycle Safety in Abilene
"To help Abilene cyclists and motorists grow in awareness of traffic laws, Abilene Police Officer Kris Kobiskie worked with Health & Wellness Coalition of Dickinson County to assemble a tri-fold brochure. Kobiskie said he wanted to encourage drivers to start looking out for students biking and walking the next couple of weeks. Chris Cooper, Bike Across Kansas veteran, said he has had some close calls. "In Kansas, there is a 3-foot law, that it's illegal to pass a biker within closer than 3 feet of the biker. If everybody would do that, it would be nice." [link]
Driver On Trial in Arizona For Seriously Injuring Two Kansans in Pedicab Crash
"Trial has been delayed and is now set for 8/19/2013 in the trial stemming from a driver who police believe was DUI plowed into a pedicab on 1/4/2013. Two passengers, were seriously injured. Kansas State fans Cody A. Clark and Michael D. Tysver were seriously injured; the pedicab operator Jeremiah J. Armijo was also injured. Police stated the pedicab was being operated legally at the time of the collision. Driver Joseph Spano has been indicted on two counts of aggravated assault, and three counts of endangerment." [link]
Clark and Tysver were in Scottsdale for the Fiesta Bowl football game. Both are K-State students, originally from Great Bend. The collision occurred on Tysver's 21st birthday. More details on their injuries: K-State Nation Rallies Around Victims Injured After Fiesta Bowl. There's a support page on Facebook.
Kansas Bicycle Safety Blogger Wanted
For this year's "Put the Brakes on Fatalities" safety campaign, the Kansas Department of Transportation would like to include a blog post from a cyclist who's experienced traveling on our state roadways, and who could share their thoughts on the possible dangers they face when traveling by bike. If you're interested, please contact Kimberly Qualls, the NE Kansas Public Affairs Manager at kqualls@ksdot.org or 785-640-9340. It's a great chance to help share a bicyclist's perspective on traveling on Kansas roadways!
Arkansas City Police Seek Hit-and-Run Driver That Struck Bicyclist
"Ark City Police searched early Wednesday for a driver and car said to have struck a bicycle rider in the 500 block of N. Eighth St. So far no suspect has been located in connection with the case. The bicyclist sustained injuries, however they were not considered life threatening. He was transported to South Central Kansas Medical Center for treatment. The man – whose name was not released by police – said the suspect vehicle appeared to be an early- to mid-2000s white Chevy Monte Carlo, or similar vehicle. The vehicle was northbound when it struck the bike rider." [link]
Late push helps Heartspring's PedalFest raise $50,000
600 bike riders participated in Wichita's PedalFest ride to help raise money to benefit Heartspring, which provides services to children with special needs through a financial assistance program for pediatric services, helping families pay for occupational and speech therapy. [link]
Women Bike ICT
"The Bike Walk Wichita ladies are starting a movement. We have hosted several Ladies' Night events and heard from women across the city and region that expressed interest for more rides, workshops, events and meet-ups. So, are you ready to roll ladies? We have several events coming soon, so stay tuned and we will post the details next week." [link]
Johnson County Gateway Public Information Open House September 4th
The Johnson County Gateway Project is a massive restructuring of the I-435/I-35/K-10 interchange area. Although this is primarily a highway/freeway project, it will have profound impact on all modes of transportation through the area. In particular, we need to be vigilant that bike/ped access is maintained (and hopefully improved) through, across, and around the highway interchanges. As part of the project, KDOT is holding a Public Information Open House on the planned improvements for College Boulevard between Ridgeview Road and Renner Boulevard, on Wednesday, September 4, 2013 from 5 to 7pm in Olathe. [link]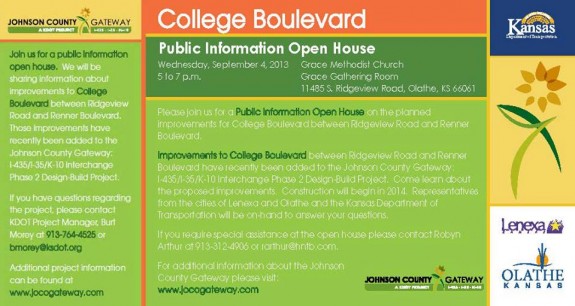 Regional Bicycling News
— McCrory, AR: Investigation nearing conclusion in bicycle fatality — "State Police are nearing completion of an investigation of the death July 2 of a cross-country bicyclist that occurred when a motorist drove into the rear of a group of cyclists on a highway near McCrory. A final decision could come as early as the coming week."
— Colorado: Tejay van Garderen takes USA Pro Challenge title — "Aspen's Tejay van Garderen kept out of trouble to win the third annual USA Pro Challenge overall title. Van Garderen of BMC Racing won his second American week-long race after capturing the Tour of California in May." [photos]
— Lakewood, CO: 83-year-old killed in bicycle collision — Tragic right hook: "Donald Schaefer, 83, was riding his bike with another person in the area of West 6th Avenue and Garrison Street when Schaefer was hit by a large delivery truck. The truck was driven by John Holzinger, 24, of Denver. Holzinger has been issued a summons for careless driving resulting in death. He will appear in court at a later date. According to the result of initial investigations, both cyclists and the truck were northbound on Garrison Street when the truck turned right to enter the east-bound ramp to 6th Avenue."
— Des Moines, IA: Hubbell Ave Gets Paint Job — "Des Moines city leaders hope a new paint job will make a busy eastside street safer. This weekend a stretch of Hubbell Avenue was re-painted to add bike lanes. Neighbors were opposed to adding the lanes but the city council put them in anyway on a trial basis. They say they'll cut down on speeding and accidents. One cyclist we spoke to says the change is long overdue."
— Kansas City, MO: 816 Bicycle Collective Launches Crowd Funding Campaign to Raise Money for Their New Home — "Kansas City's only free DIY community bike shop,The 816 Bicycle Collective, has launched a crowdfunding campaign to raise $82,816.00 by Sept. 14 to finish the rehabilitation of their future operational space. The collective is made up of individuals from diverse backgrounds working on a volunteer basis to rescue, repair and redistribute bicycles. They play a vital role for low income commuters in the Kansas City area, serving anyone who embraces their DIY recycled-bike model or cannot afford for-profit bike shop prices. The collective believes in empowerment through education and supports the use of bicycles as a healthy and ecological means of transportation." You can help at neighbor.ly/816-bike.
— Lincoln, NE: To Dodge Husker Gameday Traffic, Take a Bicycle — "People who ride their bikes to Husker football games may want to take advantage of a free bike valet service. The Bike Shop at University of Nebraska-Lincoln Campus Recreation will offer the service. Bikes will be kept safe and secure in Cook Pavilion, just a block from Memorial Stadium."
— Oklahoma City, OK: Police Seek Suspect in Intentional Cyclist Hit-and-Run — "Police are looking for a man who they say intentionally ran over a bicyclist with his car in southwest Oklahoma City, Sunday afternoon. According to police, the driver intentionally ran over the bicyclist and then left the scene. Police say the suspect was driving a white, 4-door sedan with a busted windshield. The car did not have a front grille."
Event News
The Labor Day weekend alwyas brings along a lot of bicycling events, and here in Kansas we have the Gorilla Century in Pittsburg, the Dickinson County Bike Ride in Abilene, and Bike 4 the Brain in Mission.
Coming up the following weekend is the Bike MS: Wichita Ride, and the Tour de Lizard Fat Tire Classic in Arkansas City.
See also: Kansas Ride Calendar, Regional Ride Calendar
Bicycling Inspiration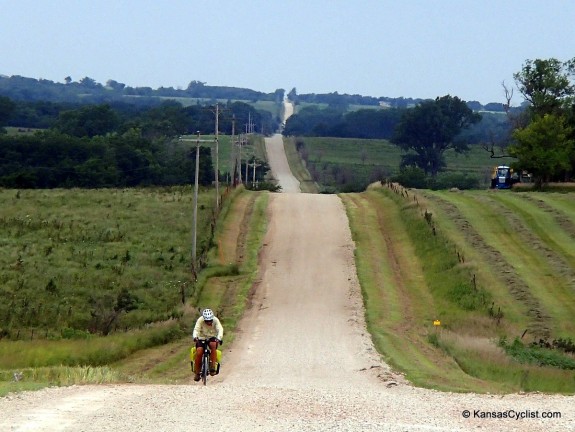 A touring bicyclist grinds his way up a series of gravel road hills in Wabaunsee County, Kansas.
---
If you have a news item or upcoming event you'd like to share, please contact Kansas Cyclist with details.
Post tags: Abilene, Arkansas City, Digest, Leavenworth, Olathe, Prairie Village, Wichita