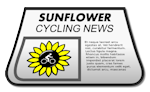 The Sunflower Cycling News is a periodic publication of Kansas Cyclist, featuring a compendium of hand-picked bicycling-related news items from Kansas and neighboring states.
The following is a recap of recent bicycling news from the region, as well as a look ahead to upcoming rides, races, and bicycling events coming up.
---
Bicycling News from Kansas
Toys for Tots Bike Giveaway in Abilene
"Through a joint effort between the Abilene Police Department, American Legion Auxiliary Post #39 and the Ellsworth Correctional Facility, many children in the community will receive bikes this Christmas. Typically it's 50 bikes. It gives the inmates something to do, something positive to give by to the communities. It's really a cool program. They do that for three or four entities. They can give out 200 to 250 back into the different communities."
Ellis County Big Brothers Big Sister Provides Bicycles to Kids in Need
"Each year Ellis County Big Brothers Big Sisters identifies Littles in need of bikes, and this year they recognized 24 children who needed a bike. Walmart donated 10 bikes this year, and the organization received 11 bikes from Norton Correctional Facility, where inmates refurbish bikes as part of the Bikes for Youngsters program. The final bikes were donated by individuals in the community." [link]
Pratt fall bike give-away set for Saturday
"The Pratt Optimist club will hold its fall bike give-away from 9-11 a.m. Saturday, Dec. 21 at the Pratt Fire Department, Third and Jackson streets. These refurbished bicycles are suitable for children of all age groups. There is no charge for the bicycles — all that is required is a signed release form from a parent or guardian." [link]
Louisburg Looks To Improve Downtown Bike/Ped Connections
"While locals know where downtown is and how to navigate there, actually getting to downtown can be a trick due to lack of accessibility for pedestrians, bicyclists and the disabled. Pedestrian crossings should be clearly defined throughout the area, the study says, especially at the K-68 and Broadway intersection, which can be dangerous to cross. The study also suggests enhancing Third Street with pedestrian and bicycle paths and on-street parking." [link]
Regional Bicycling News
— Arkansas: The Frisco Trail in Fayetteville, Arkansas was chosen as the Rails-to-Trails Conservancy's Trail of the Month for December 2013: "Although only a relatively short rail-trail at 1.3 miles, the Frisco Trail in Fayetteville, Arkansas, has had an oversized impact on its city. Like many American communities developing their trail networks, Fayetteville is booming."
— Colorado: Truck driver set for trial in collision that killed cyclist near Boulder — "The driver of a semi trailer involved in the collision that killed a bicyclist on Valmont Road in August is set to stand trial in March on a charge of careless driving resulting in death. Lucio Ramirez, 46, of Denver, was cited by the Colorado State Patrol after investigators said he failed to yield to Randy Herndon, 62, of Centennial, while Herndon was biking with a friend on Valmont Road. A jury trial is scheduled for March 4th."
— Iowa: Spirit Lake considering bike boulevard — "Future bike travel through Spirit Lake may soon become a little easier. The general concept is to create designated pathways for bicyclists on already established roads. The idea is to get people to come into your town and stay. They can navigate the city and see what the town has to offer — all on bike. Motor vehicles would still be allowed to travel along the bike boulevard, but bikers would be the primary focus, and would have the right of way at all intersections."
— Missouri: Arguing Against Complete Streets in St. Louis — "Taxpayers already support the Great Rivers Greenway trail system. There are bicycle paths in parks and neighborhoods to accommodate recreational cyclists. But bicycle advocates want to see public dollars spent on commuter cycling, too. This is a bit much. Time and money would better be spent designing and fixing roads, with curb-cuts wherever possible and with bicycle lanes only where they are appropriate and won't clog up vehicle traffic. Complete Streets would give a small number of people a claim on a disproportionate share of public dollars that should benefit the greatest number of people."
— Nebraska: In Lincoln, Driver hits cyclist, then goes bowling — "A Lincoln man hit a bicyclist at 30th and Vine Tuesday night and then went bowling rather than stopping to help, police said. Meyer was driving a 1999 Chrysler 300 east on Vine Street when he hit a man on a bike pulling a trailer filled with scrap metal about 6:15 p.m. The cyclist was briefly knocked unconscious, but was released after being evaluated at Bryan West Campus. Meyer, who was charged Wednesday with leaving the scene of an injury accident, a felony, told police he thought he hit a piece of ice, the affidavit says. The investigating officer noted that the collision cracked the driver's side of his windshield."
— Oklahoma: OBS Swap Meet February 4 — The Oklahoma Bicycle Society has set the date for their next bicycle swap meet: it's February 4th in Oklahoma City, from 7-9pm. As always a swap meet is a great chance to either find your unwanted bicycling gear a new home, or find a treasure form someone else's unwanted gear. Or both. If nothing else, it's always fun to look at bikes and bike stuff!
Bicycling Inspiration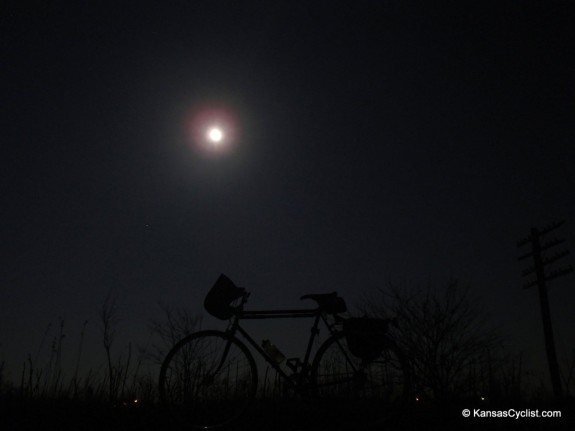 A nearly-full moon dominates the evening sky on the Southwind Rail Trail near Iola, Kansas.
---
If you have a news item or upcoming event you'd like to share, please contact Kansas Cyclist with details.