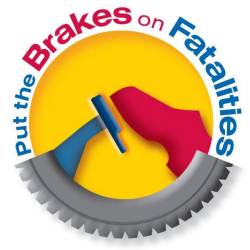 The Kansas Department of Transportation (KDOT) has opened entries for their annual "Put the Brakes on Fatalities" poster contest, which allows kids to be creative in getting the word out about safe driving, as well as giving them a chance to win a new bicycle!
The poster contest is held in conjunction with the national Put the Brakes on Fatalities Day, which occurs on October 10th in states around the country. The purpose of the event is: "To heighten consciousness about what people can do — and what official steps they should take — to reduce transportation fatalities and accidents on American highways, roads and streets by calling attention to reducing fatalities on one specific day and also with other traffic safety events held during the year."
According to the national organization, "One of the more successful PBFD events has been occurring in Kansas where an annual poster color contest has been held for students 5-13 (age groups 5-7, 8-10 & 11-13). The students are invited to express their thoughts in color, pencil or water color about ways to Put the Brakes on Fatalities. If safety is planted in their mind as they draw their poster, maybe they may just become a driver who makes good decisions."
The announcement from KDOT reads:
Kids ages 5 to 13 in Kansas are encouraged to enter artwork for a statewide poster contest focusing on Put the Brakes on Fatalities Day – a nationwide effort to increase roadway safety and reduce all traffic fatalities.

Three statewide winners will receive family packages at the Great Wolf Lodge and also $50 gas cards from QuikTrip Corporation.

A total of 18 regional winners in the six regions and age groups (ages 5-7, ages 8-10 and ages 11-13) will each receive a bicycle donated by Walmart and a helmet donated by Safe Kids Kansas.

All entries must be postmarked by Friday, Sept. 20, and should be mailed to: AAA Kansas, Public Affairs, 3545 SW 6th Street, Topeka, KS, 66606. On the back of the 8.5 by 11-inch paper entry must be the child's full name; age at time of entry; mailing address; county; a parent's name; and contact phone number.
Winning a new bike and helmet is a pretty cool prize!
There's also a Facebook Page for the program.
The posters can be about anything related to traffic safety, though of course posters focused on bicycle safety are especially appreciated!
Here are some great examples from a few years back.